Vladislav Namestnikov is an anomaly. The Tampa Bay Lightning forward who will turn 24 years of age next week would look just at home on a beach in a California surf town as he does in an NHL game. Young, with All-American good looks, belies the fact that Namestnikov was born in Russia.
Listening to him speak and you swear the kid is as American as apple pie and the Fourth of July. You see, his family moved to the United States when he was an infant. Namestnikov is the son of an NHL player. Evgeny Namestnikov played 43 NHL games over the course of five NHL seasons for three different teams.
.@TBLightning forward Vladislav Namestnikov discusses the win and shifting along the Bolts lines. https://t.co/P8a6dB2WDF

— FOX Sports Florida (@FOXSportsFL) November 6, 2016
It's in the Genes
Safe to say that Evgeny didn't exactly set the hockey world on fire, but perhaps the father's decision to come to North America laid the groundwork for young Vladislav's NHL future. It wasn't just that Evgeny stayed through those five NHL years but he and his family lived in the U.S. for most of Vladislav's first 10 years of life.
If having an NHL dad wasn't enough of a pedigree, Namestnikov also had an uncle by the name of Vyacheslav Kozlov who some NHL fans might remember as 20% of Detroit's famed Russian Five unit.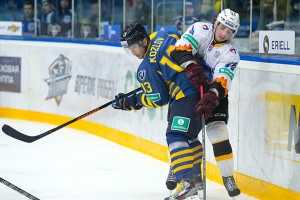 Playing for the Red Wings, Kozlov would bring in his young nephew and the kid spent significant time in a locker room with guys by the name of Steve Yzerman, Dino Cicarelli, Paul Coffey, Sergei Federov, Igor Larionov and Nicklas Lidstrom. By the way, that was just some of the 1995 team. The kid also saw these Hall of Fame players coached by the all-time winningest NHL coach, Scotty Bowman.
Young Vlad eventually returned back to Russia to learn to play the game of hockey but there is no dismissing the value of being around the NHL with his father and uncle. He saw his uncle's Red Wings win the Stanley Cup in 1997 and 1998.
Road Less Traveled
After playing in his native Russia for about ten years, Namestnikov was drafted by the London Knights of the Ontario Hockey League. In two full seasons in the OHL, Namestnikov was a point a game player, tallying 139 points in 131 games.
Someone took notice in Florida. Yzerman, the former Red Wing captain for over two decades had become the General Manager of the Lightning. Stevie Y sees the kid he met all those years ago showing some of the offensive skills of Kozlov, who Yzerman knows all too well. Maybe Yzerman simply believes in the probabilities of genetics.
Whatever the reasons, Namestnikov signs with the Lightning and begins his professional career playing for the Syracuse Crunch. Ironically, his father played for the Crunch 20 years earlier when the team was associated with the Vancouver Canucks.
During his two seasons with the Crunch, Vlad ceased his point a game OHL production but scoring 69 points in 100 games in the American Hockey League isn't anything to discount. After splitting time between Syracuse and Tampa, Namestnikov found himself staying in Tampa last season.
He made it count. Playing in 80 games last season, Namestnikov scored 14 goals and added 25 assists. Most of his ice time was on the third and fourth lines, but a case could easily be made that he was the Lightning's most improved player from the year before.
In any case, as this new season is underway, things are definitely looking up for the young forward. He is currently on Tampa's number one line with a couple of guys named Steven Stamkos and Nikita Kucherov. Playing with these two offensive juggernauts is Namestnikov's graduate school.
He should learn that being in the right place at the right time with these two and Namestnikov will find both goals and assists. Lest you forget that in his early hockey career, Namestnikov was good, no make that very good at putting up points. Now he is lining up with two of the league's best scorers.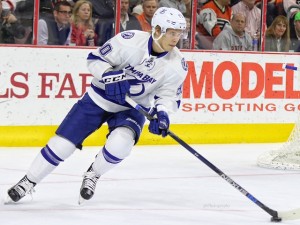 That bodes well for Namestnikov specifically and for the Lightning overall. How can his game not improve playing with that dynamic duo? Being on this top line will give Namestnikov the opportunity to hone his skills in and around the net. Keep his head on a swivel and your linemates will get you the puck in a position to do some damage against the opponents.
Thinking about this young player and his journey to the NHL and it is certainly distinct. Born in Russia, spent most of his first 10 years in America, then headed back to Russia for almost the next 10 years, before returning to North America. All the while playing and learning the game of hockey.
Chosen to represent Russia in the World Cup of Hockey Tournament in September, Namestnikov had as many goals in the tourney as Alexander Ovechkin. Okay, it was only one goal but only eight Russians scored a goal in the World Cup and Namestnikov was one of those.
The kid could really make this all pay off for himself and his team this season. The road he traveled might have been out of the ordinary but perhaps this kid has a little extraordinary in him. He grew up in and around a back-to-back Stanley Cup Championship team in Detroit and had a father and an uncle who played in the NHL.
Now he finds himself on a Tampa Bay roster which has been and continues to be a very serious Cup contender. Should Namestnikov break out this season, he'll have the distinction of being the second person in his family to have his name etched on Lord Stanley's Cup. The kid may just be an anomaly but maybe that isn't as bad as it sounds.