Claude Julien was hired as the head coach of the Boston Bruins before the start of the 2007-08 season. To this point in his 10-year run with the club, he has led the Bruins to 403 regular season victories, seven playoff appearances, two Stanley Cup finals, and one Stanley Cup Championship.
Despite Julien's success, he still comes under fire from the Boston media rather often. However, it does not seem to bother Julien when he gets blasted for giving low ice time to younger players or when he makes questionable decisions with the lineup.
While his choices are not always popular, he tends to get the job done even when he has a less than stellar roster. This season, we have seen some tough love from Julien in the form of benching players. Not surprisingly, the choice to bench certain players was met with criticism, but in true Julien fashion, he shrugs it off and has shown us he was right.
Spooner Sits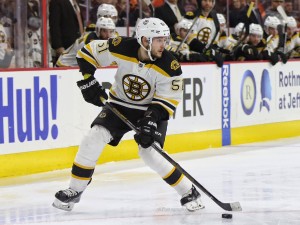 The first player to get pulled out of the lineup this season was Ryan Spooner. He struggled out of the gate, and he found himself watching the fourth game of the year from the press box. The move to bench him came as a surprise to many because it came so early in the year.
In those first three games, Spooner was only able to register an assist on an empty-net goal by David Pastrnak. High expectations were put on Spooner coming into this season, and it was clear he was under performing.
After being scratched Spooner stated, "I have to use it as motivation and just go out there and play." Since returning to the lineup, he has played in 12 games. In that stretch, he has registered three goals and six points.
There is a higher level of energy to his game as of late. One strength of Spooner's is his vision and passing ability in the offensive zone. He has been using these strengths to create more plays and scoring chances for the Bruins.
However, Spooner still has some work to do before he becomes a complete player. If he continues to adapt to his new position on the wing and the chemistry with David Krejci and David Backes keeps improving he will become the consistent difference maker the Bruins need him to be.
Beleskey Benched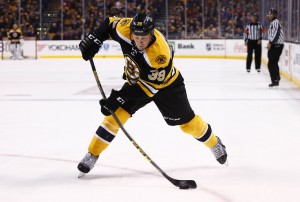 The Bruins' abysmal third line at the start of the season consisted of Matt Beleskey, Riley Nash, and Jimmy Hayes. The trio could not get any offense going, and their overall play was ugly. Beleskey in particular, looked slow, was making bad decisions, and his overall effort was poor.
Beleskey recorded zero points and a minus-seven rating in his first nine games of the year. We were not seeing the Beleskey that posted a career-high of 37 points in 2015-16.
Earlier this month, Beleskey left a game versus the Florida Panthers after crashing hard into the net. The next game against Tampa Bay, he was scratched. Whether he was held out of the game due to a minor injury or solely because of his play is unknown, but Julien had some harsh words about his performance:
"We need better from him. We've done everything we can to help him out. I feel it's not a bad thing to take a step back and watch a game, hopefully regroup in his mind and come back with the intentions of being in there every night."
http://gty.im/505179144
Since being benched, he has played in six games and recorded one goal and three points to go along with a plus-three rating. We have also seen the return of the hard working version of Beleskey that can effectively get the puck out of the defensive zone and create scoring chances in the slot. Beleskey will never post astronomical numbers, but he is a key component in helping the Bruins establish a strong forecheck and wear down opposing teams.
Just like Spooner, Beleskey is getting more comfortable with his new line. Austin Czarnik has joined Beleskey and Nash on the third line while Hayes has been relegated to fourth line duties. It appears the addition of Czarnik has benefited both Nash and Beleskey. As a group, they are performing much better and have given the Bruins a more complete game in all three zones.
Claude Effect
Julien's decision to bench Spooner and Beleskey apparently worked. Both players returned with the determination to be better, and their performances have improved. The message to both players was received very clearly and hopefully they will not have to return to the press box this season.