Heading into this season, the Calder trophy debate was easily down to two major standouts in this year's rookie class – Auston Matthews versus Patrik Laine. However, as this season seems to be going, the Calder race is just as unpredictable as the league itself.
That being said, the secondary team of NHL rookies have made their case for the coveted first-year prize. In fact, some of the more unexpected youngsters are getting into the mix. While Laine leads rookie scoring thus far, it could be a fun race to watch as the season continues to unfold.
With that, here's an early look at some of the top candidates for this year's Calder trophy.
Patrik Laine, Winnipeg Jets (18GP 12G-5A-17P +4)
Easily still one of the favourites to win the award, Laine's been an integral part of the Winnipeg Jets' offence so far this season. He leads the team and the league in goals (12) and ranks second to Mark Scheifele in team scoring.
He sits among the top 10 in league scoring and has accounted for nearly 23 percent of Winnipeg's goals this season. If that's not rookie-of-the-year material, chances are you won't find it anywhere else.
Zach Werenski, Columbus Blue Jackets (14GP 5G-8A-13P +3)
The Columbus Blue Jackets have had a bit of an up-and-down season so far, but one of their most consistent players has been rookie defenceman Zach Werenski. In 14 games this season he has five goals and 13 points – including three power play goals.
Werenski scores again for CBJ. Firmly in the Calder Trophy discussion now. Perhaps behind just Winnipeg's Laine.

— John Shannon (@JShannonhl) November 16, 2016
The 19-year-old plays a physical game and doesn't mind throwing his body in front of shots in his own end. He's averaging just under 22 minutes per game as well as three minutes of power play time and just over a minute on the penalty kill. He's a blue liner that can play in all situations and his success, so far, has him atop the candidate list for the Calder trophy.
Mitch Marner, Toronto Maple Leafs (16GP 6G-9A-15P -3)
Some questioned whether or not Mitch Marner would be able to carry over his OHL success to the NHL. Well, those questions are starting to fade with every game the Maple Leafs play. Marner's revitalized the Leafs top line with Tyler Bozak and James van Riemsdyk, who are both finding success alongside the youngster. And with Matthews carrying the spotlight with his first NHL slump, Marner's been able to stay just under the radar.
His puck possession and vision on the ice has given the Leafs more sustainability in the offensive zone and opens the ice up for his line mates. He's already had five multi-point games including a two-goal game and two three-point efforts.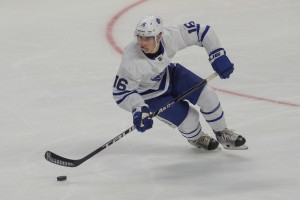 William Nylander, Toronto Maple Leafs (16GP 5G-8A-13P -2)
Part of the Leafs' all-rookie line, William Nylander has been another standout for Toronto this season. He has 13 points in 16 games for the Leafs so far and has developed into another puck possession player for the team.
While his line mate – Matthews – hasn't found his groove just yet, Nylander's another story. He's averaged just under 16 minutes per game and just over two on the power play. He's fourth on the team in shots on goal (41) which seems to be paying off and should find more success as Matthews starts to find himself.
Jimmy Vesey, New York Rangers (17GP 7G-4A-11P +7)
After a whirlwind of Vesey sweepstakes in the offseason, some wondered if the young forward could live up to expectations. So far, as part of the league's highest scoring team, he's been able to contribute on a regular basis.
In 17 games, Vesey's managed seven goals and 11 points. He's sixth in rookie scoring, but has the best plus-minus rating of any first-year player. He's accounted for 10 percent of the Rangers scoring so far this season and has done so on minimal shots.
While he's only averaging 0.65 points per game, his 24.1 percent shooting his among the best in the league with players who have 25 shots or more. He's scored twice on the power play and two game-winning goals in his first couple months in the NHL and has put himself among the best rookies in the game so far this season.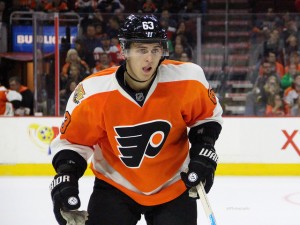 With that being said, there are a number of rookies still itching to get their name in the race for the Calder trophy. While they haven't made this list just yet, don't count them out as the season continues to progress. While they might be honourable mentions this time around, they might be among the best the next time we check in on the Calder race.
For now, here are a few names that deserve honourable mention: Auston Matthews (Toronto Maple Leafs), Travis Konecny (Philadelphia Flyers), Brady Skjei (New York Rangers), Sebastian Aho (Carolina Hurricanes), Pavel Buchnevich (New York Rangers) and Matthew Tkachuk (Calgary Flames).