The Tampa Bay Lightning take on the New York Islanders for the second time this season on Thursday and despite just two wins in the Lightning's past seven games, head coach Jon Cooper is confident about where his team is headed.
The same goes for Tyler Johnson and Ondrej Palat, who are each off to slower than expected starts to 2016-17.
After all, Cooper knows his players well. He coached seven of the team's current roster members in the American Hockey League and is behind the bench for the Lightning with nearly the same roster for the third straight year.
Relating to His Players
It's why when Cooper's asked about the offensive output of Johnson (six points) and Palat (five points) through 13 games, he speaks so confidently about how he believes both players will do over the course of an 82-game season.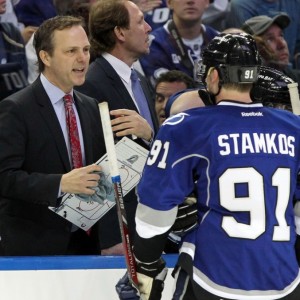 "I've been around these guys a long time and they seem to rise to the occasion every time they're needed," Cooper said on Wednesday. "There are ebbs and flows, ups and downs …. to a season. You can't have your A-plus game all the time but … 'Are you giving an honest effort?' And they do, all the time, and as a coach you can't complain about that."
Cooper's ability to relate to his players is part of why general manager Steve Yzerman chose him to succeed Guy Boucher as the eighth head coach in franchise history at the tail end of 2012-13. He'd developed a rapport with many of the team's future pieces as head coach of the AHL's Norfolk Admirals and Syracuse Crunch. Johnson and Palat were members of the Admirals when the team won the 2012 Calder Cup under Cooper's guidance.
Praise for Palat's Work Ethic
Palat is off to a slow start statistically to 2016-17, snapping a nine-game scoreless streak by tallying his second goal of the season in a 3-1 loss to the Florida Panthers on Monday. While some NHL coaches call out skill players when they are struggling to score, Cooper takes a different approach.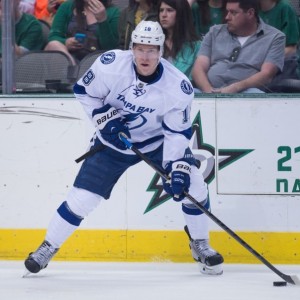 Cooper knows that Palat's effort and work ethic figure to eventually turn things around for him on the score sheet.
"You look at him statistically and he probably wishes he had more points and wishes his plus/minus was a little bit better, but I don't think there's anyone on our team that would walk in here and say 'Ondrej Palat's not giving you the best effort,' because that's all he does is give you his best effort," Cooper said.
"I think that's what probably what gets him a little bit frustrated, because he tries so hard and (he's) probably not seeing the statistical results, but he does so many other things for us. He plays in every situation and he's just one of those guys that makes linemates better. And maybe his linemates are getting points and he's not, but as we tell him, he should feel a part of that, because he is a big part of that. You never have to worry about guys like Palat just because of his work ethic."
Johnson Shares Palat's Work Ethic
Johnson has also seen limited offensive production, registering just four goals in 13 games. After scoring two goals in his first eight games, he tallied a pair in the Lightning's 4-3 shootout loss to the Boston Bruins on Nov. 3.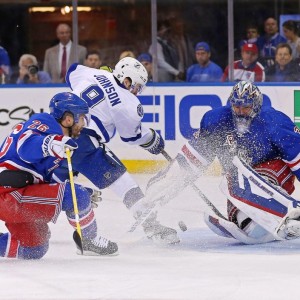 Before that game, Cooper spoke about Johnson's early season results and how his work ethic should eventually turn things around for him this season.
"If it was a 10-game season there'd be concern, but it's an 82-game season," Cooper said. "You've just got to weather the storm because when you're working hard, which he's doing, usually that bodes well for you and you are going to come out of it."
Johnson has created chances, but been unable to capitalize on them and Cooper said Johnson has to control what he can — his work ethic.
"I feel for him because he's missed some really good opportunities … then he looks in the mirror and says 'Why aren't I scoring?' Well you're doing all the right things it's just … you've got to just keep plugging away," Cooper said.
"Now he's been in the league long enough and you've just got to control what you can control and that's your work ethic. And if that's good, everything else will fall into place."
Breaking Out
Cooper's handling of Johnson and Palat's slow starts speaks to his relationship with them and his confidence in their work ethic. Cooper knows they both bring more to the Lightning than just offensive production, which offers insight into his comments about both players.
That said, the Lightning could use the offense they deliver when healthy and productive offensively. Johnson recovered from a lingering wrist injury last season to score 17 points in as many games during the 2016 Stanley Cup playoffs. Palat scored 40 points in the regular season (down from 62 the previous year) before adding 10 points in the playoffs.
Johnson and Palat are also in the final year of their contracts and are set to become restricted free agents this summer, so statistically better seasons bode well for the team now and each player during contract negotiations later.
The Lightning are at their best when Johnson and Palat are contributing offensively, but Cooper believes it's only a matter of time before this happens.
They just have to keep doing what they've been doing.