Lightning's Stamkos Out Indefinitely
Tampa Bay Lightning captain Steven Stamkos is out indefinitely with a torn right lateral meniscus, general manager Steve Yzerman said on Wednesday. Stamkos left the team and returned to Tampa to undergo examination by team doctors before Yzerman's announcement.
#tblightning Yzerman said they're in process of evaluating potential rehab and repair options. That could be why "indefinitely" is timetable

— Joe Smith (@JoeSmithTB) November 16, 2016
Stamkos suffered the injury at the midway point of the first period in the Lightning's 4-3 road win over the Detroit Red Wings on Tuesday. During the play, he skated up along the boards and planted his right skate on the ice as he leaned into Red Wings forward Gustav Nyquist who controlled the puck. Stamkos fell to the ice and rolled once before he got up and continued to play briefly. After he stood back up, however, he turned and immediately grabbed at his right knee in noticeable pain. He skated to the Lightning bench on his own accord but went back to the locker room and did not return.
Stamkos is leading the Lightning with nine goals and is second with 20 points in 17 games. He has developed good chemistry with linemates Nikita Kucherov and Vladislav Namestnikov on the team's first line this season — a productive unit relied upon by the Lightning.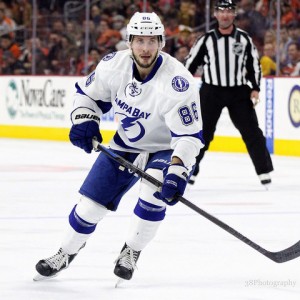 The loss of Stamkos is a major blow to the team on and off of the ice, but if he is lost for an extended period, it won't be the first time they have been without him for a length of time. He missed the end of the 2015-16 regular season and all but one of the team's playoff games after he underwent surgery to repair a blood clot located near his right collar bone on April 4. He returned in Game 7 of the Eastern Conference Final against the Pittsburgh Penguins, but played minimally in his first game action since March.
The Lightning will lean on Kucherov, the team's scoring leader with 21 points in 16 games, to carry the load in Stamkos' absence. The Russian forward has registered 13 points in just eight games in November and was a key player for the Lightning during the 2016 playoffs, when he tallied 11 goals in 17 contests.
The team will also look to forwards Tyler Johnson and Ondrej Palat to step up in what will be increased roles without Stamkos in the lineup. Johnson has gotten off to a slow start (nine points) this season, but figures to slot into the first line center position. Palat has also struggled on the score sheet early, with just six points in 17 games.
The Lightning have been without Jonathan Drouin since he was injured on Nov. 1, but he is traveling with the team and he may be ready to return during the team's five-game road trip.
Forwards are not the only injuries for the Lightning, as earlier this week, head coach Jon Cooper announced that defenseman Anton Stralman would miss at least three games with an upper-body injury he suffered against the San Jose Sharks on Saturday.
The Lightning continue their current five-game road trip when they face the Buffalo Sabres on Thursday.
Gaudreau Undergoes Surgery on Broken Finger
The Calgary Flames will be without forward Johnny Gaudreau for the foreseeable future after he underwent surgery to repair a broken finger, the team announced on Wednesday.
Gaudreau injured his finger during the Flames' 1-0 loss to the Minnesota Wild on Tuesday.
ICYMI: Johnny Gaudreau will undergo surgery today after suffering a fractured finger in Minnesota last night. pic.twitter.com/ghLmeQqOjG

— Calgary Flames (@NHLFlames) November 16, 2016
The Flames have said they will reveal a timeline on his return in the days to come, but TSN's Elliotte Friedman provided an estimate of when he believes the left winger could be back in the lineup.
https://twitter.com/FriedgeHNIC/status/798946935373590528
It's a devastating loss for the Flames, who are off to a 6-10-1 start the season and are currently fifth in the Pacific Division as they have struggled to find the back of the net. The Flames are averaging just 2.3 goals per game and are 25th in the league. Gaudreau leads the Flames in scoring with 11 points and is tied with forward Michael Frolik for the team lead in goals with five in 17 games.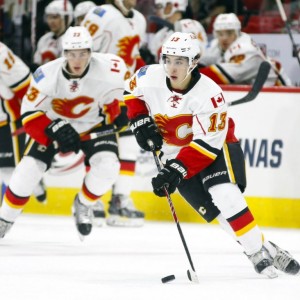 Gaudreau, 23, signed a six-year, $40.5 million contract as a restricted free agent on Oct. 10 to stay with the Flames just days before the start of 2016-17.
Gaudreau set career-highs in goals (30), assists (48) and points (78) in 79 games in just his second full NHL season in 2015-16. The speedy forward has benefited from playing alongside Sean Monahan to form one of the league's most dangerous offensive combinations. Monahan was also a RFA this offseason but signed a seven-year, $44.625 million deal to keep the team's young nucleus together.
The Flames play home games against the Arizona Coyotes (Wednesday) and Chicago Blackhawks (Friday) before beginning a six-game road trip against the Detroit Red Wings on Nov. 20.
Hall Out 3-4 Weeks After Surgery
Taylor Hall will miss approximately three to four weeks after he underwent successful arthroscopic surgery to repair a torn meniscus in his left knee, the New Jersey Devils announced on Wednesday. He was placed on the injured reserve after he underwent the procedure at Summit Medical Group Surgery Center in New Jersey.
#NJDevils LW Taylor Hall (left knee) is expected to miss approximately 3-4 weeks. Read more: https://t.co/MEMiao2Vsy pic.twitter.com/K6m7QojxX8

— New Jersey Devils (@NJDevils) November 16, 2016
Hall practiced with the team on Monday, but was scratched for Tuesday's 2-1 Devils' overtime victory against the Dallas Stars with what head coach John Hynes called "precautionary reasons" at the time. The 25-year-old forward has a team leading five goals and 12 points in 14 games after arriving to the Devils this offseason in a trade from the Edmonton Oilers.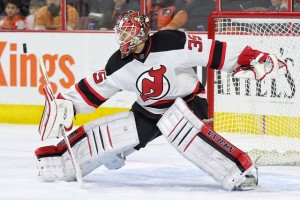 The Devils are off to a 9-3-3 start — good for third place in the Metropolitan Division — and currently on a five-game win streak. They are averaging just 2.3 goals per game, but have been successful early in large part because of strong goaltending. Cory Schneider has posted 7 wins in 12 starts, along with a 2.14 goals against average and a .929 save percentage, while back up goaltender Keith Kinkaid has been solid in three starts this season.
The Devils will rely upon Schneider and Kinkaid to continue their dominance between the pipes as the team deals with the absence of Hall for what could potentially be a month or more.
Odds and Ends
— The NHL's Las Vegas franchise will unveil its team name and colors at a ceremony in front of T-Mobile Arena less than a week from now. The team begins play in the 2017-18 season and is the NHL's 31st franchise.
See everyone in 6 days! #VegasWantsHockey–>#VegasIsHockey–> #ComeNextTuesdayAndFindOut! pic.twitter.com/dFTWWKBFUM

— Todd Pollock (@ToddVGK) November 16, 2016
— The Red Wings' Darren Helm will miss a minimum of six weeks with a dislocated shoulder, head coach Jeff Blashill said on Wednesday. Helm suffered the injury when he landed awkwardly after being checked and flipping over Lightning defenseman Nikita Nesterov.
Kids, strap up those helmets tightly, please.

Yes, we know Darren Helm doesn't have a head injury, but these are still scary photos. pic.twitter.com/TlFljG4cUG

— MiHockey (@MiHockeyNow) November 16, 2016
— Carey Price was unable to tie George Hainsworth's 89-year-old team record for 11-straight starts with a win, as the Montreal Canadiens fell to the Florida Panthers 4-3 in overtime.