Despite rumors swirling about the team, all remains status quo with the New York Islanders on Wednesday.
Jack Capuano is still the head coach, despite a recent 1-3-3 slide that has dropped the Islanders' record to a disappointing 5-8-3 on the season; and he put his club through its paces at practice following Tuesday's off day and Monday's 4-0 home-ice loss to the Tampa Bay Lightning.
Afterwards the players visited schools, both on Long Island and in Brooklyn, as planned.
Kicking off #Isles school day with @91Tavares, @aladd16 and Josh Bailey in Massapequa, NY! 📚📝🍎 pic.twitter.com/DTYvec6XQw

— New York Islanders (@NYIslanders) November 16, 2016
The one bit of intriguing news with the Islanders came from up north where Garth Snow is attending the league's general managers meetings.
Snow's Support
Snow spoke with TSN's Frank Seravalli in Toronto and had very positive things to say about Capuano, his coaching staff, and the players on the team despite the Islanders slow start.
"Jack is an excellent coach," Snow told Seravalli. "We have good players. I love our coaching staff. I have a lot of confidence in our players. We have a good team. I have a lot of confidence in our coaching staff. We're coming off two 100-point seasons. I think that speaks for itself for how good of a staff we have."
As for the fans chanting "Fire Cappy" at home games this season, Snow doesn't seem moved now to fulfill their wish by axing the second-winningest coach in franchise history.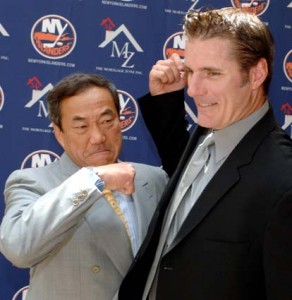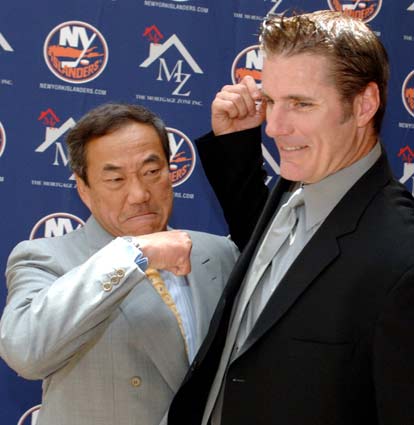 "They want results, we want results," Snow said of the Islanders' "passionate fan base", as he called it. "We'll do our best to give it to them."
The GM is navigating unchartered waters under new ownership, and no one knows what, if any, pressure it is placing on him at present. After serving for ten years under Charles Wang, Snow most definitely wanted his team to come out of the gates quickly under new ownership; and an uneven summer has now led to a slow start, one that sees the Islanders sitting in last place in the Eastern Conference.
While Snow is publicly standing behind Capuano now, will that remain the case if things continue to go south against the Penguins on Friday night or on next week's trip to California?
Metro Mauled
Snow told Seravalli that he wasn't too concerned about the standings nor his team's record just yet because there is a long way to go until April.
He is right, of course. Only 20 percent of the schedule is complete, though there has to be some concern from the general manager, and his coach, about the how's and why's the Islanders are consistently losing.
There also has to be some degree of concern about the standings. Tuesday was a great example within the Metropolitan Division as Columbus won its sixth straight home game, moving five points up on the Isles despite having played two fewer games. The Devils won their fifth straight and are eight points ahead of New York. The up and down Flyers picked up a point with an overtime loss. Carolina won and moved ahead of the Islanders in the standings. The Rangers won for the eighth time in their last nine outings and now have 26 points, double the Islanders' amount.
So even when they didn't play a game themselves, the Islanders still had a bad night. That the Islanders thus far are winless within the division at 0-3-1 and are just 1-7-2 against Eastern Conference opponents doesn't bode well for the Brooklynites helping themselves out at this rate either.
Arthur Staple from Newsday researched some numbers and found out that over the past three seasons only three Eastern Conference teams have had a sub-.500 record on November 15 and still made the playoffs that season, including the Philadelphia Flyers a year ago.
And none of those three was last in the East. There's 66 games to go but realistic deadline for #Isles to get moving is end of this month.

— Arthur Staple (@StapeAthletic) November 16, 2016
Right now the Islanders immediate future sees the Penguins visiting Barclays Center on Friday then three-game trek to California next week. We'll see where they stand at that point, and if Capuano is still the man behind the bench when the club returns home.