The heavy rains in New York City today are not the only storm clouds building in the boroughs.
After another hard-to-watch performance Monday night, a 4-0 loss to the Tampa Bay Lightning in front of a home crowd again asking for the head of their team's coach, the New York Islanders are sitting near the bottom of the NHL standings and need to figure out their next move, and soon.
Sixteen games may seem like a small sample size, but it is nearly 20 percent of the season that has already passed. In the first 16 contests the Islanders are 5-8-3, their 13 points placing them in 15th place in the Eastern Conference, one better than the Carolina Hurricanes who have two games in hand.  Only four teams in the entire National Hockey League have fewer points than the Isles.
Monday's defeat was pockmarked by much of what has ailed New York all season, so far. Terrible defensive zone coverage leading to three barely contested goals for the Lightning. A parade to the box, especially early in the game when the Islanders took five consecutive penalties, though their PK, led by a stout Jaroslav Halak in goal, held Tampa at bay in those circumstances. An inability to generate any sustained offensive pressure when the result was still in question, coupled with a lack of scoring touch when the opportunities to score did present themselves.
Most damning of all: the Islanders seemed to again lack the urgency, intensity, grit, and tempo that have all been hallmarks of Jack Capuano's teams since he became head coach exactly seven years ago today.
So, is it time for the Islanders to replace the second-winningest coach in franchise history, less than a year after the team's second straight 100-point season and first playoff series win in 23 years?
"It's On Me"
Capuano's post game press conference lasted roughly six minutes Monday night, covering ten questions. On at least three occasions he used the phrase "it's on me" when discussing how the team can pull out of its funk, especially offensively.
"It's on me," stated Capuano emphatically. "I have to find the right combinations for us to find some offense. I've been able to do it in the past and I have faith in myself and my coaching staff to figure it out."
The coach was also quick to point out that "our guys are well prepared for games and they're ready to go out and do the best they can".
He then added, "but at the end of the day we have to find some offense, especially in this day and age of the new NHL. We can sit and talk about this all we want, but it's on me to find guys to play with certain guys…the right combinations..to provide more offense for this hockey club."
While it's a professional, and somewhat stoic, admission by Capuano, there are still some important areas not being addressed here.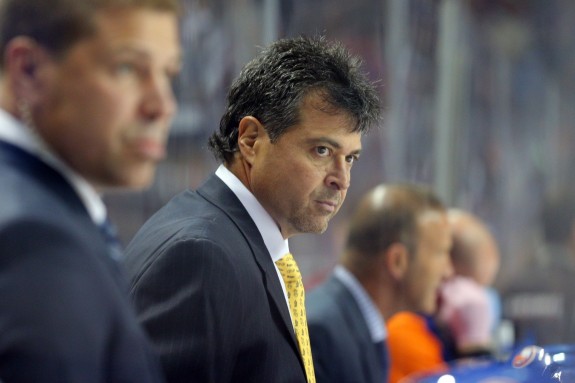 First, did general manager Garth Snow give Capuano good enough players to win with this season? Kyle Okposo, Frans Nielsen and Matt Martin left this summer via free agency, replaced up front by newcomers Andrew Ladd (two goals) and Jason Chimera (one goal) and rookie Anthony Beauvillier (one goal). Their one star, John Tavares, has been centering Josh Bailey (two goals) and Cal Clutterbuck (98 career goals in 588 games). Ryan Strome has no points in his last nine games and is without a goal in the last 11. Anders Lee has one point (0-1-1) in his last 12 games. Nikolai Kulemin has one goal all season. You get the picture.
Second, what about the team's overall effort? The Islanders have long been a tough club to play against under Capuano and that simply has not been the case much of this season.
Finally, Capuano praised the Islanders play five-on-five, yet their defensive breakdowns, both Monday and throughout the season, have been alarming to say the least. The Islanders lost their man on a pair of goals, the game-opener by J.T. Brown late in the first which spoiled a rather strong first 18:58 for the Islanders and the back-breaking third goal by Nikita Kucherov at 14:24 of the second after New York had just killed off four straight penalties including a four-minute double minor.
Captain of the Ship
Capuano is the coach, but Tavares is the captain of the Islanders. After his fifth straight game without scoring a goal on Monday, he admitted that his and the team's confidence is at low point right now, not surprising considering their current 1-3-3 run overall or that they are the league's only winless team on the road (0-4-1) where they will play three games in four nights out west next week.
"There's no question it hasn't been a great start to our season, and the last few games the way things have gone you fight that (confidence) battle in your head," Tavares told me Monday. "Right now it feels like any little mistake we make the puck is in the back of our net or we're killing a penalty or something doesn't go our way."
When asked specifically for his thoughts about Capuano quite possibly being on the firing line, Tavares stated, "Well that's not for us in the room to decide. I hope that's not the case. I think the coaches are as well-prepared and hard-working as any in the league. I know the guys believe in what we are doing. We feel that a lot of it is on us, and that starts with myself. I haven't been up to the standard I know I can be at."
The Next Step
The Islanders do not play again until hosting the Penguins Friday night in Brooklyn. That is their only game in a seven-day span before the California road trip next week.
The schedule sets up as a perfect time to either a) replace the Capuano and let the new coach have the opportunity to run a mini training camp or b) afford Capuano the same opportunity a new coach would get with extra practice time, to figure out the "right combinations" as he stated Monday night.
#Isles are off today and Garth Snow is in Toronto at GM meetings. No updates beyond that as of now.

— Arthur Staple (@StapeAthletic) November 15, 2016
The fans have made their voice heard about Capuano on a nightly basis this season at Barclay's Center. Defenseman Travis Hamonic pointed out Monday, "That's fine. They're entitled to do what they want, I guess. It's not helping us, though."
The GM and new ownership have been quiet on the subject of the team's slow start and coach's job security, adding to the storm clouds that are brewing in Brooklyn.
Stay tuned.