The Minnesota Wild appear to be in line for an offensive boost this week as Zach Parise, one of the team's top point-producers, is slated to make his return to the lineup after missing the last six games with a foot injury.
Predominantly a fixture on the team's top even-strength and power play units, it's not certain where Parise will suit up when he rejoins his mates on the ice. It's far from a guarantee that the veteran winger will be put right back on the team's first line and there might even exist a scenario where he could potentially find himself in uncharted territory playing as far down as Minnesota's third line.
We examine three possible line combination for the star forward as he gears for a return to action.
Option A: Parise-Staal-Coyle
Usually, the return of an established goal scorer would be considered a much-needed addition to any lineup but these are unusual times for the Wild in the scoring department.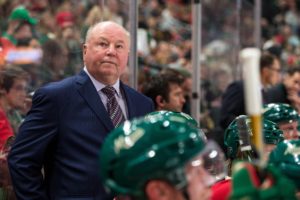 Traditionally a low-scoring team, the 2016-17 Bruce Boudreau led Wild have seen a welcome spike in their offensive output. Minnesota's 2.93 goals per game ratio currently ranks as ninth-best league-wide and they've received at least one goal from 18 different skaters along the way. A lot of this success can be attributed to the chemistry that exists throughout the team's current lineup.
Boudreau's current line combinations feature a relatively new top trio of Eric Staal, Nino Niederreiter and Charlie Coyle. This fresh number one line has had immediate success as, over the last three games, Staal, Niederreiter and Coyle have registered five, three, and three points respectively.
For his part, Parise had been sitting comfortably as the Wild's undisputed first line left winger prior to blocking a Brandon Carlo shot versus the Boston Bruins on Oct. 25 and subsequently being forced out of Minnesota's next game against the Buffalo Sabres on Oct. 27 after yet another block.
A trio of Parise, Staal and Coyle started the year together and remained together through much of the Wild's first eight games as the team went 5-2-1.
Minnesota, as a team, has excellent results with Parise occupying the first-line left wing position and each individual on that version of the top line has enjoyed moderate success while playing together. Will Boudreau return to what was proven to be a winning combination at the beginning of the season or will he stick with his newly formed and extremely productive top unit?
Option B: Parise-Koivu-Granlund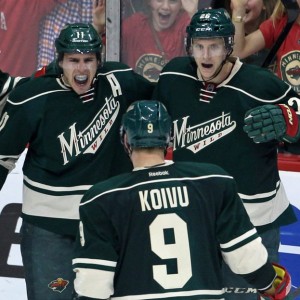 Should Boudreau elect to keep the Wild's new first line together then perhaps Parise could slide in next to captain Mikko Koivu and his Finnish countryman Mikael Granlund on the second line. The Koivu line is taking on the tough matchups for Minnesota this season and has been reliable in its efforts to date.
With the Koivu line in tow, Boudreau has his team playing confident and responsible two-way hockey as evidenced by their league-best 2.00 goals against per game. The Wild are currently benefiting from rock-solid goaltending, steady defense, and effective checking from their forward corps, specifically their shutdown group.
Parise would see plenty of ice time on the second line and has experience playing alongside the captain but would he really be best suited in a defense-focused role? Parise is arguably Minnesota's best offensive weapon and this type of role would limit the use of his skillset.
Option C: Parise-Haula-Pominville
If the coach doesn't want to disrupt the chemistry formed on his newfound first line and doesn't feel that the team would benefit from Parise being on the defense-first second line, then he might find the winger a spot on the team's third unit alongside speedster Erik Haula and fellow veteran Jason Pominville. This scenario would limit Parise's even strength time on ice but would also allow him to play soft minutes and ease back into the lineup.
Boudreau is most likely bound to keep the successful trio of Niederreiter-Staal-Coyle together with hope that they continue to click while Parise starts off away from the opposition's tough matchups on the third line. It would not be a shock to anyone, however, if the coach bumps Parise back into his familiar stomping grounds as the team's de facto numero uno on the port side the second that the top line goes cold.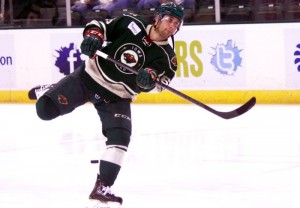 Placing Parise back on the team's first line will also allow the coaching staff to utilize Niederreiter on the second line where he is more qualified for heavy defensive zone starts than Jason Zucker who is currently slotted there.
When all is said and done, the fact remains that Parise is a vital piece to the Wild puzzle and will be at his best playing big minutes at even strength and on the power play next to the team's other top offensive players. There has been some individual success during the forward's absence but Minnesota has only gone 3-3 without him. The Wild were able to withstand the loss of one of their top players but are no doubt a better team with him in the lineup.
Projected Lines to Start:
| | | |
| --- | --- | --- |
| LW | C | RW |
| Nino Niederreiter | Eric Staal | Charlie Coyle |
| Jason Zucker | Mikko Koivu | Mikael Granlund |
| Zach Parise | Erik Haula | Jason Pominville |
| Zack Mitchell | Tyler Graovac | Chris Stewart |
Projected Lines at the First Sign of Struggle:
| | | |
| --- | --- | --- |
| LW | C | RW |
| Zach Parise | Eric Staal | Charlie Coyle |
| Nino Niederreiter | Mikko Koivu | Mikael Granlund |
| Jason Zucker | Erik Haula | Jason Pominville |
| Zack Mitchell | Tyler Graovac | Chris Stewart |