If I could describe Winnipeg Jets forward Mark Scheifele in only one statement, it would be quite simple: He's an absolutely terrific hockey player.
The seventh overall pick in the 2011 NHL Entry Draft has quickly established himself as a bonafide top line centre in the league, doing so while in a tough division and at the mere age of 23.
After the initial draft, Scheifele spent the majority of two more seasons in junior before finally cracking the Jets' main roster to begin the 2013-14 season. Although his rookie season was cut short due to injuries (13G-21A–34P in 63 games) he was well on his way to ending the year with positive numbers — between 15-20 goals and 45-50 points. Everything about him revealed signs of a budding superstar in the making.
Jet's Arsenal is Fully Loaded
Maintaining the development curve, Scheifele broke out in the 2015-16 season. He implemented new elements into his two-way game to become more aggressive, yet structured. He capped the season with 29 goals, 61 points, 194 shots and a plus-16 rating, but when you consider the fact that he played in only 71 games — and unless he went through a bizarre cold streak, would've likely scored between 32-35 goals and 70-75 points — he turned many heads around the Jets organization and the NHL.
That sustained success was clearly not a one-off and has carried over to this season. The ability to move quickly in transition and keep the puck longer has enabled Scheifele to open up the ice a lot more, teaching him ways to enhance his already fine-tuned vision. He has a great amount of hockey sense that resonates with his linemates, whoever they are, so the group on ice can create a natural cycle of momentum frequently.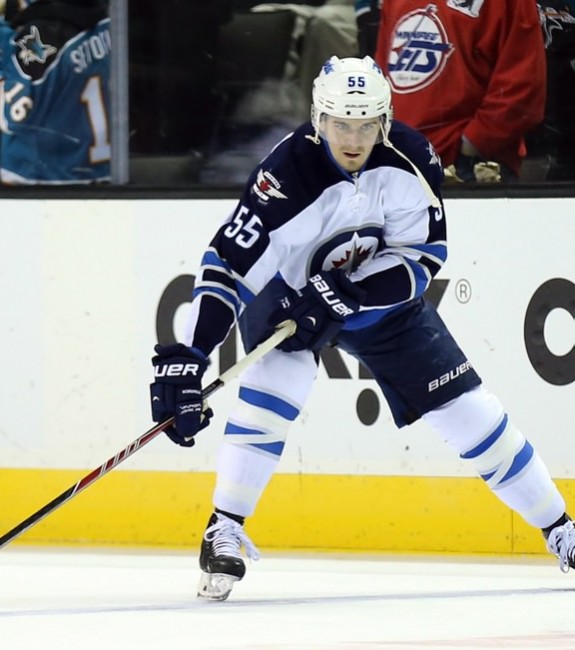 The cliche yet effective "always keep your stick on the ice" rule applies here more than with most players. He'll give you passes you won't expect if your head isn't in the game at all times.
The shot selection has also vastly improved; it's not often you'll see him release a shot that doesn't have a decent opportunity to hit the net to either score or, more importantly, create second-chance opportunities should the first one not get past the goalie. The obvious improvement in these last two years has been the shot itself, which Scheifele can release and hit difficult targets with confidence and precision. He has five power-play points, three of which are goals, but could use more help from his teammates as the Jets sit outside the top half of the league in that regard.
Sitting on 20 points (10 goals, 10 assists) throughout just 17 games in 2016-17 so far, expect Scheifele's previous career highs in all main offensive categories to be shattered.
The League scoring leader is still firing. (psst, it's @markscheifele55) pic.twitter.com/Q6cdB3j6bL

— #HockeyFightsCancer (@NHL) 12 November 2016
Will to Improve Defensively Speaks Volumes
If a player has the likes of Patrik Laine's heavy snipes and Nikolaj Ehlers' unique puck skills on his wings, it will definitely help take a lot of weight off of your shoulders. Of course they have unlimited offensive potential, but every team needs a first line centre who can make an impact in all three zones of the ice.
Finding a highly skilled centre with a great combination of size and skill can be considered rare, or a luxury in today's NHL, but can be crucial in helping generate long-term success, especially in the Western Conference. The Jets don't have this issue. Their decision to pick the former Barrie Colts star paid greater dividends than expected at this point in time primarily due to the dedication towards the 200-foot game.
Scheifele (23) has matured and filled out physically. Carrying a frame of 6 feet 3 inches and 207 pounds, he has every tool he needs to get in hard on the forecheck. There were questions earlier in his career about his size and mobility, but the added weight and increased power in his first two strides have allowed him to wreak havoc in front of the net, grind in the corners, battle along the boards, transition the play fluently, check more sticks and deliver bigger hits.
Players become elite by making the necessary changes for both themselves and their teams, respectively. If Blake Wheeler wasn't around and this team was looking for a captain, I wouldn't look past No. 55 for a split second.
It's amazing how significant the physical and mental tweaks to Scheifele's game have influenced his ability to drive play at even strength and during special-teams play with a very up-tempo style. Currently leading the league in scoring while constantly facing the opposition's top D-men and forwards has not only earned him elite player status, but franchise-cornerstone status, which will be a major factor for success in the Jets plan to become Stanley Cup contenders for years to come — a plan that could come to fruition in the very near future.