Thanks to a 5-2 win against Russia in Hamilton, Ontario, Team Canada heads into the final leg of the CHL Canada vs. Russia Series with 7-5 lead in points.
As the game began, you could tell that Team Canada, represented by members of the OHL this time around, was a team that had just been put together. While there were at least three players from the Mississauga Steelheads and Guelph Storm each, this was a team that just looked like they didn't have much chemistry. You could tell this by the amount of passes in which a recipient just wasn't prepared for it or not even close.
This lead to a first period in which, while Canada had an 11-9 lead in shots, Russia had the much better scoring chances. Canada was lucky to end the first period with 0-0 tie. However, that didn't last for long into the second period as Denis Alexeev beat Montreal prospect Micheal McNiven (Owen Sound Attack) to make it 1-0 6:20 into the second period.
It stayed that way for only another eight minutes before the OHL took over the game. Boston prospect Zachary Senyshyn (Sault Ste. Marie Greyhounds) evened up at 14:40. 54 seconds later, Tampa Bay prospect Taylor Raddysh was awarded a penalty shot which he successfully converted, making it 2-1 for Team Canada. Another 54 seconds later, Raddysh scored again right off of a faceoff win. Russia switched their goalies and Team Canada took the 3-1 lead into the second intermission.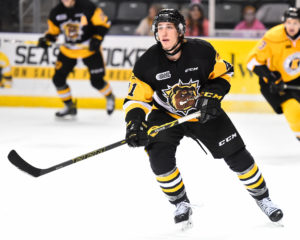 Russia got it within one only 4:10 into the third period but that was all the offense the red machine could muster. Boris Katchouk, also a Tampa Bay prospect, restored the two-goal just over two minutes later. Raddysh picked up an assist on the play making it a 3-point game for him. To cap the night off, Will Bitten of the Hamilton Bulldogs put the puck into an empty net to make the score 5-2.
With the win, the QMJHL can clinch the series for Canada with a regulation win on Monday night in Chicoutimi.
Will Bitten Speaks
On scoring a goal in his home arena.
There was a couple seconds left so I couldn't really skate down the ice so I had to shoot it frome there, but we did a really good job of holding them down there in the end and I just shot it.
About Team Canada's slow start and bounce back.
I think, well they got the first goal obviously, and we needed to play better and our powerplay did pretty well and our PK also. I think it was a team win and we played really well.
About what the game meant to the city of Hamilton.
I think, especially in front of the home crowd, I needed to play pretty well. It means a lot, especially when you get to represent your country and the OHL.  You need to play pretty well and I think it was a great team win.
About his eyes being on Hockey Canada.
Yeah, I think so. I've been with Hockey Canada ever since I was younger. I got to play U-17's with them and won the Gold Medal at U-18, I thought I belonged. I was just here and playing my best and opening some eyes for everyone.
About the thought of what he needs to do to make the upcoming World Juniors.
I just need to play well. I came here just to play well. I played in this game last year in Windsor and it was an unbelievable experience. This year, it feels great to win at home.
On how big the crowd was.
This was the biggest crowd I've played in front of since I've got here. It was an unbelievable experience and I think I got the school-day game coming up Wednesday so that will be pretty cool also.
About the crowd's reaction to his goal.
Yeah, obviously. I my whole team was giving it to me quite a bit and it feels good to score a goal in front of my home crowd.