Back in their glory days, they won multiple championships in a short period of time, becoming the envy of the hockey world. They were by far the best franchise in the NHL, boasting an embarrassment of riches in terms of talent. But those days are long gone. Despite having a highly-touted first overall pick on board it's been far from smooth sailing. A number of bad personal decisions and poor asset management have left them with little to show for what was supposed to be a better era. Are we talking about the Edmonton Oilers or the New York Islanders? Frankly, it's both.
The Islanders Know Failure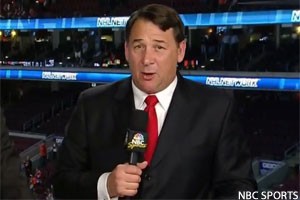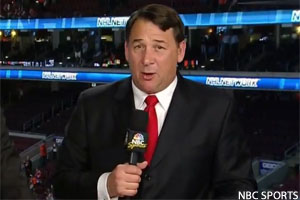 Perhaps the most notorious of NHL executives was Mike Milbury, once the general manager of the Islanders, a man who made so many baffling missteps he is now a legend for all the wrong reasons. His worst moves are highlighted here, but they include such gems as the contract to Alexi Yashin, perhaps one of the worst in NHL history, the trading of Roberto Luongo for peanuts and using a first overall pick on Rick DiPietro. Many of his moves set the franchise back.
The Islanders haven't been completely hopeless since the lockout in 2005. They've made the postseason in four of 11 seasons since then. They finally won a playoff round last season. But the start to this year has felt like something of a step back. They're currently ranked 15th in the Eastern Conference with a 5-8-3 record. Not the way it was drawn up after reaching the semifinals last season.
It's interesting that the Islanders run of greatness was ended by the Oilers in the 1983-84 season. They handed the keys of the NHL to Wayne Gretzky and Co. and haven't reached the top of the mountain since. After five consecutive runs to the Stanley Cup final, the closest they've gotten to making it back was in 1992-93 when they made the Conference final. In the 90's, they missed the playoffs seven years in a row, and instead of effectively re-building, they only managed a few one and done postseason appearances.
After that, they went right back into re-build mode, missing the playoffs for five years in a row, and six out of seven. In the midst of the darkness came a light at the end of the tunnel. In 2009, a last place finish in the standings earned them a first overall pick, and they landed a franchise player in John Tavares. They had their piece to build around now. But every time it looked like they were taking a step forward, they crashed back down.
The Islanders Haven't Surrounded Tavares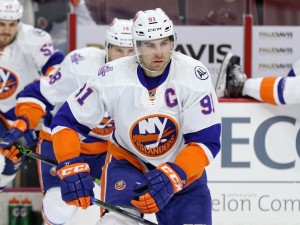 John Tavares is a great player. He isn't in the category of a Connor McDavid, but he's still the kind of guy you make the cornerstone of your team. There have been plenty of rumours that Tavares won't remain with the Islanders once his contract expires (even though he's said many times that he wants to stay). At the moment, however, if you're Tavares, are you confident the organization can build a winner?
In the offseason, the team let Kyle Okposo go, and in his stead signed Andrew Ladd, a player both overrated and over the hill. They let Frans Nielson walk and didn't adequately replace him. They moved fourth liner Cal Clutterbuck up to play with Tavares. They can't seem to settle their goalie situation, and their budding young stars have hit a wall. They have some solid players in the pipeline but none have been able to consistently crack the lineup. They have a real gem in Josh Ho-Sang but he seems to be on the outside looking in.
The worst part of it all is that the Islanders are up against the salary cap. Is a coaching change in the works? Will that make a difference? The Islanders situation is one that many a team should watch and learn from. Having a franchise player is only step one. There is still the task of surrounding him and building a winner. The Islanders have flashes of brilliance but look more like a flash in the pan.
The Oilers Have Work to Do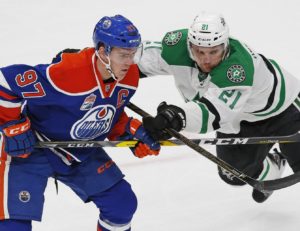 The Oilers have been much more futile in terms of playoff appearances, their last one coming back in 2006. They've also had their share of missteps when it comes to asset management. They started off this season very well, so well in fact that they're still in second place in the Western Conference despite losing three games in a row and five of seven in November. Their most recent loss at the hands of the New York Rangers brought some public chastising from coach Todd McLellan, specifically towards Jordan Eberle and Ryan Nugent-Hopkins.
Eberle was removed from McDavid's line and Nugent-Hopkins' horrific giveaway led to a back-breaking goal against. Is shuffling the lines essentially arranging deck chairs on the Titanic? Is the Oilers roster as currently constructed good enough to sustain a winning record? The Rangers, despite having their backup goalie in net, were the better team and deserved to win. Not every Oilers loss is because they aren't a good team, but the opponent has a lot to do with it as well.
The problem is that we're seeing a lot of the same old issues creep up in their most recent losses. Constructing a winning team is easier said than done, but the Oilers have had 10 years of rebuilding to get it done. The Islanders are looking to players like Ladd, Clutterbuck and Jason Chimera to get it done, but it's not working. Tavares leads the team with five goals, Brock Nelson and Dennis Seidenberg have four apiece, but no other player on the roster has more than three. Not a formula for success.
Connor McDavid can't win games on his own. The Oilers still lack a true number one defenceman, and they are struggling to find line combinations that work. The Islanders and the Oilers have a lot in common. But one thing that Edmonton cannot emulate is a failure to properly surround their star, and leave him open to walking away. They're not there yet. Let's hope they never reach that point.
Marcy, a former hockey player, is a hockey correspondent on CTV News and TSN radio. She began her career as a Sports Journalist in 2009 and has been part of The Hockey Writers since 2010, where she is currently a senior writer and editor.