A few weeks ago, I suggested that Marian Hossa should spend most of his ice time skating on the third line for the Chicago Blackhawks. While I still think he would have a positive impact in this role, I cannot ignore the fact that he clearly has a lot left in the tank. Marian Hossa is a future Hall of Famer and he has shown over the past few weeks, that this he still is the dominant player he once was.
Get Some Rest
Hossa is 37 and he doesn't have the youth and vibrancy that he once had. He has played a lot of hockey in the past few years, and grueling playoff schedules have taken their toll recently. A potential cloud with a silver lining, the Blackhawks were eliminated in the first round of the 2016 playoffs and had a long summer. It was cut short by the World Cup of Hockey, but with five years left on his contract with a cap hit of $5.275 million per season, the Blackhawks are hoping this restful summer will rejuvenate Hossa's past successes.
Not Just Kane
Another aspect to Hossa's resurgence seems to be the swap of Hossa and Patrick Kane on the right side of the top two lines. Hossa joined Artemi Panarin and Artem Anisimov and the PAK line of last year continued to shine brightly, even if PAH isn't quite as catchy. Hossa has benefitted from hanging around the front of the net and cashing in on rebounds and the offensive creativity of Panarin. Take a look at the following video:

As Panarin takes the puck down the half-wall, almost all of the St. Louis Blues on the ice are focused on Panarin. He turns back toward the point and Jori Lehtera is caught watching Panarin. Hossa is able to glide right past him as the shot comes from the point. With Panarin creating room for the other Blackhawks to work through, Hossa positions himself for an easy tip-in goal. Shattenkirk doesn't help out much as he got caught in no man's land, really just watching the game in front of him, but he forms a nice soft area that Hossa gladly settles into. The result is a simple looking score for Hossa and an assist to Gustav Forsling and Panarin.
Still Got It

In this video, Hossa displays that he's still earning the "tough" goals too. He isn't just sitting waiting for a simple tap in. This example shows Hossa fighting off Fedor Tyutin's backcheck with his left hand while corraling the puck. He pushes off Tyutin's stick and quickly flicks it over Semyon Varlamov's glove as Hossa falls forward. Hossa still has speed to the puck, and the strength and skill to finish in close. This opportunity was, of course, set up once again by a solid play by Panarin. Panarin gets the puck in the Blackhawks zone and ricochets an outlet pass off the boards to where only Hossa could grab it. Furthermore, Panarin leads Hossa and allows Hossa to build up speed to turn the corner on Tyutin.
A Future Still to Come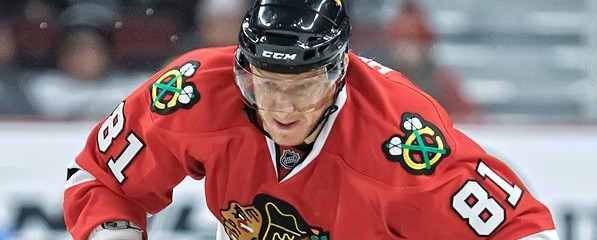 Hossa's contract will take him to the ripe old age of 42, and while the ageless wonder of Jaromir Jagr still has success, it is no guarantee that Hossa will experience the same. Coach Joel Quenneville may have caught on to a nice piece of chemistry with Hossa and Panarin pairing up, but given Panarin's Calder-winning season the previous year, maybe it's Panarin, not Kane who made the other better. Panarin may be helping Hossa, and as long as they keep winning, I don't think anyone will complain. Even still, with a 23.1% shooting percentage on the year, Hossa will have to rely on those juicy rebounds and set-ups to keep coming. If they dry up, Hossa still has value as I've referenced before, but he doesn't seem to be done showing his offensive prowess.