Marian Hossa belongs in the Hall of Fame. That is a fact. He should be in as soon as he is eligible. The Chicago Blackhawks' winger just netted his 500th career goal, becoming the 44th player to ever achieve the feat. While this is an astounding accomplishment, Marian Hossa also should stay and play where he belongs, the third line.
Welcome to the 500-goal club, Hoss! #DemiGodStatus pic.twitter.com/eM0Zm0KD1G

— Chicago Blackhawks (@NHLBlackhawks) October 19, 2016
'Q Blender'
The most obvious problem with Marian Hossa staying on the third (or fourth) line is that Coach Joel Quenneville is not your "plug and play" type of coach. Quenneville changes line combinations more than almost any coach in the league and identifying what the "third" line is may prove difficult. He makes a habit out of changing lines mid-game, even mid-period.
Even so, the Blackhawks essentially operate with two types of lines right now — tier A and tier B. Tier A is your Jonathan Toews anchored line with Panik on one side and a line with Patrick Kane on the wing, most popularly with Artemi Panarin and Artem Anisimov. Tier B is everyone else. The infusion of youth — the "checking" line, the defensive specialists, or however you'd like to refer to them. Marian Hossa is no longer the scorer he once was. His benefit is as a defensive forward.
---
Complete Blackhawks Coverage From THW
---
Hossa's Decline
Hossa will turn 38 years old this season and has already shown more longevity than most NHL forwards. Jaromir Jagr may still be excelling at age 44, but no one else can succeed at that level, not even Marian Hossa. There has been quite a noticeable decline in recent years that supports this.
Per hockey-reference.com, Hossa had a 14.7% shooting percentage in 2012-13, then 12.4%, 8.9%, and most recently a 6.8% posted in the 2015-16 campaign. These were the first two years that Hossa's shooting percentage dropped to single digits. The previous low was an 11.0% in 2007-08. Hossa was barely a half-point per game player in 2015-16.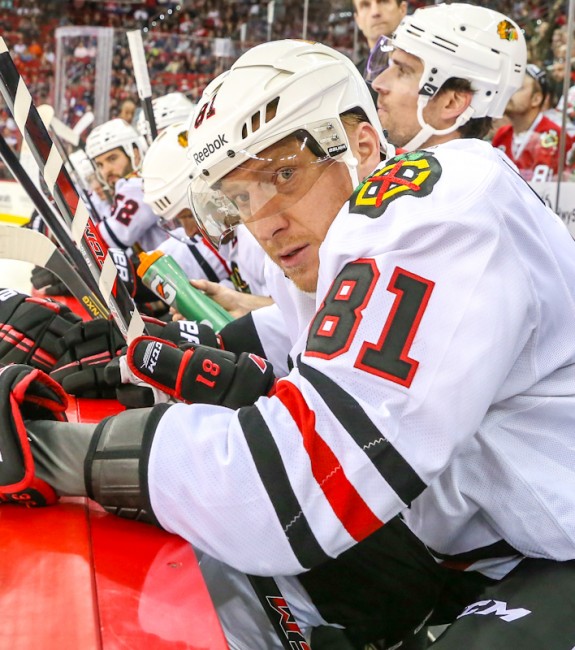 Best Offense Is a Good Defense?
Hossa is still one of the game's best players, but he is no longer the dynamic offensive player he once was. He continues to be a phenomenal two-way player, but to expect offensive production from him as if he is still an elite scorer is misguided. His value may be more rooted in leadership at this point.
Coach Q preaches a defensive responsibility that drives the transition game, which leads to offense. Hossa may be the single best "player-coach" type available today. What better way to guide the young Hawks on how to play in this manner? Even if they slip up, who better to save their hides with a stellar defensive effort?
I expect offense from Jonathan Toews. He is another superb two-way forward, but the Blackhawks need players other than Toews, Kane and Panarin to score goals. Toews is still a dynamic scorer, and keeping him tied to Marian Hossa may have appeal to the marketing minds in the Blackhawks front office, so if the team just wants to help their marketing department, it may be worth it to keep Hossa on the top line. That, though, comes with an acceptance that Hossa will not be able to create opportunities the way he once did. Dropping him down a few lines will be better for long-term team success.
Hossa should be utilized more to mentor and train younger players into Q's system and help establish good defensive skills on the third line. He is absolutely a phenomenal player, but to pigeon-hole him into the role he used to fulfill is misguided at best.