Wednesday morning, Cam Talbot will be the proud father of a set of twins. His wife is set to bring two beautiful new babies into the world and with Edmonton's mandated day off being moved to the 19th of October, it's going to be a great moment for the Oilers goaltender.
It's remarkable how a goaltender so close to being a father was able to focus on the task of professional hockey. He not only played at a high level, but he stole a game for the Oilers. Along with his twins, coincidentally, everything around Cam Talbot has been a tale of twos.
Two Big Points
On Tuesday, the Oilers defeated the Carolina Hurricanes by a score of 3-2. Carolina was a team that had early leads in its last two games but blew both of those leads and ended up losing. The Hurricanes were a hungry group of players looking to finally get two points instead of just one.
It was a closer game than it probably should have been. Cam Talbot made two big saves near the end of the game to steal this win for the Oilers and these were two points Edmonton needed to avoid becoming a .500 hockey club. This game meant either being a 3-1 team and a team that has a two-game cushion going into a contest with a very tough St. Louis team (which Edmonton is now with this victory), or going into a game where Edmonton may not be the favorite to win and come out of that contest with St. Louis a sub-five hundred team.
Related: Don't Panic Over the Oilers and Talbot, Yet.
Two Goals
The only two goals Talbot allowed were the two goals scored by his good friend Lee Stempniak. Talbot and Stempniak used to play for the New York Rangers and in 2014, Stempniak also became the proud father of a set of twin girls. It's an uncanny coincidence.
Stempniak got two goals on his former NYR buddy Talbot tonight. Talbot's wife having twins Wed morning. Stempniak had twin girls in 2014.

— Jim Matheson (@NHLbyMatty) October 19, 2016
While both Talbot and Stempniak are fierce competitors, I suppose if Talbot was going to let two goals in for anyone, on this night, it seems the most fitting it be to a former teammate and fellow father of twins. Talbot spent two years with the Rangers and in the 2014-15 season shared a locker room with Stempniak. Of all people, Stempniak would understand the pressures of what it feels like trying to be zoned in on hockey but have two little ones on the back of your mind.
Two Years To Prove His Worth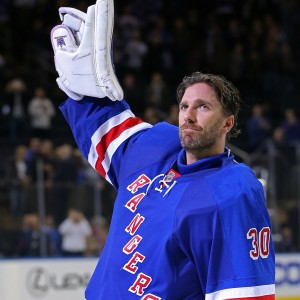 This is Talbot's second season with the Edmonton Oilers. He spent last year trying to show he was potentially the starter Edmonton had hoped they'd obtained at last year's NHL Entry Draft. He was traded by then-Rangers GM Glen Sather for three draft picks, two of which could be real NHL prospects.
Talbot raised his value in New York during a nearly two-month period when Rangers starting goalie Henrik Lundqvist was out of the lineup with a serious neck injury. Talbot missed only two games while Lundqvist was out of action and Talbot went 16-4-3 with a 2.16 goals-against average and .929 save percentage. It was a performance worthy enough for Peter Chiarelli to make a gamble that Talbot was the goalie of Edmonton's future.
Now, in Talbot's second season, the expectations are much higher. He is no longer the goaltender people view as possibly the starter. He's the guy Edmonton needs to be the number-one or all hope for the season is lost. Without Talbot at the top of his game, the Oilers are another non-playoff team with too many missed opportunities.
Two More Years After This One
Talbot is signed through the 2018-19 season. That means that after this one, Talbot has two years to earn himself what could be his final big NHL contract. He's 29-years-old now and will be 32 by the end of his current deal. Edmonton expects to win this year, but before Talbot's current contract expires, the Oilers hope they're competing for a Stanley Cup.
Talbot's final year is the first big year of what will be Connor McDavid's new contract. The Oilers will have to build around that salary and for Talbot's sake, his final two seasons will be the make or break negotiating tool he has.
---
Complete Oilers Coverage From THW
---
Two Congratulations
In my home, we have a number of Edmonton Oiler fans. For two of us, Cam Talbot is our favorite current NHL goaltender. My son and I want to send two special congratulations for what is likely about to become your finest moment.
I'm a father of two children. While my kids are not twins, it's amazing how two humans can change your life in such an amazing way. Mr. Talbot, if being the starting goaltender for the Oiler wasn't a challenge enough, you are about to have your handsful. You'll quickly find out first-hand, that really, the health and happiness of these two children is all that matters. Congratulations.