Judging by the fans reaction on Twitter, you might have thought the Oilers lost a playoff game to put them on the brink of elimination rather than losing game three of the regular season. After two successful outings to open the year, in which Connor McDavid scored six points and the team looked different already, the Oilers played a real dud, leaving fans in a slight frenzy. The Buffalo Sabres rolled into Edmonton missing two offensive weapons in Jack Eichel and Evander Kane. Should have been an easy win for the Oil, right? Well, it doesn't work that way in the NHL. Often times, the games you have no business winning, you do, and the games you should win, you fall flat.
The Oilers Turned in a "Bad" Performance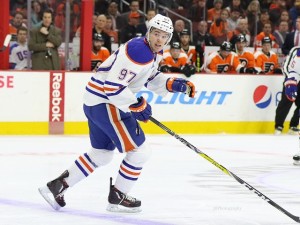 Today would have been a day off for the Oilers, but the players decided they needed to practice. In the words of their head coach, the team played like "the Bad News Bears". An interesting assessment. Todd McLellan didn't mince any words when discussing his team's performance, especially the penalty trouble by one Benoit Pouliot. To say the coach was angry would be an understatement. "We had guys falling all over the place. Our passing was poor. Positionally, from the goaltender on up to the forwards, no one was ready to play." [Edmonton Journal]
Everyone is on edge when it comes to this team. There have been plenty of changes and new faces, and there's no time to stumble out of the gate if they want to compete for a playoff spot. Having said that, it's the third game of the season. Last year, you might have been able to recall plenty of "moral victories" by the Oilers, where they came close but just couldn't get the win. And that might please the fans a little bit more, those who don't believe every loss is the same. The game against Buffalo was ugly from all sides, and that's not the way anyone wants to see their team perform.
But a loss is still a loss, whether you fought hard to the end, or didn't fight at all. Sometimes a team can play terrible and find a way to win. That's no better than losing, other than getting the two points. Because that's what it's all about. The hockey season is long. There will be many ups and downs. Yes, the game against the Sabres was concerning because they didn't look ready or focused. But if a team has a bunch of great games, with a stinker thrown in every now and then, that's a pretty good team.
If you step back and look at the Oilers objectively, last night's game shouldn't be seen as surprising. They have a young defence corp for the most part. They have young, inexperienced players in the top-nine, and frankly not enough depth at centre or right wing. And they have a goalie who has played well at times, yet still feels unproven. They can't rely on their blueline to be lights out, so either Cam Talbot will steal a game, or he'll take the blame. Last night, he wasn't at his best no matter how you slice it.
How Much Can be Expected of Cam Talbot?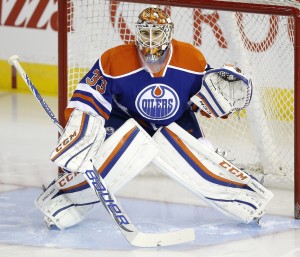 Is Cam Talbot a number one goalie in the NHL? Can anyone answer that? He is a starter by default, but not necessarily because he's earned it. Last year (his first full season as a starter), Talbot ranked 41st in goals against average, and 39th in save percentage, while ranking 15th in games played with 56. His numbers with the New York Rangers were good, in fact so good that he was one of the most prized trade targets when the Oilers acquired him. The price was three draft picks, along with the chance that the Oilers could have a real gem.
Trouble is, they still don't quite know what they have. Talbot signed a three-year contract extension, showing that Oilers have faith in him. At some point, however, Talbot is going to have to prove that faith is warranted. The issue with banking on a backup goalie becoming a legitimate number one is that the mindset of the position changes when you become "the guy". As a back-up, you don't know when you'll be called upon, you just have to be ready. The onus isn't all on you, in fact, not much is usually expected of you. But as a starter, everything changes.
The Oilers defence has been far from stellar in front of Talbot, and last night, in particular, he couldn't be blamed for all the goals. But he could certainly be blamed for some. The brain fart on the goal from centre ice? That happens to the best of them. At what point does it become the goalie's responsibility despite the team in front of him? The Oilers haven't had a legitimate starter in a long time. They hope Talbot is it. Those who believe he is will blame the defence. Those who believe he isn't will blame the goalie. When do we find out what the answer is. Will we ever?
Cam Talbot's wife is expecting twins any day now. He is likely distracted and you can't fault him for that. (Not sure what the deal was with the rest of the team, but anyway). Jonas Gustavsson came in briefly but was forced to leave after getting his neck twisted. That places even more pressure on Talbot to carry the load. If Gus is out for any extended period of time, the bulk of the work will fall on Talbot's shoulders. Is he up to the task?
When Is a Good Time to Panic?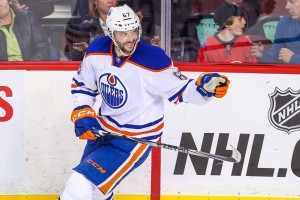 The trouble with pushing the panic button in sports is that it doesn't actually accomplish anything. But one bad game, in October, after which the players took all the responsibility upon themselves, is hardly a good reason to worry. Is it troublesome to see the team lay such an egg? Of course. Is doubt creeping in about Talbot's capability to lead this team? Definitely. The blue line is certainly better than it was last season, but still not that of the New Jersey Devils in the 90's. Talbot can't hide behind anything. He will be exposed if he can't hack it. And that's certainly a concern.
The Oilers can't afford a slow start, there's no question. But is improvement measured by getting to the playoffs? Can anyone honestly say that Edmonton is a legitimate postseason contender? They have to prove they are, and it's going to take a lot more than a couple of games in the fall. This season may be one more of change and transition, one more without playoff hockey, and one more for the team to forge an identity. The key is to learn how to play the game properly, unlearn the old mindsets, and start a new Oilers era. One bad game doesn't derail that.
The real measuring stick will be how they respond in their next game. That goes from Talbot all the way to Connor McDavid. Defensive positioning has to be better. The dumb penalties have to stop. Nothing can be accurately judged in October. Last year at this time the Montreal Canadiens looked like they were going to win the Stanley Cup. The Pittsburgh Penguins were becoming one of the worst teams in the league, and Sidney Crosby looked washed up. A lot can change over the course of an NHL season. Let's give these Oilers time to figure it out.
Right now, the team has to focus on turning in a much better performance in their next game. Maybe they got too high on themselves after two successful games against Calgary. Maybe they thought it would be easier to take down Buffalo. It was a wake-up call, there's no question. The onus is on them now to be better. But it's only the third game of the season. It's just not realistic to get so upset. Yes, the fanbase is starved for a winner. They're going to get one soon so long as McDavid is on the team. Step away from the panic button. If they're still playing like this in January, then we'll talk.