Tuesday night marks the return of Dallas Stars fan favorite Vernon Fiddler to the American Airlines Center. The New Jersey Devils are in town and will kick off a four-game home stand for the Stars. Fiddler signed with New Jersey this summer after the Stars decided to go in another direction.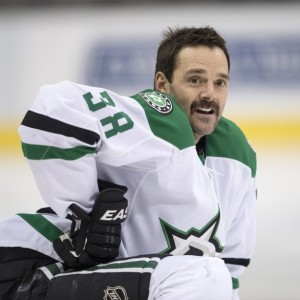 Fiddler, 36 years old, was an alternate captain for the Stars. He also led the Stars penalty killing unit, playing a team-high 178 minutes of penalty killing time. His 120 shorthanded faceoff wins were the 8th most in the NHL, trailing names like Patrice Bergeron, Anze Kopitar and Ryan Kesler. Guess what? Fiddler's four shorthanded points (2g, 2a) were more than Bergeron, Kopitar and Kesler had last season. The Stars are missing Fiddler on the PK this season. They rank 27th in the league with a 76.7% PK rate.
Fiddler's Journey to the NHL
His journey to the NHL is an example for all young hockey players, After a successful junior career with the Kelowna Rockets and Medicine Hat Tigers, Fiddler went undrafted and worked his way from the East Coast Hockey League to the American Hockey League before signing with the Nashville Predators in 2002. Devils general manager Ray Shero was the assistant general manager of the Predators when they signed Fiddler.
Last season Fiddler reached 800 career NHL games and 100 career goals. He played in 80+ games three out of his five years in Dallas. Fiddler scored 25 goals and 26 assists combined over his last two seasons in Dallas. He's off to a bit of a slow start so far in New Jersey with just one assist in 14 games this  season. He does lead the Devils in short-handed faceoff wins (14) and is second in short-handed ice time (32.48) among Devils forwards.
A Leader in the Community
Along with being a leader on the ice and in the locker room, Fiddler has been a prominent presence in the community. Fiddler lost his sister Erin Dionne to leukemia when she was 8 years old. He hosts an annual golf tournament back home in Edmonton which raises $100,000 for kids with cancer. Fiddler also started "Fiddler's Tribe" in Nashville and "Fidd's Kids" in Dallas, both initiatives provided support for families and kids with cancer.
Fiddler will be in familiar surroundings when the puck drops Tuesday night. He will be anchoring another 4th line, killing penalties and taking key faceoffs. Unfortunately, for Stars' fans he won't be wearing victory green, but more like devilish red. Despite that, I have no doubt he will get a warm welcome from the fans. I also envision a "thank you" stick-tap of sorts from the Stars organization. Welcome back to the old barn @GrumpyFidds.