San Jose Sharks forward Melker Karlsson is one of the many NHL players who rarely gets time in the spotlight. Even knowledgeable Sharks fans are hard-pressed to differentiate his game from other Sharks depth forwards.
Yet Karlsson has proven himself something of a difference maker. Last season, Karlsson finished at plus-5, fourth in plus-minus among Sharks forwards. Only the three top line forwards (Joe Thornton, Joe Pavelski and Tomas Hertl) were better. An injury forced Karlsson to miss time at the start of last season. Once healthy, Karlsson chipped in a modest 19 points while averaging over 13 minutes of ice time. In the playoffs, Karlsson was again solid, but in the Stanley Cup round against Pittsburgh, Karlsson was superb. An injury in Game 2 to top liner Hertl created some line shuffling. Karlsson found himself on the second line with Logan Couture.
http://gty.im/539077518
Karlsson was one of the few effective Sharks skaters in the Stanley Cup Final.
With Hertl's absence in Games 3-6, Karlsson had four points in four games, and was plus-3. The Sharks managed only 12 goals in the series against Pittsburgh. One came on the power play, another into an empty net. Of the remaining ten goals scored by San Jose, Karlsson was on the ice for seven and had a direct role in six. Unlike most of his teammates, Karlsson had a good series. Some of his handiwork can be seen hereh.
Karlsson's Season, So Far
This season, Karlsson has provided San Jose more of the same, effective play.
Karlsson has four points this season, two goals and two assists, while playing mostly on the fourth line. Once again, Karlsson is a plus player. He joins Pavelski and Thornton as the only three Sharks forwards with a positive rating among every day forwards. His plus-3 is tied with Pavelski for the team lead.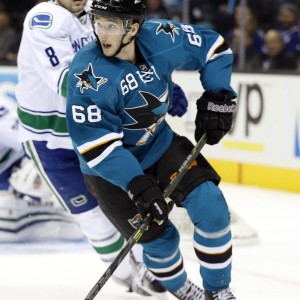 Karlsson's role is not limited to even strength play. He is often seen on the Sharks penalty kill. He is third among Sharks forwards in 4-on-5 ice time. Only one goal has been scored in Karlsson's 20+ minutes of ice time during the penalty kill, for a very impressive GA60 of 2.8 (goals against per 60 minutes of short-handed ice time). Last season, only 11 forwards in the NHL had a GA60 on the penalty kill under 3.0.
On Saturday night, Karlsson left the game against Tampa Bay shortly after taking a Victor Hedman slap shot to his leg. He did attempt to play on, and his final shift included a nice up-ice pass which led to the Sharks first goal. Still, he missed the final two periods and was seen in a walking boot after the game. Whether the injury has longer-term consequences isn't clear at this point. As is tradition, injury information from the team is notoriously vague.
Next For Melker
I expect the Sharks will do a good bit of line shuffling with their forwards this season. The Sharks coach and general manager have spoken about the importance of rolling four competitive lines. Karlsson is a critical piece in enabling actions to match words. The Sharks need to rely on depth more than they have thus far this season.
Forward depth may reside on the roster of the Sharks farm team, the San Jose Barracuda of the American Hockey League (AHL). A handful are making a case for themselves to get an NHL shot. Thus far, only Kevin Labanc has gotten one, and he's been good in his first three NHL games.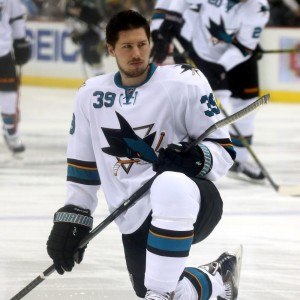 Though Karlsson is on the fourth line, his spot on the Sharks in not at risk (though for the right price, like anyone else, he could be traded). Still player call-ups from the AHL team can effect Karlsson's role. My expectation is he'll stay on the fourth line with Tommy Wingels and Chris Tierney, while call-ups will play on the second and third lines. Still, I don't think this is the optimal role for Karlsson.
I advocate for Karlsson to join the Sharks second line led by Logan Couture. The two had strong chemistry in their brief time together in the series against Pittsburgh. Though Couture has been passing the eye test this season with his play, the points haven't come at the rate one expects from a high-end player. Couture has eight points and is minus-3 in 15 games. Having linemates which compliment him effectively could offer some help. Help is just a Melker Karlsson away.
Zeke's Notes
In the past three games, San Jose has used a top line featuring Joe Pavelski, Joe Thornton and Joel Ward. The combined age of the three is 104 (Ward adds another year next month). It is unlikely a line this old stays together for long, especially given the heavy minutes demanded of a top line. Still, it has been effective for Peter DeBoer. The team is 3-0 with this top line, all road wins against good teams. All three players have two points and are plus-2 in their three games together.
I did compare the combined age of this line to what other NHL teams could put on the ice. Using the three oldest forwards on each team's roster, only five other NHL teams could ice a forward line with a combined age over 104 years old: Florida, Colorado, Arizona, Pittsburgh and Vancouver.
Former Sharks forward Sergei Makarov will enter the Hockey Hall of Fame in Toronto this week. Makarov was legendary in his heyday, spent in Soviet Union. His line there included Igor Larinov (2/3 of famous 'KLM line'). Makarov and Larionov (also a Hall of Famer) spent two memorable seasons together in San Jose. They were the key players who took the Sharks from cellar dwellers (with record levels of futility) into the NHL playoffs, where they pulled major upsets each season. Their arrival, in the third season of the San Jose Sharks, corresponded with the opening of the San Jose Arena, now commonly known as the Shark Tank. Having an exciting team play in the new venue got the Sharks off to a strong start in San Jose.
The third member of the Sharks line with Makarov and Larionov was Swedish winger, Johan Garpenlov. This led to Sharks fans calling their postseason appearances the 'playovs'.