We're fifteen games into the 2016-17 season, and while the Tampa Bay Lightning are starting to find their game, forward Tyler Johnson doesn't look up to par with how we're used to seeing him. Where's the Tyler Johnson we've been used to seeing the past couple of seasons? He surely wasn't around during the first 10 games, but he's slowly starting to come around. Let's examine Johnson's start to the season.
Turning Production Around
Johnson has five goals and three assists through the Lightning's first fifteen games, which isn't that detrimental given the Lightning's struggle to score earlier on in the season. However, the Lightning are relying on Johnson for more production and to be a leader each night, but that just hasn't been the case.
In the 2014-15 season, Johnson recorded 72 points in 77 games, averaging 0.94 points per game. In 2015-16, Johnson declined to 38 points in 69 games, averaging 0.55 points per game all while battling injuries. So far this season, Johnson is on pace to averaging just 0.53 points per game, and while it's still early, it's a slight decline in production. While things were looking really bad for Johnson in his first ten games, he's starting to find his offensive touch once again.
He has three goals and four points through the Lightning's last five games, but all four points were accumulated in two of those games. Johnson is accumulating his points in bunches, and the Lightning are hoping he can spread out the scoring at a more consistent rate to balance out their overall scoring efforts. When Johnson is producing, the Lightning find their groove and show why they're considered one of the most elite offensive teams in the NHL.
Defensive Struggles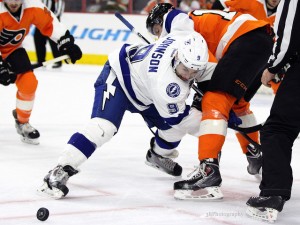 Johnson has been regarded as one of the top two-way forwards in the league over the last three seasons. Between the start of the 2013-14 season and the conclusion of the 2015-16 season, Johnson accumulated a +/- of plus-60, a remarkable indication of his strong two-way play. However, fifteen games into the 2016-17 season Johnson is already a minus-7, finding himself on the wrong-end of goal scoring when he's on the ice.
Johnson owns a career Corsi-for percentage (CF%) of 52.1%, but this year he has earned a CF% of just 48.2, meaning he hasn't been able to generate the offense he's been known for in the past. Poor possession numbers have led to a poor plus-minus rating, and it's reflected in Johnson's game. The Lightning will need him to turn things around in order to have the deadly one-two punch down the middle that they have in him and Steven Stamkos, two players they rely on heavily for the success of their team.
While it's still early on in the year, and Johnson's numbers aren't where he would like them to be, the Lightning have 67 games left in the season and Johnson has time to turn his fortunes around. It will be a challenge, but we've yet to see the 5'8 Spokane-native shy away from adversity to date. Johnson will be looking to prove the critics wrong once again.