When Taylor Hall was traded to the New Jersey Devils by the Edmonton Oilers on June 29, it is no secret that the talented forward was caught off guard by the move and unhappy with how things ended in Edmonton.
"I was a bit shocked. You hear rumblings, but when it happens you're a little bit shocked. But I'm excited for the challenge and excited to join a team that wants me there," Hall said shortly after the trade was announced.
"It's disappointing. I was there for six seasons. You develop a relationship with the team and the city and the fans. I'm disappointed that I'm not going to be there to see that through. I certainly do feel a bit slighted by the whole thing," he said.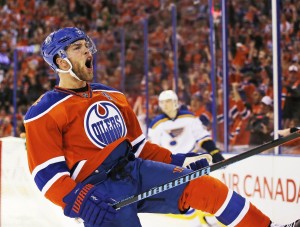 More recently, the 24-year-old spoke about the situation in Edmonton and the focus he has on his future in New Jersey.
"I just want to be on the best team possible, and I think it goes without saying. It sucks what happened in Edmonton, and it's unfortunate we didn't have more success, but then I probably wouldn't be here. I'm excited for the opportunity ahead," Hall said, according to NJ.com's Chris Ryan.
Based on Hall's comments, it seems clear that the first overall pick in the 2010 NHL Entry Draft left Edmonton wondering about what could have been with the Oilers. Despite his curiosity, Hall is positive about his team and the direction the Devils are headed.
"Just win more. It's not an easy division by any means, but just looking at our team on paper, if we can stay healthy and rely on Cory (Schneider) a little bit less, it's going to put us in a good spot," Hall said. "I haven't played a game yet, so I don't have quite as good of a feel as I will 20 games into the season, but I'm excited for what I see right now."
When the 2016-17 season begins, Hall and the Devils will look to make the playoffs for the first time since the team was eliminated by the Los Angeles Kings in the 2012 Stanley Cup Final.
Steven is a lawyer and writer with a passion for the game of hockey. He's the Lead Writer covering the Tampa Bay Lightning with THW. He's also been press credentialed through the Lightning since 2016. His work has been published at The Fourth Period, LightningInsider.com, Bolt Prospects, The Sports Daily Network, U.S. College Hockey Online and College Hockey News. He's had radio appearances on TSN 690 in Montreal, Lightning Power Play Live and multiple podcasts to give insight and analysis on the team. He can be reached on Twitter @StevenDiOssi and by email at sdiossi@gmail.com.