The Carolina Hurricanes entered the 2016-17 season with considerable defensive depth, owning up to 12 defensemen with NHL-caliber potential. Yet, over a month into the season, the team has struggled to find a single one capable of holding down the No. 6 defenseman role in the lineup.
Enter Matt Tennyson.
The former San Jose Sharks depth asset, signed by general manager Ron Francis to a two-way deal over the summer, roared out to an incredible start with the Hurricane's AHL affiliate Charlotte Checkers, prompting his recall last Friday. And two games into his stint with the Hurricanes, he's looked solid in significant minutes and the team has allowed just one total goal in a pair of wins.
Could Tennyson be the unexpected solution for Carolina?
How Bad Have the No. 6 Guys Been?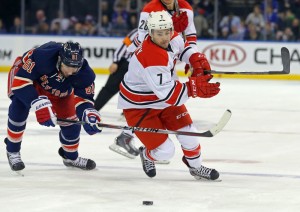 Klas Dahlbeck has scarcely lived up to his low expectations after being claimed off waivers. Ryan Murphy has been his usual self — occasionally great, always gaffe-prone — since returning from injury. Jakub Nakladal flamed out so quickly that he refused to report to the Charlotte Checkers and was released on Monday.
The underlying numbers emphasize the overarching ineffectiveness of the three rotating blueliners.  In nine games, Dahlbeck's raw Corsi rating (49.2 percent) isn't especially bad, but opponents are managing to get consistently higher quality opportunities than the Hurricanes when the former Coyote is on the ice, contributing to his significantly worse 44.3 expected goals for (EGF) percentage. His 6'3″, 207-pound body is not agile and he doesn't fit well with the Hurricanes' modern puck-moving system.
In just three games, Nakladal — who was an unheralded possession controller last season with the Calgary Flames — has been a possession disaster (41.6 percent Corsi) in addition to suffering from the same shot quality issues as Dahlbeck (he, too, had an even worse EGF at 35.5 percent).
And in four games, Murphy has been above-average in terms of puck possession and certainly more defensively reliable than he has been in the past. But he's also made some glaring mistakes, such as getting lost covering the goalpost on a goal by Michael Cammalleri:
Given the combination of the Hurricanes' poor start (5-6-4), the Checkers' hot start (7-4-0) and Ron Francis' omnipresent hesitance to jeopardize his long-term rebuilding plan to resolve any short-term emergencies, the franchise seems to be only willing to try out certain depth options while top prospects Haydn Fleury and Roland McKeown gain their professional sea legs in Charlotte.
That mindset led him to give a shot to Tennyson last weekend, who had scored seven points (including a rare hat trick-by-defenseman) and a plus-seven rating in nine AHL appearances to begin the campaign.
How Could Tennyson Fill the Hole?
Tennyson has not been showstopping in his first two appearances in Raleigh — Saturday against Washington, then Tuesday against San Jose — but he also hasn't been the liability that others before him have been.
The 26-year-old Minneapolis-native has been exactly even (50 percent) in the Corsi department in both games, and given the alternatives, the Hurricanes will take it. Even better, Tennyson has shown a nice, if unremarkable, mix of agility and physicality, defensive dependability and offensive potency.
Opponents have yet to find the back of the net while he's been on the ice, and while the Hurricanes haven't scored either, Tennyson registered three shots on goal Tuesday, including two wristers from the point in which he did well to angle the puck through substantial traffic and test Sharks goaltender Aaron Dell.
Paired with Noah Hanifin, Tennyson has looked comfortable in his first minutes in the red-and-white, providing the stable presence without drawing too much attention that a No. 6 defenseman should provide. It's not as though he has any more NHL experience than fellow fringe players Dahlbeck, Nakladal or Murphy — he's played in only 63 major-league games over his five-year professional career — but Tennyson has acted like a more well-traveled (and well-rounded) veteran than the rest.
If Francis is truly determined to keep Fleury and McKeown's development separate from the month-to-month needs of the big club, Tennyson might be as good a short-term, 6th-defenseman solution as any that the Hurricanes have tested.