We're still a fair stretch from crunch time, but a handful of teams are splashing cold water on their face and staring into a steamy mirror as Elliott Smith's "Needle in the Hay" plays softly in the background. They're discovering they're not contenders despite hyperbolic assertions throughout the summer.
For teams starting the death spiral, there are options. Make a move and attempt to fix what's broken or start selling parts to the vultures starting circle the carcass.
Either way, we're approaching a point in the season when the first big in-season trade could come. Here's a look at a few players who could find themselves wearing a new sweater soon.
1. Jacob Trouba
We're through one chapter of the Trouba trade request, but that doesn't mean the story is over.
Though Trouba has re-signed with Winnipeg and rescinded his trade request, there's not really any reason to believe he couldn't still be moved, as many insiders have pointed out. Being back on the ice is a chance for him to showcase what he offers and his very reasonable cap hit on the new two-year deal makes him a little more alluring to cap-strapped teams looking to improve their blue line.
Most reports indicate no trade ever really came close while Trouba wasn't playing. Part of the issue is likely to be what Winnipeg wants in return. Reports state the Jets want a young left-shot defenseman in return for Trouba. Basically, they want Trouba's reflection in a mirror. Finding a partner for this kind of trade is tough to borderline impossible, especially this early in the season.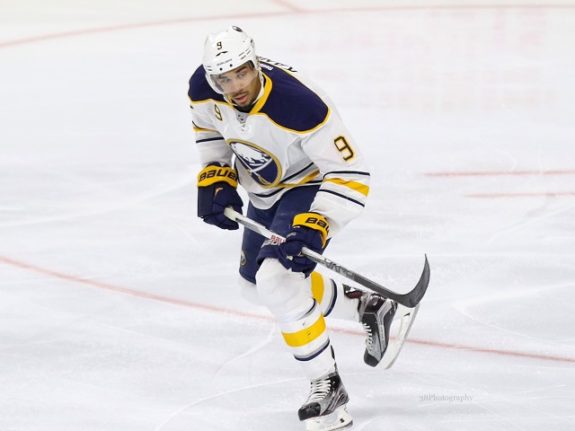 2. Evander Kane
Kane hasn't quite worked out in Buffalo how the team hoped, on or off the ice. Among the issues have been injuries and his off-ice conduct, which included dismissed charges of harrassment and trespass in a Buffalo bar (though he was called "arrogant" and "boorish" for the actions which were caught on tape). Despite serious charges being leveled against him, there are teams that might have an appetite for giving him another chance to prove he's the dangerous offensive force he showed in the 2011-12 season.
Among the teams keeping an eye on him are the Vancouver Canucks, whose slow start doesn't appear to have any solutions in-house. They reportedly looked at Kane in the summer and are looking again now that they've discovered a serious lack of offense on the roster, according to TSN's Bob McKenzie. Kane, a Vancouver native, isn't likely to be the only forward they're looking at, but they desperately need someone who can get them on the scoreboard.
McKenzie notes Buffalo's priority if they move Kane will be to improve the team's porous blue line. That might not make Vancouver an ideal trade partner.
When Kane returned to the lineup after an injury that kept him out for a month there were many scouts in attendance. The Star Tribune's Michael Russo says the Wild may be one of the teams expressing interest, though Sportsnet's Elliotte Friedman reports the team is denying it.
3. Martin Hanzal
Arizona recently said they're looking for a young player, preferably a center, in return for Hanzal if they move him. That high ask might mean Hanzal stays in Arizona until closer to the trade deadline when the asking price presumably drops.
Coyotes haven't ruled out signing Hanzal to an extension. Not automatic that he's dealt, so nothing imminent on that front.

— Craig Custance (@CraigCustance) November 17, 2016
The issue here is Hanzal is a pending unrestricted free agent. TSN's Pierre LeBrun notes term could be a sticking point on getting an extension done. With all the young centers the Coyotes possess, giving Hanzal a long-term deal feels unnecessary from the team's perspective. However, from the perspective of a 29-year-old player, job security probably sounds pretty nice. The 6-foot-6 center can probably find that security on the open market. That makes him a trade candidate.
4. Alexander Burmistrov
Jets GM Kevin Cheveldayoff reportedly emailed the other 29 GMs in the league (though there are technically 31 total GMs now) to say Burmistrov is available.
Things haven't worked out how either party hoped and if Burmistrov is going to stay in the NHL it may be time for a change of scenery. It's a tough trade because the season hasn't treated him well. He has no goals and two assists in his first 16 games. For him to find a new home, he'll need another league GM to see some untapped potential because he's not succeeding on faceoffs, he's averaging less than a shot per game, and his -8.43% relative CF% isn't the profile of a player GMs are clamoring to acquire.
5. Jaroslav Halak
Halak's agent, Allan Walsh, has made it know they aren't happy with the Islanders' three-goaltender system. The team responded to his public complaints by reportedly emailing other GMs around the league to let them know Halak is available.
However, in the eight games following the incident, Halak started six and played in seven. Are they serious about trading him? His health has been an issue in the past and it's probably not an insignificant part of the team holding three goaltenders at the NHL level (they'd have to pass J.F. Berube through waivers to put him in the AHL). But how serious is a team struggling as badly as the Islanders about trading their starting goaltender? They have an uphill battle to make the playoffs, but we aren't even to American Thanksgiving yet. Are you really selling off your starter when you don't seem to have much confidence in either of the other two goaltenders you're carrying? If things don't start to turn around in Brooklyn, they could get more serious about it soon.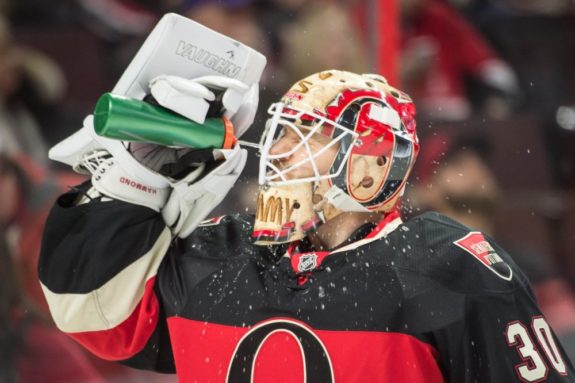 6. Andrew Hammond
Ottawa has made it known Hammond is available, according to Friedman. They're in a tough situation, but with the acquisition of Mike Condon, things have changed. In limited time, Condon has been better than Hammond and costs less (always appealing to the cheap uncle of NHL franchises). If Craig Anderson is in the lineup, the clear number two appears to be Condon now, but sending Hammond down is fraught with issues, including that his $1.35 million cap hit this season and next can't be completely buried in the AHL.
Hammond might be tough to trade. He's been a middle of the road goaltender since his incredible run two seasons ago. Additionally, for a team dealing with injuries in net, his $1.35 million cap hit might be too much to take on only to wind up with three goaltenders when everyone is healthy again.
7. Cam Fowler
Fowler's name is frequently out there in trade rumors. Things change rapidly, but on Nov. 1 Friedman wrote the Ducks are "determined" to keep Fowler despite seasons of trade speculation.
That may be the case, but if it's not Fowler, it may have to be someone on the blue line. The team has cap issues and they're unlikely to find a way to hawk the bloated contracts of Kevin Bieksa and Clayton Stoner. If Simon Despres gets healthy, it could force their hand. Though, unfortunately, there's no indication Despres is about to return.
With Detroit looking to improve their defense and Anaheim showing interest in Anthony Mantha, they're a pairing to watch (even though Detroit tried to get Fowler before and couldn't make it happen).
8. Dougie Hamilton
There's a lot to unpack here. Starting with Nick Kypreos, a few reporters have noted teams are calling Calgary about Hamilton (with Friedman reporting talks go all the way back to June's draft), though that doesn't mean the team is shopping him. Additionally, there are reports Calgary is looking for another defenseman.
Hamilton hasn't worked out how Calgary hoped, but there are plenty of teams that believe he's a top-four defenseman with room to grow. However, it's not happening right now in Calgary. He's averaging the fifth most time among team defenders and has played north of 20 minutes just twice in the last 13 games. The Flames have denied that they're moving Hamilton, but the Habs denied they'd move P.K. Subban as well.
The biggest issue for Calgary might be that if you trade him now, you're selling low. He hasn't been playing up to what most believe he's capable of. On the other hand, this early in the season, teams that believe they can right the ship might be willing to pay a little more for a top-four defenseman because they're next to impossible to acquire.
Another piece of this puzzle is GM Brad Treliving has reportedly been making calls to test the trade market. The Ottawa Sun's Bruce Garrioch reports Treliving has made attempts at moving both Lance Bouma and defenseman Deryk Engelland. He hasn't found teams that are interested in either player. If something has to give, might he turn back to some offers from teams intersted in Hamilton?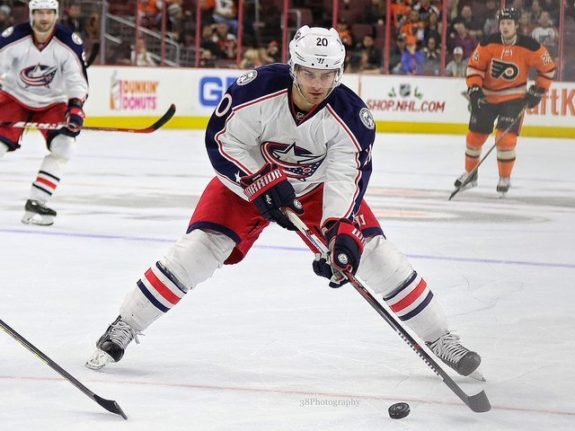 9. Brandon Saad
This may not be all that likely, but it's interesting enough to get a mention from Friedman in his most recent 30 Thoughts. The Blue Jackets need to ease their cap situation some, particularly with all the young talent on the roster who will need new deals in the coming seasons.
Saad is 24 and still has many good years ahead of him, but he's been inconsistent this season and he was nearly scratched by coach John Tortorella recently. Friedman notes Chicago kicked the tires on re-acquiring Saad last season, but there were too many obstacles. He also speculated that with the Islanders working hard to acquire a forward, it's possible they've looked at Saad.
If Columbus needs to create cap space, moving Saad is an option, albeit one that would have to leave a foul taste in GM Jarmo Kekelainen's mouth. It might be made a little easier if some young prospects like Sonny Milano or Paul Bittner are able to crack the NHL lineup and make it stick.
10. Frank Corrado
Of all the young Leafs who saw a lot of time in the press box last season, only Corrado continues to be getting a bird's eye view of games. He's not a huge catch, but there's upside to his game and given a little more attention and ice time, he has the potential to be a solid third-pairing defender.
With how little ice he's seeing, his situation is interesting. Could a team out of contention in the near future try to take him as a part of a package and give him space to prove himself during a lost season? It's possible and the Leafs don't appear particularly attached to him.
Those are a few of the players grabbing headlines, but there are other names out there, like the Stars' defenseman Jamie Oleksiak, who hasn't been playing much with Dallas carrying eight defensemen. There's also pending free agent Kevin Shattenkirk, who isn't likely to re-sign with St. Louis. However, as long as St. Louis is playing well it seems increasingly likely they see him as their own trade deadline pick up (like Tampa did with Steven Stamkos last season) and just let his contract expire in hopes of keeping a strong team together for a Stanley Cup run now. More will no doubt join these ranks as the trade deadline approaches and the calendar flips to 2017.