Trouba Rescinds Trade Request
Winnipeg Jets defenseman Jacob Trouba has rescinded his trade request from the team, according to Scott Billeck of NHL.com on Tuesday.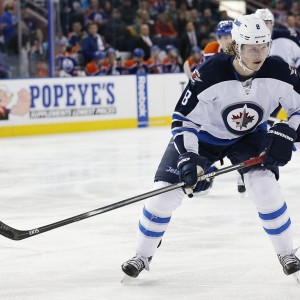 The news comes just a day after Trouba signed a two-year, $6 million bridge deal to stay with the team that made him the ninth overall pick in the 2012 NHL Entry Draft. The 22-year-old defenseman requested a trade through his agent, Kurt Overhardt, on Sept. 24 and many believed he had played his last game in a Jets uniform.
In his trade request, Trouba said he wanted to realize his potential as a right-hand defenseman on a team that allowed for a better opportunity to do it, adding that the request had nothing to do with money or any issue with the franchise. His request raised speculation about his future, as he was the game's most skilled defenseman publicly "on the market" at the time.
If Trouba is able to perform at or near the level he played at during his first three NHL seasons, he stands to be one of the game's most sought after blueliners at the end of the 2017-18 season.
Trouba spoke about his commitment to the Jets after signing the bridge deal.
"I've committed to signing here for two years," Trouba said, according to Billeck. "When I signed that piece of paper, everything changes in my mind. I'm now part of this team and whatever I'm asked to do for these next two years while I'm under contract is what I'm going to do.
"I want to play hockey. I'm a hockey player and I'm extremely happy to be back in the locker room and playing hockey. That's what I love to do. I think that's what every hockey player dreams of, is playing in the NHL, and I have the opportunity to do that."
Trouba will make his season debut against the Dallas Stars in Winnipeg on Tuesday. The Jets are currently 5-7-1 and are fourth in the Central Division.
A whole lot of 😃

Check out the Sights & Sounds from @JacobTrouba's first skate back with the #NHLJets! pic.twitter.com/fdt2Upiow7

— Winnipeg Jets (@NHLJets) November 8, 2016
Rangers' McIlrath Traded to Panthers
The New York Rangers traded defenseman Dylan McIlrath to the Florida Panthers in exchange for defenseman Steven Kampfer and a conditional seventh-round pick.
The condition on the #NYR–#FlaPanthers trade: If Dylan McIlrath plays 30 games this season, NYR get 2018 7th-rounder.

— Chris Johnston (@reporterchris) November 8, 2016
McIlrath, 24, has skated in just one game with the Rangers and played four games with the American Hockey League's Hartford Wolf Pack in 2016-17. He was drafted by the Rangers tenth overall in the 2010 NHL Entry Draft, but has played in just 38 career NHL regular season games, registering four points and 84 penalty minutes.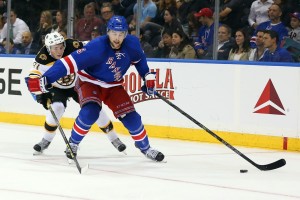 Kampfer, 28, has seen action in just one game with the Panthers and registered four penalty minutes this season. He was originally drafted 93rd overall by the Anaheim Ducks in the 2007 NHL Entry Draft and has played 134 career NHL regular season games with the Boston Bruins, Minnesota Wild and Panthers. Kampfer has compiled 23 points and 60 penalty minutes in his NHL career, and played in a career-high 47 games with the Panthers in 2015-16.
The Rangers have gotten off to a hot start this season, averaging a league-leading 4.2 goals per game and are currently 10-3-0 and in first place in the Metropolitan Division, while the Panthers are 6-6-1 and sixth in the Atlantic Division.
Thank you to the @FlaPanthers for an opportunity to play. The great fans in Florida thank you for the support.

— Steven Kampfer (@SteveKampfer47) November 8, 2016
Extremely excited to join the @NYRangers organization! Looking forward to big things!

— Steven Kampfer (@SteveKampfer47) November 8, 2016
Blackhawks' Motte to Miss up to 3 Weeks
The Chicago Blackhawks will be without rookie forward Tyler Motte up to three weeks head Coach Joel Quenneville said, according to the Chicago Tribune's Chris Hine on Thursday.
Coach Q says Tyler Motte could be out 2-3 weeks with a lower body injury.

Injury Report: https://t.co/jse1GZmFAa pic.twitter.com/UGXYP7u3Td

— Chicago Blackhawks (@NHLBlackhawks) November 8, 2016
Motte, 21, suffered an apparent left leg injury during the Blackhawks' 4-3 overtime victory over the Stars on Sunday. Motte's injury occurred when he slid into the boards after a battle for the puck with Stars forward Radek Faksa.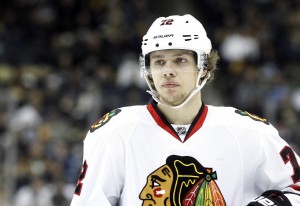 Motte has skated in 13 games this season and registered three goals and three assists, while averaging 12:37 of ice time per game.  Originally drafted by the Blackhawks 121st overall in the 2014 NHL Entry Draft, Motte has been a solid contributor to the NHL club's offense before his injury.
The Blackhawks are a top-heavy NHL club because of expensive contracts for franchise players like Jonathan Toews, Patrick Kane, Duncan Keith and others, meaning prospects like Motte and affordable free agents take on an increasingly more important role on the team's roster.
One of the Blackhawks' most noteworthy free agent signings, Artemi Panarin, won the Calder Trophy in 2016 and is currently third on the team in scoring with 13 points in as many games.
Lindholm Receives Work Visa
Anaheim Ducks defenseman Hampus Lindholm is on his way to Columbus to join the team before their game against the Blue Jackets on Wednesday, according to The Orange County Register's Eric Stephens.
The Swedish defenseman has been waiting to receive a P-1 work visa since he signed a six-year, $31.5 million contract to stay with the Ducks on Oct. 27.
Lindholm will be a welcome addition to the Ducks defense corps after missing the first 13 games of 2016-17 as he negotiated a new contract and awaited the visa. The 22-year-old defenseman was one of the last remaining restricted free agents left unsigned this offseason, but the Ducks had every intention of signing him.
The 22-year-old blueliner will join a Ducks team that is 6-5-2 and second in the Pacific Division with 14 points. The Ducks have bounced back from an 0-3-1 start to win six of their last nine games. Wednesday's game against the Blue Jackets is the team's first in a three-game road trip — the other two contests being against the Carolina Hurricanes and Nashville Predators before the Ducks head home on Nov. 15 to begin a five-game homestand.
Lindholm has tallied 23 goals and 69 assists in 236 career regular season games, all coming as a member of the Ducks.
Odds and Ends
— Carolina Hurricanes defenseman Justin Faulk is week to week with an upper-body injury, according to  Hurricanes head coach Bill Peters on Tuesday. Faulk was injured during a game against the New Jersey Devils on Sunday and underwent an MRI after he left the game early.
— The Pittsburgh Penguins and Phil Kessel have had some fun with the U.S. election, as a picture was posted to the team's Twitter account yesterday with Kessel and Kris Letang wearing "Phil for President 2016" shirts. The NHL's Twitter account got in on the joke on Thursday with a short video on Kessel's "candidacy."
On this Election Day there is only one clear choice. #ImWithPhil #MakeAmericaSkateAgain pic.twitter.com/DXGnvMX1Of

— NHL (@NHL) November 8, 2016
— The Arizona Coyotes' Anthony Deangelo will make his NHL debut against the Colorado Avalanche on Tuesday. The 21-year-old defenseman was acquired from the Tampa Bay Lightning in exchange for a second round pick this offseason.
Steven is a lawyer and writer with a passion for the game of hockey. He's the Lead Writer covering the Tampa Bay Lightning with THW. He's also been press credentialed through the Lightning since 2016. His work has been published at The Fourth Period, LightningInsider.com, Bolt Prospects, The Sports Daily Network, U.S. College Hockey Online and College Hockey News. He's had radio appearances on TSN 690 in Montreal, Lightning Power Play Live and multiple podcasts to give insight and analysis on the team. He can be reached on Twitter @StevenDiOssi and by email at sdiossi@gmail.com.