The San Jose Sharks made news yesterday on a rather regular call-up of an extra forward ahead of a long, six-game road trip. For the first time, right winger Kevin Labanc will join the team that drafted him for an NHL game. The Sharks selected Labanc in the sixth round of the 2014 NHL Entry Draft after a 35-point rookie campaign with the Barrie Colts.
Staten Island's own Kevin Labanc makes his NHL debut tonight for #SJSharks at #Caps. Has dad, cousin and more crew busing down for game.

— Stephen Whyno (@SWhyno) November 8, 2016
Last year Labanc was the leading scorer in the OHL over names line Mitch Marner, Matthew Tkachuk, Dylan Strome and Alex DeBrincat. Labanc's 39 goals and 88 assists in 65 games for the Colts were an exclamation point for his three years in Ontario.
The native of Staten Island, NY is currently the leading points-per-game rookie scorer in the AHL with 10 points in only six contests. No team in the AHL has played fewer games than the San Jose Barracuda, but that has not stopped Labanc from gelling quickly with center Rourke Chartier and Nikolay Goldobin.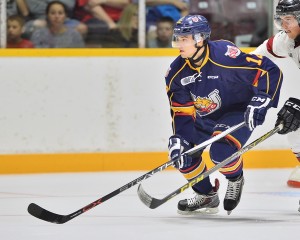 The sample size in the AHL is small but impressive and his three-year progression in the OHL, on a very short list as one of the best major junior leagues in the world, shows promise. Labanc is skating in his first NHL game with the Sharks offense sputtering against a star-studded Washington Captials . What should Sharks fans expect?
The Shot
Nearly 40 goals in the OHL is impressive for any player. Labanc has a well-developed snap and wrist shot, as well as a hard one-timer that is accurate, hard and quickly gets off his stick. Barracuda Roy Sommer has said that Labanc has one of the best shots he's seen in his time in the AHL. Sommer is the AHL's all-time leader in wins by a head coach, so his opinion on best shots comes with a very solid frame of reference.
On-ice vision
The play seems to follow Labanc and when it doesn't he has no problem going after the puck and influencing the play. His vision and offensive creativity are above-average, and his reads in all three zones are ahead of where they should be for a player in his first professional season. He is more comfortable in space and finds the quiet, open areas where teammates can get him the puck. His passes are usually on the mark, and he uses the ice and his defensive support well to maintain pressure in the offensive zone. Defensively, Labanc is a smart player with an active stick that has an underrated ability to retrieve pucks from the boards, again all tied to his understanding of the flow of the play.
Skating and Size
Overall Labanc is a good skater but can take an extra moment to get going compared to some of his fleet-footed peers. His top speed is good, and he operates well with and without the puck at game speed. He's filled out undoubtedly over the last 18 months and even from the Sharks' development camp to main camp he looked to have not shied away from the weight room. Listed at 5'11 and 185 pounds by the Barracuda, Labanc is slightly on the small side, but at only 20-years of age, he will continue to mature physically but is not out of place. He will be tested at the NHL level, but be capable in his first call-up.
Sharks Message Sent
The call-up is a message to all in the organization. Labanc has jumped out of the gate quickly and helped provided an infusion of skill to a Barracuda offense that lacked offensive punch for much of last season. With Barclay Goodrow and Nikolay Goldobin left back on the farm, Labanc is on the radar of the Sharks front office as a possible offensive spark. Curtis Pashelka tweeted that Labanc was taking lin- rushes in practice with Logan Couture and Joonas Donskoi, a line that mimics the construction of the Barracuda's top trio of Labanc, Chartier and Goldobin. Skating with Donskoi and Couture, the Sharks best two-way forward, should help get Labanc get comfortable with his new surroundings quickly.
Covering all manner of hockey on the West Coast, including the San Jose Sharks, San Jose Barracuda, Stockton Heat, WHL, and random prospect news and notes with random SM-Liiga coverage tossed in as well.