Any time a team gets off to a slow start, the vultures start circling. That's happening in Calgary with teams calling to inquire about defenseman Dougie Hamilton, according to Nick Kypreos during the Saturday "Headlines" segment on Sportsnet.
"As far as trade talks are concerned, you hear Dougie Hamilton's name out there," Kypreos said. "I don't suggest for one second that Calgary's shopping this guy, but there are teams inquiring. The two teams I'm hearing that are kicking tires are Arizona and Pittsburgh."
Hamilton hasn't quite been the top defender the Flames hoped they were acquiring from Boston in the trade last June. Hamilton ranks fifth among Flames defenders in average ice time and has just two goals and six points through the first 16 games of the season.
"I think if you're Calgary you're focused on this guy playing a lot better [before looking at a trade]," Kypreos said. "If you are in fact going to think about trading him you gotta trade him when the stock is high and right now, unfortunately in Calgary, it's not."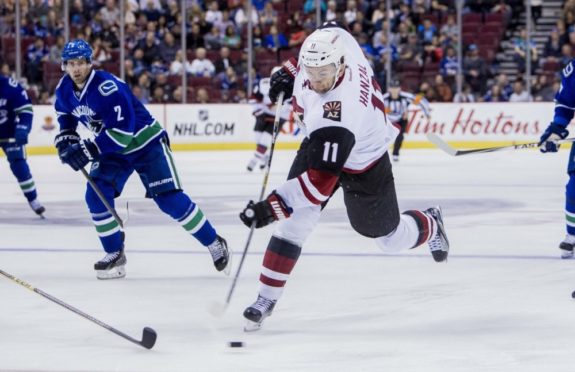 Hanzal Trade Terms
The Arizona Coyotes have been rumored to be open to a Martin Hanzal trade for a while. On Saturday's "Headlines," Elliotte Friedman offered a little clarity on where things stand with that possibility.
"What I'm told they're saying to people is, 'Unless we get a young player who can play right now, preferably a center, we're not going to do it,'" Friedman said.
Last month, Hanzal said he would prefer to shut down contract negotiations for the season so he can focus on playing hockey.
The oft-injured forward is scheduled to be an unrestricted free agent next summer. He has two goals and four points in nine contests this season.
Grossmann Terminated
Calgary defenseman Nicklas Grossmann cleared waivers Sunday, paving the way for a mutually agreed upon contract termination, reports Sportsnet's Elliotte Friedman. That will leave him free to sign with any team in any league.
The assumption is that Grossmann has an offer to play somewhere in Europe, which will allow him to actually play. He's seen limited time with the Flames, suiting up in just three games this season.
Clifford in Hot Water
A hit from Kings' left wing Kyle Clifford on Sunday afternoon may draw a look from the NHL Department of Player Safety. Clifford was the recipient of a five-minute boarding major for a collision with Jets rookie Kyle Connor.
The two were racing for a puck and Connor's head was driven into the end boards. However, this may be a complicated call for the DoPS. Connor started to stop and engaged in contact with Clifford. Though he got a shove from Clifford, as the announcers in the clip below note, he appears to toe pick during the stop, contributing to the crash.
Petr Straka Traded
Philadelphia Flyers prospect Petr Straka has been traded to the New Jersey Devils for a conditional seventh-round pick in either 2017 or 2018.
Straka has been a healthy scratch every game this season for the AHL's Lehigh Valley Phantoms and it's believed there may have been a trade request from agent Allan Walsh. Straka had clearly fallen out of favor and wasn't getting the opportunity to work his way back up the depth chart by not playing. His standing with the team wasn't aided by nursing a leg injury that hampered his performance late last season.
"I don't know who exactly started it, but I was talking to my agent about the possibility of getting out of here for obvious reasons," Straka told Tim Riday of Highland Park Hockey. "I was in touch with him and just recently he told me there might be a chance to be traded to New Jersey so I was kind of ready for that, that it might happen."
Brandon Gignac Signs
The New Jersey Devils have signed Brandon Gignac to a three-year entry-level contract. The 2016 third-round draft pick (80th overall) gets a contract after a hot start to the year playing for the Shawinigan Cataractes in the QMJHL. He's put up five goals and 16 points in 14 games to start the season. Though he's played just 14 of 19 games this season, he ranks sixth on the team in points.
Last season, Gignac put up 61 points in 67 games for Shawinigan, a 21-point improvement on the prior year.
JUST ANNOUNCED: The #NJDevils sign prospect @brandongignac7 to an entry-level contract! #OneJersey pic.twitter.com/9l2w1l8W2K

— New Jersey Devils (@NJDevils) November 12, 2016
Odds & Ends
– After just a couple games with the AHL's Utica Comets, the Vancouver Canucks have recalled forward Jake Virtanen. The former sixth overall pick has played 10 NHL games this season, recording just one assist and 13 shots. In two games with Utica, he did not record any points and registered six shots.
Dustin Nelson is the News Editor for The Hockey Writers. He's a contributor to Hockey Prospectus, Hockey Wilderness, and writes a column for Rotowire. He's also written for Gone Puck Wild, Wild Xtra, InDigest, Electric Literature, The Rumpus, Tiny Mix Tapes, Prefix Magazine & other publications. Have a tip? Email him at dlukenelson[at]gmail[dot]com.