They were "The Legion of Doom." Eric Lindros, John LeClair and Mikael Renberg.
From 1995-2000, the three constituted one of the most fearsome scoring lines in the league with the Philadelphia Flyers. It was a stretch which saw the Flyers reach a Stanley Cup Final in 1996-97 and win two Atlantic Division titles (1994-95 and 1999-00). They also registered three seasons of more than 100 points. Unfortunately for that group, they ran into two of the more dynastic teams of the 1990s in the Detroit Red Wings and New Jersey Devils.
Recently, the center of that line, Eric Lindros, was elected to the Hockey Hall of Fame. The 1994-95 Hart Memorial Trophy winner accrued four campaign of 40 plus goals and would've had a fifth if not for the lockout-shortened season. Now that Lindros is in after a long wait, it's time for his teammate LeClair to join him.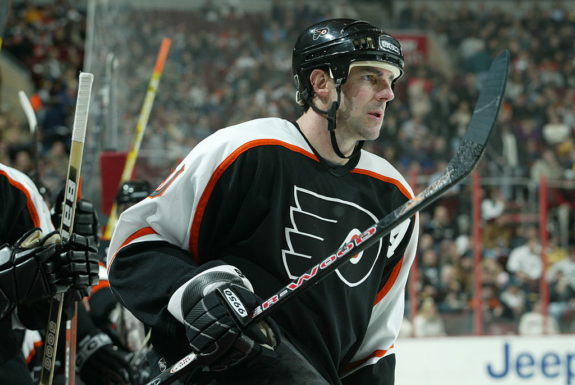 For me it's difficult to separate the two. Watching the Flyers of that era, one could say opposing teams feared LeClair as much, if not more. Spending a decade with Philadelphia, LeClair's 333 tallies rank fifth in club history.
John Leclair – US National Success
Like many players of the 1996 United States World Cup of Hockey roster, LeClair, whose ten points were second on the squad in the tournament, was among those who inspired a wave of young players across the country. From 1995-1998, LeClair became the first U.S. born player to post three consecutive 50-goal campaigns. That's three straight in the so-called dead puck era. In addition to being on the World Cup squad, LeClair was also a member of the 1998 and 2002 Olympic teams. LeClair netted six goals on the silver medal winning squad in 2002.
LeClair Has an Impressive Resume
On his career, LeClair netted 406 goals. LeClair was a five-time All-Star, twice an NHL First Team All-Star, trice an NHL Second Team All-Star. LeClair enjoyed six seasons in the top ten in goals, even-strength goals and goals created, four seasons in the top ten in points, plus/minus, power play tallies, goals per game and hat tricks. In addition to being a solid defensive player early in his career with the Montreal Canadiens, LeClair led the league with a plus-44 rating when the Flyers won an Eastern Conference crown in 1996-97.
It was also early in his career where LeClair developed a flair for being clutch with Montreal. During the 1992-93 Stanley Cup playoffs, LeClair led all skaters with three game-winning tallies, including a pair of consecutive overtime winners in the Game 3 and Game 4 of the Final against the Los Angeles Kings. In his postseason career, LeClair netted eleven game-winning markers. Across 154 postseason contests, LeClair potted 42 goals, dished out 47 helpers and totaled 89 points.
As with Lindros and his concussions, LeClair saw his career wind down with back and shoulder injuries. Like Lindros, LeClair ended his career in a different uniform and in the same 2006-07 season, with the Pittsburgh Penguins.
In 2009, LeClair was inducted into the U.S. Hockey Hall of Fame. With Lindros in and Teemu Selanne looking like the lone lock of first time eligible players in 2017, it's time for LeClair to get his due in the Hockey Hall of Fame in Toronto.
Originally published July 5, 2016
Michael Gwizdala covers the New York Islanders for The Hockey Writers. Michael is also an Associate Producer at WNYT NewsChannel 13. Additionally, Michael was once a Media Relations intern for the AHL Albany River Rats. Michael is a graduate of The College of Saint Rose in Albany, NY.