"O' Captain! My Captain!"
It wasn't the revenge series Brian Gionta envisioned when he took on his old team, but the Buffalo Sabres' team captain stood tall and answered every question asked after his team was swept by the New Jersey Devils in a bitter, Eastern Conference home-and-home series.
After gaining one point but falling, 2-1, in overtime on Friday, it was a homecoming of sorts on Saturday for Gionta, who spent seven seasons in New Jersey red and black including a memorable Stanley Cup Championship in 2002-03.
But after another lackluster performance in a 4-2 setback to the Devils in its second meeting — the Sabres' fourth straight loss, dropping the team below .500 and into last place (5-6-4) in the Atlantic Division — it was Gionta who stepped up and took responsibility.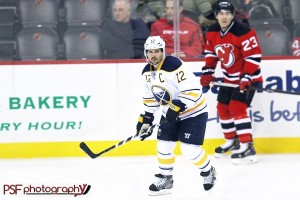 "We lost some bodies, some significant guys, but it's on us to find energy, find ways to be at the top of our game and keep pushing through it," Gionta said. "We have to keep grinding."
Already without super sophomore Jack Eichel, who is out up to two months with a high-ankle sprain, Buffalo was also minus forwards Ryan O'Reilly and Tyler Ennis and two of its best shutdown defensemen in Zach Bogosian and Dmitry Kulikov for the series, but Gionta isn't making excuses.
"It's tough right now," Gionta said. "We had a good game last night, we pushed hard, just couldn't find that second one; Tonight, a little slow out of the gates, we started to find our groove, tied it up (1-1), but those next two (goals that put New Jersey up 3-1) were a killer for us. That third one especially… a big momentum shift there."
Buffalo looked sluggish from the drop of the puck, playing without emotion until Robin Lehner took exception to Kyle Palmieri camping out in his crease. Only after sticks came up and defenseman Cody Franson stepped in to protect his goalie did the Sabres start showing signs of life.
It couldn't possibly have been the retaliation Sabres' coach Dan Bylsma was looking for, especially after being thwarted on a questionable penalty shot awarded to and converted by Andy Greene that sealed the Devils' win in overtime on Friday.
"It certainly wasn't the start we wanted," Bylsma said. "We made some hesitation plays with the puck and they got the momentum because of it. We've played a lot of games and we've played a lot of road games, the schedule has been one after another but it had no bearing on our game tonight…. it really was just too easy."
Undisciplined Hockey
"Careless penalties, stick penalties — it kind of took away from any opportunity we had to get back into the game," Sabres coach Dan Bylsma said after the Sabres giftwrapped 11 power-plays to the Devils in the two-game set. "We had a power-play then we take a penalty to negate that. It didn't make me happy."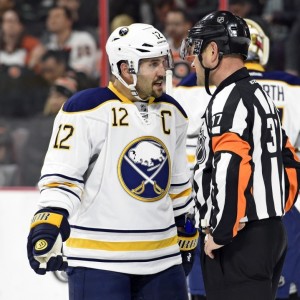 After handing New Jersey six chances with the man-advantages on Friday, Buffalo afforded the Devils five more power-plays on Saturday. Tripping, cross-checking, hooking and holding calls added to the 133 penalty minutes assessed to this team in 2016-17. Evander Kane accounted for four infractions including a double-minor for high-sticking that put the Sabres' backs against the wall late in the third period on Friday.
"Obviously we need to stay out of the box," Sabres' big free agent signee Kyle Okposo said. "That's killing us. All the momentum we had tonight. Stick infractions — we talked about it last game.  We didn't really have a power play all night. We had one for about 25 seconds and they had four or five. It's tough to keep the momentum when you're in the box all game."
Though Buffalo was remarkably successful in killing off all 11 power-plays (while only being awarded five itself in the series), this pattern of undisciplined hockey cannot continue. Even with the NHL's 10th-best penalty killing unit at 84.2 %, the Sabres, and specifically the defensive corps in front of goaltender Robin Lehner, cannot maintain that type of performance night-in and night-out.
Where's the Offense?
It's awfully tough to score when your team is shorthanded all the time, but the Sabres managed two goals from Matt Moulson in the series, one on the power-play, and Marcus Foligno also found the back of the net for the blue and gold. Still, the team's offensive woes are evident and continued without Eichel, O'Reilly and Ennis in the lineup this weekend.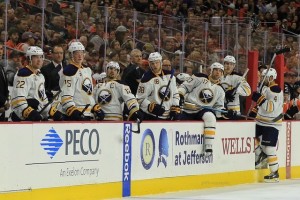 With just 29 goals in 15 games, Buffalo ranks 28th in the National Hockey League in total offense. It has a respectable 20.5 % efficiency rating on the power-play, which places it 11th in the league, but the fact remains this team is only averaging 1.93 goals-per-game, something Okposo has a problem with.
"We've scored what, a max of two goals our past five games?" as Okposo answered his own question. "We got to put the puck in the net. I know we're missing some big pieces to our lineup, but we need to find ways to score.
"We're playing hard," Okposo continued. "I thought the first 10 minutes we came out a little sluggish but we still have to execute."
Fond Memories for Gionta in New Jersey
For the better part of a decade, Brian Gionta made the Garden State his home.
Though he hails from nearby Rochester, N.Y., Gionta laced 'em up for the New Jersey Devils from 2001 until 2009, forming the eclectic "EGG Line" while skating up and down the right wing alongside Patrik Elias and Scott Gomez.
Appearing in 473 regular season games and another 67 in the playoffs, Gionta left a lasting legacy in New Jersey and Devils fans still love him for it.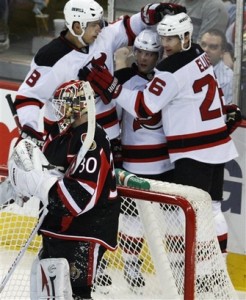 After amassing 152 goals, including a career-best 48 in 2012-13, to go along with 160 assists for 312 points, Gionta is not forgotten and the 16,514 in attendance at Prudential Center Saturday night gave him a warm welcome in his return.
"The first team you ever play for and you win a cup with that team? I definitely have a lot of fond memories here," Gionta, who helped the Devils to its third Stanley Cup in 2002-03, said. "It was before we opened up this building, obviously, we were still at the old Continental (Airlines Arena), but I remember everything, practicing in West Orange and all that stuff.
"I owe a lot to the organization. It was a great eight years here," Gionta said. "A little different now with my brother (Stephen) not around but it's still pretty special coming back. I had a great time here."
Gionta still holds Devils' franchise marks for goals in a single season (48, 2012-13) and power-play goals in a single season (24, 2012-13).
News and Notes
The New Jersey Devils have won four straight games and have yet to lose in regulation on home ice this season (6-0-1). The Devils have earned 16 points in its last 18 games against the Sabres. This is the second home-and-home sweep for the Devils this season after defeating the Carolina Hurricanes 4-1 and 3-2 earlier this month. With the recent winning streak, New Jersey is 7-1-2 in its last 10 games.
The Buffalo Sabres have lost four straight and five of its last six. It has not scored more than two goals in any game the month of November. With 15 games in 31 calendar days this season, including nine games in 15 days, the Sabres have had one of the more vigorous NHL schedules. Only the Red Wings, Flyers, Blues, Jets, Ducks and Flames have played more games this season. Buffalo is just 1-3-2 at home but sports a solid 4-3-2 record on the road this season.