Arizona Coyotes forward Martin Hanzal isn't likely to talk about a new contract anytime this season, according to Sarah McLellan of AZ Central.
"I'll just probably shut it down from my side and just keep focusing on hockey because it will be a distraction for me," Hanzal said. "I just want to focus on hockey and make sure I can do everything to help the team win."
Hanzal is in the final year of a five-year pact worth $15.5 million. The center is 29 and could stick around, but he'd also be likely to get some lucrative offers if he makes it to free agency.
"I want to stay here, but that was the plan if we don't get it done before the season," Hanzal told McLellan. "But hey, I understand. It's just business and if I wouldn't have signed right now, we'll see what happens. Obviously, I want to stay but again, I want to shut it down because of the hockey."
General manager John Chayka doesn't sound disinterested in putting together a new deal for Hanzal. "We continue to chat with Marty and his representative. I don't think anything's imminent right now," Chayka said while training camp was still going. "Having said that, Marty's a big part of our team and a good player and he's made us aware that he'd like to be back here, so just trying to find something that makes sense for everybody."
Though the Coyotes are a cap team, they have room to bring Hanzal back. Many of their pending UFAs aren't guys that are necessarily getting a deal next summer, with Shane Doan, Zybnek Michalek, Radim Vrbata, Ryan White and Jamie McBain all of that status. They'll need to account for new deals for Anthony Duclair and possibly Michael Stone, as well as the pay days for their youth movement over the next few years, but there should be ample space with Pavel Datsyuk and Chris Pronger set to come off the books at the end of this season.
Virtanen Gets Away With One
Vancouver's Jake Virtanen got away with a dirty one Sunday night. After going shoulder to shoulder with Carolina's Joakim Nordstrom, separating the 'Cane from the puck, Virtanen gave Nordstrom's head an extra shove into the boards while his opponent was down.
No indication yet if this will get a call from the Department of Player Safety. It's not particularly vicious, but it doesn't have anything to do with the play and could earn Virtanen a slap on the wrist. On the other hand, it could be more than a cursory nod to discipline. Virtanen received a two-game suspension last season, which puts him in a poor position if the DoPS decides the play is suspension-worthy.
Rask Ready
Tuukka Rask was shut down for Saturday's game against the Toronto Maple Leafs, a 4-1 loss for the Bruins. He was experiencing soreness that prevented him from suiting up.
That soreness has subsided and he's ready to get back in net. He's expected to start for the Bruins on Monday when they face the Jets in Winnipeg.
Tuukka said he feels good. He was asked if he would be ready to go for tomorrow night. "Yeah, definitely."

— Boston Bruins (@NHLBruins) October 16, 2016
Colorado Without John Mitchell
The Avalanche have been without veteran forward John Mitchell due to a hip injury and he's not going to be back in the immediate future. The team is heading out on a four-game road trip and Mitchell will not be joining them, coach Jared Bednar confirmed Sunday.
The 31-year-old played 71 games last season, posting 10 goals and 21 points in a depth role with the team. He's in the final year of a deal carrying an AAV of $1.8 million.
Bednar also confirmed that goaltender Calvin Pickard will get his first start of the season in Monday's game against the Pittsburgh Penguins.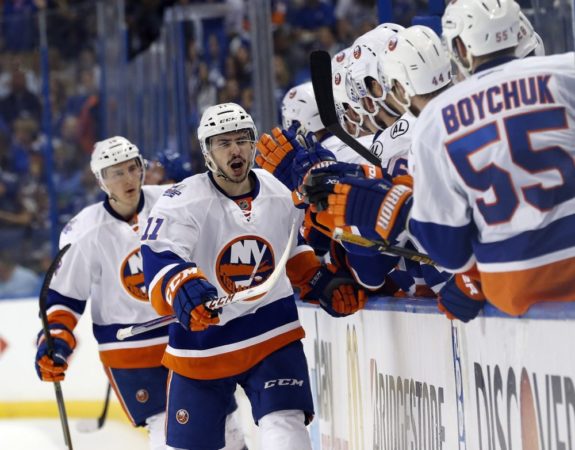 Shane Prince Hits IR
The New York Islanders have placed left wing Shane Prince on injured reserve, retroactive to October 15, according to Newsday's Arthur Staple.
Prince suffered a lower-body injury in Saturday's game against the Washington Capitals. There's no timetable for his return from injury.
Last season was Prince's first with the Isles, after he was traded from the Senators midseason. The 23-year-old is now in the second year of a two-year pact carrying a $850,000 AAV. Last season, split between the two clubs, Prince put up six goals and 17 points in 62 NHL games.
Odds and Ends
– The Rangers will be without Pavel Buchnevich and Dan Girardi Monday. Buchnevich has been sidelined with back spasms and Girardi is nursing a groin strain, according to the team.
– In Sunday's contest, Buffalo's Ryan O'Reilly lobbed a puck from center ice toward Edmonton's Cam Talbot for the softest game-winning goal of the season. It didn't even take a strange bounce. It was just misplayed. That goal put the Sabres up 3-2 en route to a 6-2 win.
– Ilya Kovalchuk potted a nice goal from Pavel Datsyuk just seconds into a game on Sunday.
– University of Wisconsin forward Cameron Hughes put up a goal Sunday that should be on highlight reels all season long. It came off a nice defensive play by Grant Besse, who set up Hughes for the goal. The Badgers ultimately dropped the game to Boston College.
– Former UConn coach Bruce Marshall has passed away at age 54, according to multiple reports. He had most recently been coaching Franklin Pierce in DIII hockey.
Bruce was a great friend to me. Helped me a ton when I started out as an assistant. We will miss you! https://t.co/ivM9uiP6en

— Rand Pecknold (@RandPecknold) October 16, 2016
Dustin Nelson is the News Editor for The Hockey Writers. He's a contributor to Hockey Prospectus, Hockey Wilderness, and writes a column for Rotowire. He's also written for Gone Puck Wild, Wild Xtra, InDigest, Electric Literature, The Rumpus, Tiny Mix Tapes, Prefix Magazine & other publications. Have a tip? Email him at dlukenelson[at]gmail[dot]com.