The Winnipeg Jets have let teams around the league know that Russian forward Alexander Burmistrov is available via trade. The report comes from Saturday's "Headlines" segment on Sportsnet.
Elliotte Friedman reports that "a note was sent around this week that Burmistrov is available." Though Friedman pointed out that he doesn't believe the situation is a result of Burmistrov's camp requesting a trade out of Winnipeg, "but there's an understanding this isn't working for either side right now, so the Jets are looking to see what they can get for him."
Burmistrov returned to the Jets last year after spending two seasons in the KHL. He scored seven goals and 21 points in 81 games last season. This season, he has just one assist and seven shots through his first 11 games this season.
It's interesting that the Jets would be pushing this move right now, while Bryan Little, Mathieu Perreault and Joel Armia are all out with an injury, hurting the team's forward depth.
The Kadri Hit
As he's done before, Kadri has people debating. This time it's over a blindside hit delivered on Vancouver's Daniel Sedin. The hit was just one of many scuffles in a contentious game Saturday. Kadri's hit came on the same shift that Morgan Reilly laid a big open-ice hit on Jannik Hansen, and it got the pot boiling.
Sedin's helmet flew off in the hit and appears to hit the ice. He was removed from the game briefly to be attended to by the medical staff. He returned to the game.
Kadri was given a five-minute major for fighting Hansen, as well as a two-minute charging minor. Hansen was given five for fighting, two for instigating and a game misconduct.
Sportsnet's Chris Johnston noted on Twitter that Kadri has three previous suspensions, making him a repeat offender. Nonetheless, Johnston doesn't believe the hit will result in a suspension.
It was a tense game that ended with 171 total penalty minutes and saw both Frederik Andersen and Ryan Miller ejected. Miller's ejection was for leaving the crease, but he also received a third-man-in penalty when he attempted to defend diminutive rookie Troy Stecher when he was jumped by pugilist Matt Martin.
After the game Canucks defenseman Erik Gudbranson was heard in the hallway yelling, "Matt Martin is dead. Everyone can hear that right now."
Versteeg Out
The Calgary Flames have placed veteran forward Kris Versteeg on injured reserve. Coach Glen Gulutzan says Versteeg will be out "a couple of weeks."
Versteeg suffered a groin injury during Tuesday's win over the Sharks. He's put up two goals and four points in the first 12 games of the season.
Taking his spot in the lineup will be prospect Hunter Shinkaruk, who was only recently sent down to the AHL. So far this season, he's posted two goals and three points in eight NHL games. He was acquired from the Canucks last season in a trade that sent Markus Granlund to Vancouver.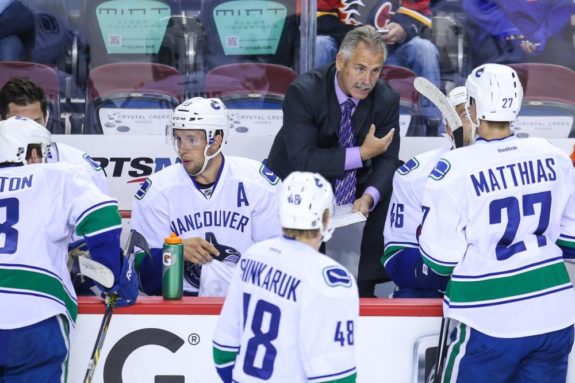 Seats Are Warming in Vancouver
Canucks head coach Willie Desjardins acknowledged that he may be on the hot seat after the team's recent struggles. Following a hot start, Vancouver has lost seven straight games in regulation, including Saturday's loss to Toronto. They've also been shutout in four of those games.
"When losses pile up everybody gets on the hot seat," Desjardins said. "I think that's a common thing for the league. And it's a fair thing – it's not unfair. Especially when you're not scoring. We (have to) find ways to score – we know that."
After starting the season 4-0-1, the Canucks are now 4-7-1 and sit in sixth place in the Pacific Division.
Puljujarvi Knee'd
The second questionable hit from Saturday's play was a knee-on-knee hit delivered by Islanders defenseman Dennis Seidenberg on Edmonton rookie Jesse Puljujarvi.
Seidenberg extended into Puljujarvi and sent the Finn limping to the locker room. He would sit out for the remainder of the match.
Fortunately for Puljujarvi, it doesn't, for the moment, sound like he's seriously injured. Coach Todd McLellan said after the game that Puljujarvi "is sore" and that the injury is "more charley horse" than anything.
The rookie's status for Sunday's game against Detroit is uncertain.
Odds and Ends
– Former Colorado Avalanche skater Marek Svatos has passed away at just 34, according to a report from the IIHF.
We're sad to learn about passing of former Slovak national team, @Avalanche player Marek Svatos. More later on https://t.co/ldDBa42X8a pic.twitter.com/AR02xcYy0K

— IIHF (@IIHFHockey) November 6, 2016
– Devin Setoguchi scored his first NHL goal in almost three years during Saturday's game against the Flames.

– Hockey is more fun to watch when Sidney Crosby is at the top of his game.
Sidney Crosby single-handedly (literally) takes the NHL scoring lead. pic.twitter.com/nKmpfMRlq8

— Pittsburgh Penguins (@penguins) November 6, 2016