Last month our contributors compiled the Edmonton Oilers' Top 10 Prospects list. This month we'll be looking at each of those ten prospects in depth in reverse order. Dylan Wells ranked as the seventh best prospect in the Oilers' system ahead of Nick Ellis (8), Jujhar Khaira (9) and Stuart Skinner (10).
Despite being outside of the ranking's top five, the 19-year-old has quickly emerged as one of the best goaltending prospects in the system. Wells has also been one of the better goaltenders from his draft class, so far.
| | |
| --- | --- |
| Prospect: Dylan Wells (G) | Height: 6'2" |
| Born: January 3, 1998 (19) | Weight: 185 lbs |
| Birthplace: St. Catherines, ON | Catches: Left |
| Acquired: Drafted 123rd (5th Round) in 2016 | Club: Peterborough Petes (OHL) |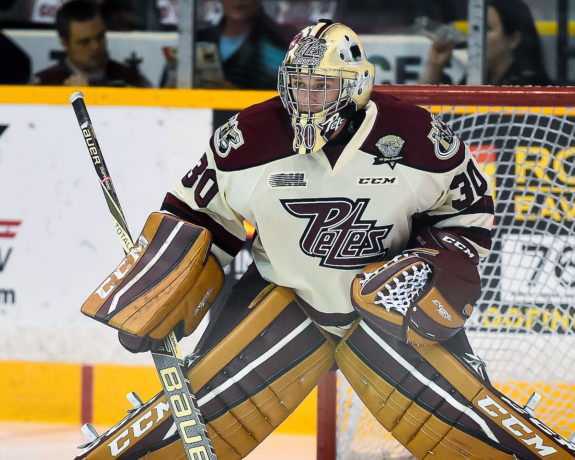 Player Profile
The Oilers have struggled in the past decade to draft goaltenders. In fact, they've struggled to develop goaltenders since they joined the NHL in 1979. Grant Fuhr, Andy Moog, Jussi Markkanen and Devan Dubnyk are the only goalies drafted by Edmonton to have played over 100 NHL games.
In recent years the club has failed to address their lack of goaltending depth. Eetu Laurikainen, Zach Nagelvoort, Keven Bouchard, Samu Perhonen, Frans Tuohimaa and Tyler Bunz are prospects that didn't pan out. The hope is that Wells, who's had a strong OHL career to date, can buck that trend and be a formidable NHL goaltender in several years.
DYLAN WELLS STATS

SEASON
TEAM
GP
GAA

SV%

2014-15

Peterborough Petes (OHL)

27

3.96

.893

2015-16

Peterborough Petes (OHL)

27

4.59

.871

2016-17

Peterborough Petes (OHL)

52

3.07

.916
Wells was a standout playing Midget AAA for the Niagara North Stars who won the 2014 OHL Gold Cup. That same year the Peterborough Petes picked him 21st overall in the OHL Draft. He debuted in 2014-15 and backed up Matt Mancina for two seasons, playing 54 games during that stretch.
Wells' Junior Career So Far
Despite being a backup, Wells played in the 2016 CHL Top Prospects Game in his draft year. The other goalies in that tournament were Zach Sawchenko, Evan Fitzpatrick and Carter Hart. Both Fitzpatrick and Hart were starting goalies for their junior team and off the board by the second round. Wells' small sample size might've been the biggest reason he slipped into the fifth round.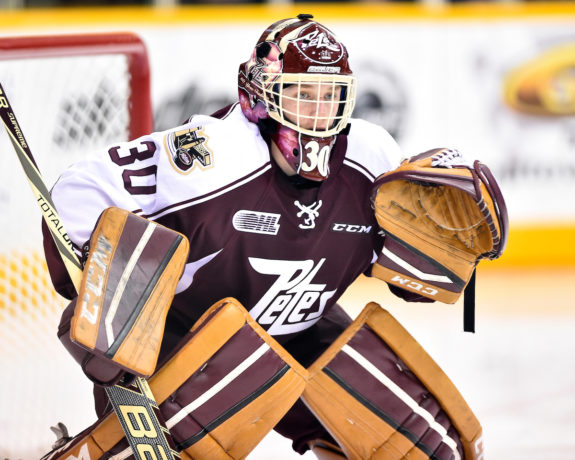 Regardless, he's emerged as one of the best goalies in the OHL. Last season, he posted a .916 save percentage through 52 games; only a handful of Oiler prospects had a better season. Among goalies who played a minimum of 30 games in the OHL, Wells had the fifth-best save percentage in 2016-17.
The Petes finished first in the Eastern Conference and went on an 8-0 run in the playoffs before losing in the Conference Final to the Mississauga Steelheads. Wells was spectacular with a 2.51 goals-against average and a .930 save percentage in 12 games.
Long-Term Projection
Wells has had one good season so far, but his potential to start as an NHL goaltender is hard to ignore. For the time being, he's the Oilers' goalie of the future and Edmonton's goaltending depth is suddenly quite deep. Along with Stuart Skinner, Wells could be Canada's goalie at the 2018 World Junior Championship.
Once again he'll have Hart, Canada's lone returning goalie from last year's team, to compete with. Michael DiPietro could also factor into the goaltending situation for Canada. From a size perspective, Wells has an average frame for an NHL goalie, but he could be the most underrated pick from the 2016 NHL Draft.
Entering his fourth year in the OHL, the hope is that Wells can continue to improve his play. The Petes will be contending for the OHL Championship and Memorial Cup with Wells as their starter.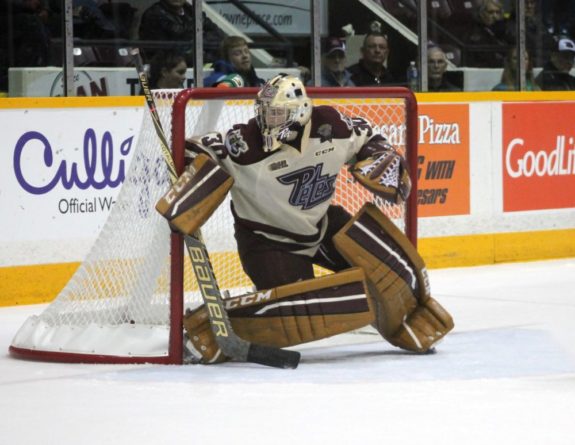 As Brett Slawson pointed out, Cam Talbot currently has a stranglehold on the Oilers' crease and rightfully so. But Slawson's review of Wells' play indicates a calm, cool and collected goaltender that is rarely thrown off his game.
The trait which perhaps stands out the most in Wells' game is a quality which is shared by a number of current NHL stars: composure. In his third season with the Petes, Wells acted as a calm and reassuring presence in goal, much like Carey Price with the Montreal Canadiens. Not rattled by a bad goal and confident in his abilities on the ice, Wells' demeanor, as previously mentioned, is one of his most underrated yet valuable qualities as it has the undeniable ability to influence his fellow teammates throughout the ice.

– Brett Slawson, THW
Edmonton signed Wells to a three-year entry-level contract (ELC) in May and the Oilers will hope to see him graduate to the pro level in two years. By then we could be looking at a crowded crease with Laurent Brossoit, and Nick Ellis cemented into the second and third spots on the Oilers depth chart.
The longest route for Wells' development, would be to play a year in the ECHL before advancing to the AHL, so don't expect to see Wells playing in Edmonton for several years. But in ten years we could be looking at the Oilers' starting goaltender.
Edmonton Oilers regular contributor providing insight on all things Oilers including club history, prospect profiles, trade breakdowns, and everything else in between. Check back regularly for new and exciting content. Follow on Twitter @SanderTHW.