The 2017 World Junior Summer Showcase is well underway in Plymouth, Michigan and there are several Edmonton Oilers' prospects participating in the tournament. The tournament is taking place from July 28 to August 5. Four countries are participating in the tournament; Canada, Finland, Sweden and the United States.
The Oilers have a total of seven prospects and players on all teams except Sweden. Three of the Oiler representatives are from their 2017 draft class. That list is highlighted by their 22nd overall pick Kailer Yamamoto. The others from the 2017 draft class are Stuart Skinner (78th), and Philip Kemp (208th).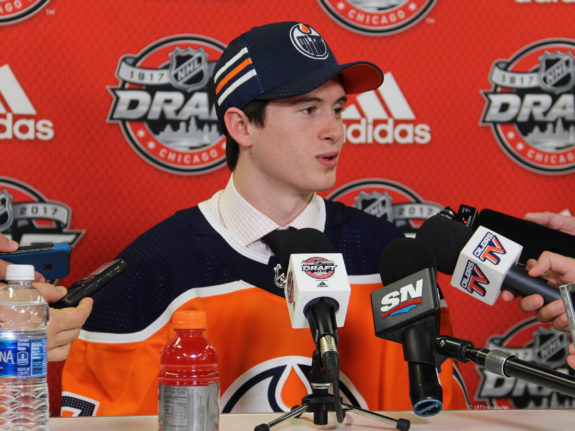 Edmonton also has four representatives from their 2016 draft class. Tyler Benson (32nd), Markus Niemelainen (63rd), Dylan Wells (123rd) and Aapeli Rasanen (153rd) represent Canada and Finland.
Here's the complete breakdown:
Team Canada
Stuart Skinner (G) – Lethbridge (WHL)
Edmonton traded up four spots to snag Skinner in the second round this summer, but he's a long shot to make Canada's WJC team. Skinner allowed five goals on 22 shots in the first game of the tournament against Team USA in an 8-2 loss.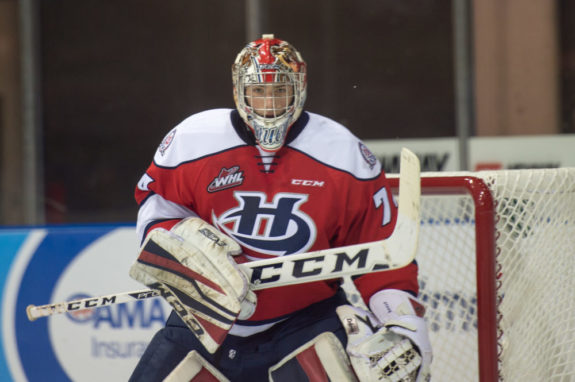 With Carter Hart being the lone returnee in net, Skinner will have to out battle fellow Oilers prospect Dylan Wells and Vancouver Canucks prospect Michael DiPietro. Skinner has represented Canada twice in the past at the U-17's in 2014-15 and the U-18's in 2015-16.
Skinner ranked tenth on THW's Top 10 Oilers Prospect list.
Dylan Wells (G) – Peterborough (OHL)
If Wells can bounce back from a poor showing in his first game, it'll help his case to be one of the two goalies representing Canada this winter.  He allowed three goals on nine shots while playing 23:46 in net.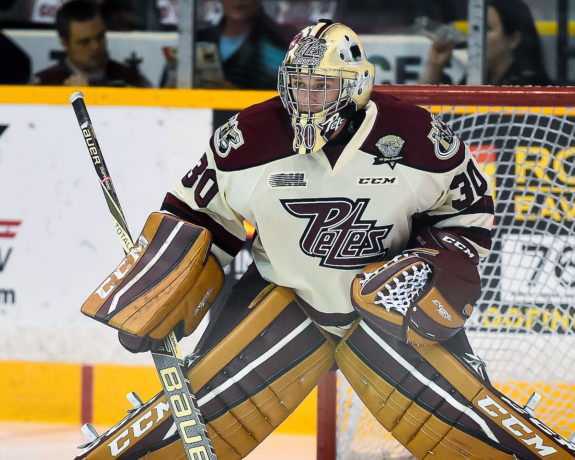 Wells was one of the better goalies in the OHL last season, and if he picks up right where he left off, there's no reason he shouldn't make the team. Michael DiPietro is his biggest competition in camp right now as both battle for the backup job to Hart. Wells ranked seventh on THW's Top 10 Oilers Prospect list.
Tyler Benson (F) – Vancouver (WHL)
Benson's had a few injury plagued seasons, and that was a contributing factor for why he was one of the final cuts for Canada last year. This year, if healthy, Benson should get an opportunity to crack Canada's top nine forward rankings.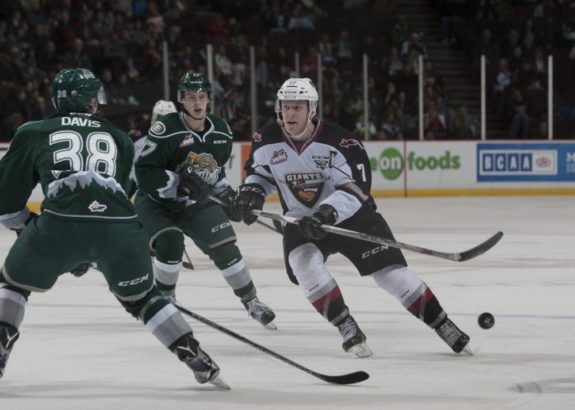 The 19-year-old represented Canada last at the U-18 tournament in 2014-15 and scored four points in seven games. The captain of the Vancouver Giants has been limited to just 63 games in the past two WHL seasons. Benson ranked fourth on THW's Top 10 Oilers Prospect list.
Team Finland
Markus Niemelainen (D) – HPK (Liiga)
Niemelainen sat in the first game of the tournament for Finland but played in the second game. He was a minus two, didn't factor into the score sheet or get a shot on goal. Miro Heiskanen (Dallas Stars) and Juuso Valimaki (Calgary Flames) look like the only locks for Finland, so the defense is a wide open competition. That said, Niemelainen did play in the tournament last year for Finland.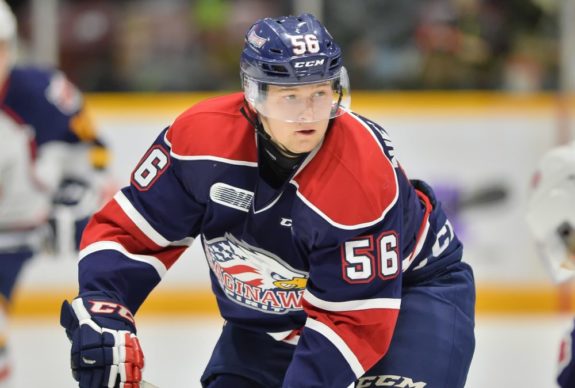 The 19-year-old has represented Finland internationally on five separate occasions. Niemelainen has medalled twice in international competition winning gold at the 2016 U-18's and silver in 2015. He left the OHL's Saginaw Spirit after two seasons and has returned to HPK where he's primarily played since 2011-12. Expect the 6'6″, 205-pound defender to have a bounce-back season and crack Finland's blueline.
Aapeli Rasanen (F) – Boston College (NCAA)
Like Niemelainen, Rasanen played one game and sat in the other so far. He's had a shot on goal, four penalty minutes and is a minus two. He's another returnee to Team Finland and turned some heads with his play last year. He tied for the team lead in scoring with Eeli Tolvanen (Nashville Predators) with six points in six games.
The 19-year-old will once again be relied upon to carry the offensive load for a team that isn't overly deep on forward. Rasanen committed to Boston College this season after a successful season with the USHL's Sioux City Musketeers. Rasanen's coming off a year that saw him score 25 points in 38 games for Sioux City playing with Tolvanen.
Team USA
Philip Kemp (D) – Yale (NCAA)
A later pick for the Oilers in 2017, Kemp was an assistant captain on the U-18 team that won gold last season. Kemp scored two points in seven games and has now represented the USA twice. In four games of competition during the Summer Showcase, Kemp has one assist, two PIM's and is a plus five.
Kemp will be in competition for one of the bottom pairing jobs with Team USA. In other news, Kemp has committed to Yale University for his first year of college hockey. The 18-year-old plays a smooth and steady stay-at-home game. Look for Kemp to show he can build upon what looks like a limited offensive upside.
Kailer Yamamoto (F) – Spokane (WHL)
The line of Casey Mittelstadt (Buffalo Sabres), Logan Brown (Ottawa Senators) and Yamamoto have earned plenty of buzz through the early parts of this competition. They helped Team USA win a bronze medal at the U-18's in 2016 scoring 34 points in the process. The line has been thrown back together and combined for nine points in an 8-2 win over Canada to open the tournament.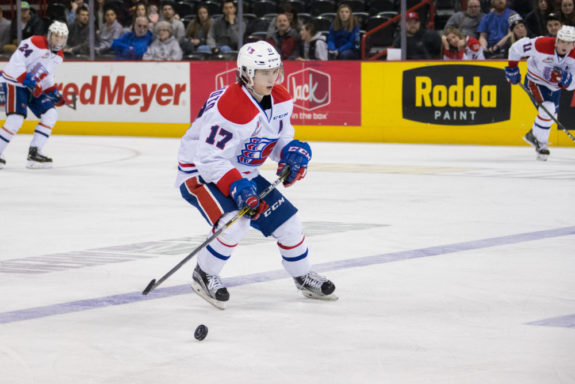 Yamamoto has played very well in the tournament and looks like a key piece for Team USA. He's scored four points in four games, has seven shots on goal and is a plus five. The line currently has 17 points and could be the team's best line heading into the WJC. For what it's worth, Yamamoto ranked second on THW's Top 10 Oilers Prospect list. He'll look to build upon a season that saw him finish in the Top 10 of WHL scoring.
Edmonton Oilers regular contributor providing insight on all things Oilers including club history, prospect profiles, trade breakdowns, and everything else in between. Check back regularly for new and exciting content. Follow on Twitter @SanderTHW.