The Forum. The Olympia. The Stadium. The names of the Original Six's arenas were instantly recognizable to hockey fans around the world, shorthand or not. Well, for fans of the Montreal Canadiens, Detroit Red Wings and Chicago Blackhawks, at least.
Fans of the Toronto Maple Leafs (the Gardens), New York Rangers (the Garden, singular. One garden was good enough, apparently) and Boston Bruins (the Garden…that opened three years later) had slightly more trouble.
They Don't Make 'Em Like They Used To
Creativity of early 20th Century naming conventions aside, these old barns brought something special to the hockey experience. Take the Canadiens, for example. The Habs were residents of the Forum for 70 years… playing with so much history enveloping every stride must have been a pretty surreal experience.
Not to mention the quirkiness of each old barn. The Chicago Stadium, for instance, was slightly smaller than National Hockey League regulations, meaning the Blackhawks had an inherent advantage to playing in their own building, as they had half the season to figure out the oddly-shaped ice surface.
Related: Chicago Blackhawks Logo History
Modern arenas tend to have little of this character and are generally laid out in cookie-cutter designs with gently sloping seats. Contrast this to older rinks, where spectators and players alike describe fans being right on top of the action. Sure, this is more consistent for the game, but it lacks some of that atmosphere of the past.
The Name Game
Old-school arena names, too, are gone, with most facilities being named after a constantly changing corporate entity. Other times, companies put their names on multiple facilities, creating no confusion whatsoever (Rogers Arena, Rogers Place…). And, let's be honest, who can call it "PPG Paints Arena" without dying inside just a little.
So, with that said, let's see if we can provide some new lingo for the homes of each NHL franchise!
Air Canada Centre (Toronto Maple Leafs)
Unlike the building's NBA tenant, the Leafs name doesn't really conjure up any evocative imagery that might assist in assigning a nickname to their home. "The Tree?" "The Bush?"
The lack of atmosphere at most Leaf games doesn't help matters; former head coach Ron Wilson likened the arena to a "morgue." Let's go with something typically Toronto; something uninspired, safe, corporate, vanilla… Let's stick with "The ACC."
Amalie Arena (Tampa Bay Lightning)
While it's hard to top the building's original name, "The Ice Palace," surely we can do better than the name of an oil company. Unfortunately, the best I could come up with is "The Ground." You know, proving ground, training ground, Britishy-type word for sporting venue… Not to mention the double entendre with electrical physics. You see, because grounding.
…right, I'll show myself out.
American Airlines Center (Dallas Stars)
Given the Dallas Stars' crushing defensive play that carried them all the way to the 2020 Stanley Cup Final, you could argue that their home venue should be called "The Parking Lot" from now on. However, that nickname may not go over well with fans, so let's play it safe with a somewhat classic Texas trope and call it "The Lone Star."
Ball Arena (Colorado Avalanche)
While the Colorado Avalanche have had some incredible highs and lows in their 25-year history, the Pepsi Center has been a consistent figure for the franchise since it opened back in 1999. However, that suddenly changed in 2020, when it was announced that the Avalanche's home stadium would be renamed Ball Arena.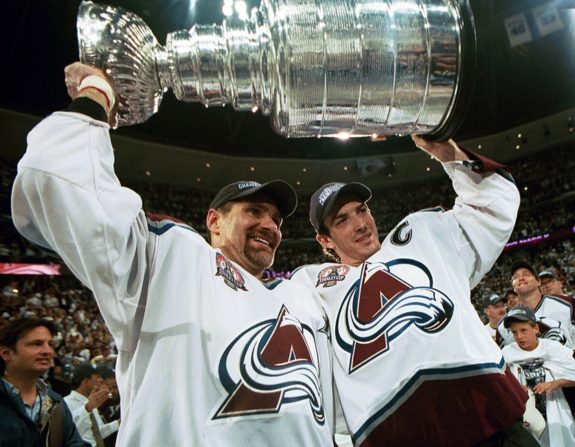 Even if it is no longer called the Pepsi Center, Ball manufactures sustainable packaging, meaning that you can still call Ball Arena "The Cola Coliseum" based on their commitment to making beverage packaging smarter and more sustainable.
BB&T Center (Florida Panthers)
While you can make plenty of jokes saying that the Florida Panthers' home stadium nickname should be "Half-Empty" that seems a bit unfair. So, let's go with a more fitting name revolving around their mascot and call it "The Panthers' Den."
Bell Centre (Montréal Canadiens)
As we all know, the Canadiens are known colloquially as the Habs, a play on habitants, the French settlers who set up shop in what is now Quebec. As such, I put forward "Habitant Habitat" as my suggestion, as it sounds just as good in English as it does in French ("Habitat Habitant").
Bell MTS Place (Winnipeg Jets)
Airlines have long sponsored NHL arenas, but only a team called the Jets should truly be able to lay claim to "The Hangar" as the nickname for their rink.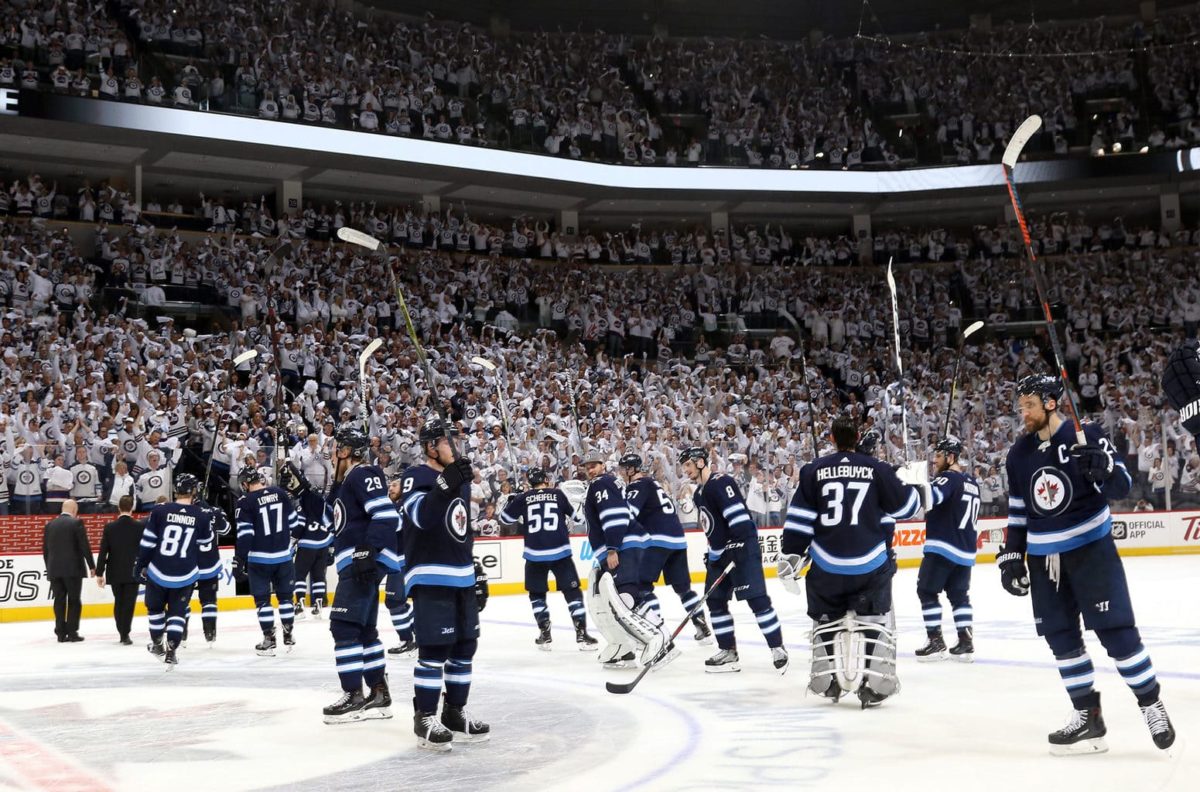 Plus, there's no point trying to make a fun nickname out of one of the most universally reviled companies in Canada (you're not off the hook either, Rogers).
Bridgestone Arena (Nashville Predators)
The Predators have a fearsome, prehistoric saber-toothed cat as their logo and a loyal, rabid fan base. Fortunately, said fan base provides a ready-made option for the Preds' arena nickname: "Smashville."
Canadian Tire Centre (Ottawa Senators)
Given that the teams moniker is the Senators (despite their logo being a centurion), "The Red Chamber", after the Canadian Government's Upper House (and the team's primary colour), seems appropriate. Simply "The Chamber" would do, too.
Capital One Arena (Washington Capitals)
I don't know how Capital One is viewed in the States, but in Canada they're best known for pestering people by sending mountains of mail advertising promotional rates for credit cards and other financial products.
Related: Top 15 NHL Power Forwards
In protest, am sticking with "The Phone Booth," the building's nickname in its days as the Verizon Center. Though other arenas are named after telecommunications companies (see: Bell, Rogers), Capital One Arena's naming rights were previously held not only by Verizon but also by a second such entity, MCI Inc. Thus, only Capital One Arena is truly worthy of  "The Phone Booth".
Climate Pledge Arena (Seattle Kraken)
As the newest NHL franchise, the Seattle Kraken have a beautifully rebuilt arena waiting for them to hit the ice in 2021. As details came out about the Kraken, it was announced that they would play in the Climate Pledge Arena. This name is meaningful, as Amazon, the naming sponsor, is committing to make Climate Pledge Arena 'zero-carbon' while using it to call attention to the effects of climate change on the world.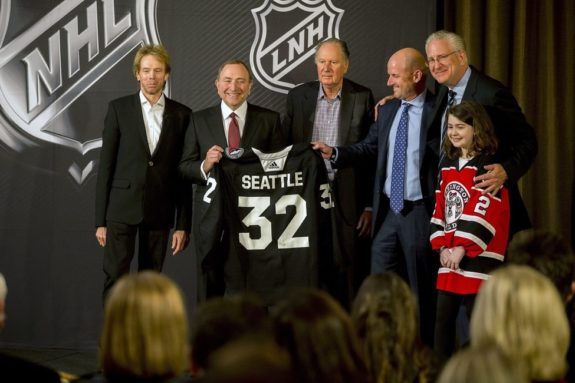 While this is a lofty and respectable goal, it doesn't give much room to make a fun nickname. However, with a mascot as powerful as the Kraken, Seattle should establish a similarly intimidating nickname for their arena. Something to continue with the nautical theme, like "The Deep," or they could harken back to their history and call it "The Metro."
And, while it will be joked about by every rival fanbase for years, don't expect "The Krakhouse" to stick with local fans.
Enterprise Center (St. Louis Blues)
The Gateway Arch is St. Louis' most famous landmark, so it stands to reason it should be incorporated into its arena's nickname in some way. I give you, "Gateway Gardens."
Gila River Arena (Arizona Coyotes)
"The Desert Den" for the Desert Dogs? Okay Coyotes, you can have it, but only on a probationary basis. One more embarrassing season and you'd better believe it's gone.
Your move, 'Yotes.
Honda Center (Anaheim Ducks)
Hondas regularly win all sorts of awards and have a reputation for bulletproof reliability… Completely the opposite of the Ducks as of late.
I've never understood why the transfer of corporate naming rights necessitates changing an arena's entire name. Arrowhead Pond was a fantastic name; what would have been wrong with swapping out Arrowhead for Honda? Nothing, that's what. "The Pond" it is.
KeyBank Center (Buffalo Sabres)
Even though it's what I love about them, the Buffalo Sabres' branding is a mess. If their name is the Sabres, why do they have buffalos in their logo? Do buffalo have opposable thumbs so they can wield sabres?
Related: Buffalo Sabres Jersey History
Given the confusion, for an arena nickname, why not harken back to the team's old barn (Buffalo Memorial Auditorium) and simply call it "The Aud?"
Little Caesars Arena (Detroit Red Wings)
After moving to their new digs from the legendary Joe Louis Arena, there were any number of nicknames suggested for the new barn, most of them pizza-related (I'm partial to "The Slice," myself).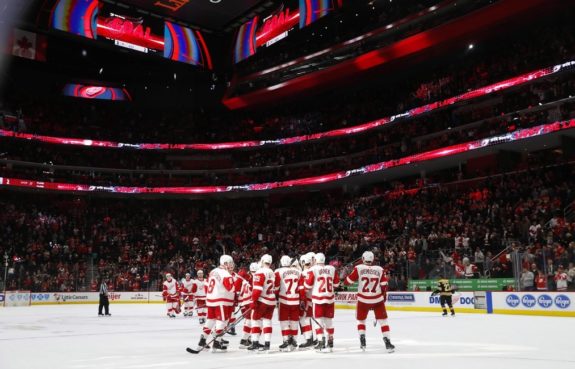 However, the fan-created "The DoughJoe" takes the cake – err, pizza. A pizza reference with reverence for The Joe? I'm not even going to attempt to top that (not even with extra cheese).
Madison Square Garden (New York Rangers)
Not that this building has as much history behind it as marketing campaigns would have you believe (this is actually the fourth separate version of MSG), but they've stuck with the same name for over a century and I respect that. "The Garden" is theirs.
Nassau Coliseum (New York Islanders)
One of the weirdest arena debacles in NHL history is between the New York Islanders and the Barclays Center. After they moved out of the iconic but aging Nassau Coliseum 2015 to Barclays Center, the Islanders immediately felt remorse, as the stadium was built primarily with basketball in mind.
Sure, it was modern, but Barclays Center lacked the sightlines, seating, and amenities that were expected for the NHL that you didn't need for the NBA.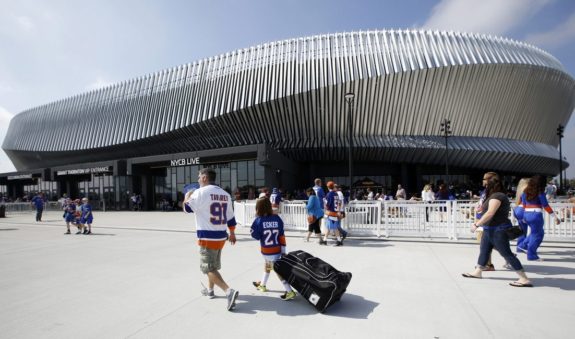 This led to five years of low attendance and disappointment for Islanders fans, before it was announced that they would be returning to "The Coliseum" for the 2020-21 season before they moved to their new home in 2021-22.
Nationwide Arena (Columbus Blue Jackets)
Given the rich history behind the Blue Jackets' name, it is only fitting that something Civil War-esque should be the nickname for their home ice. "The Stockade" comes to mind.
PNC Arena (Carolina Hurricanes)
The name "Hurricanes" conjures up all sorts of ferocious and electrifying imagery. They deserve to play in an arena with a suitably ominous nickname. "The Storm Center," perhaps? "The Eye of the Storm?" Anything to compliment the great atmosphere provided by the legendary Caniacs.
PPG Paints Arena (Pittsburgh Penguins)
I suppose I should cut Pittsburgh a break; following up such an iconic and well-suited nickname like "The Igloo" is no easy feat. Might I suggest "The Iceberg?" Scientifically accurate (igloos tend to be found in northern climes, while penguins are indigenous to the south), aesthetically accurate (the building's façade features glass galore) and can be shortened to "The 'Berg," which jives perfectly with the city's nickname ("The 'Burgh").
Prudential Center (New Jersey Devils)
New Jersey's home ice is already known colloquially as "The Rock" (Prudential's logo features the Rock of Gibraltar). That said, this nickname does not exactly help rid New Jersey of its stereotypical image as a barren, industrial wasteland.
I mean, if you're going to go that route, at least pick something related to your team. "The Pit", for instance. What, what did I say?
Rogers Arena (Vancouver Canucks)
Vancouver is a beautiful city in the Pacific Northwest, populated by relaxed, progressive people. Just don't beat (or insult, or comment on, or mention in passing, or select in a video game) their hockey team. For underneath their calm exterior – behind the thick, full beard and mason jar filled with hand-ground fair trade coffee – dwells a hockey-mad beast of unconscionable power. I hereby dub the Canucks' barn, "The Canuck Corral."
Rogers Place (Edmonton Oilers)
This spectacular facility became the center of the hockey world after it was announced that Rogers Place would not only be a host arena for the 2020 playoffs but would house the Conference and Stanley Cup Final. So, for the first time since it opened in 2016, the Stanley Cup was awarded in Rogers Place… just without any participation from the Edmonton Oilers in the Final.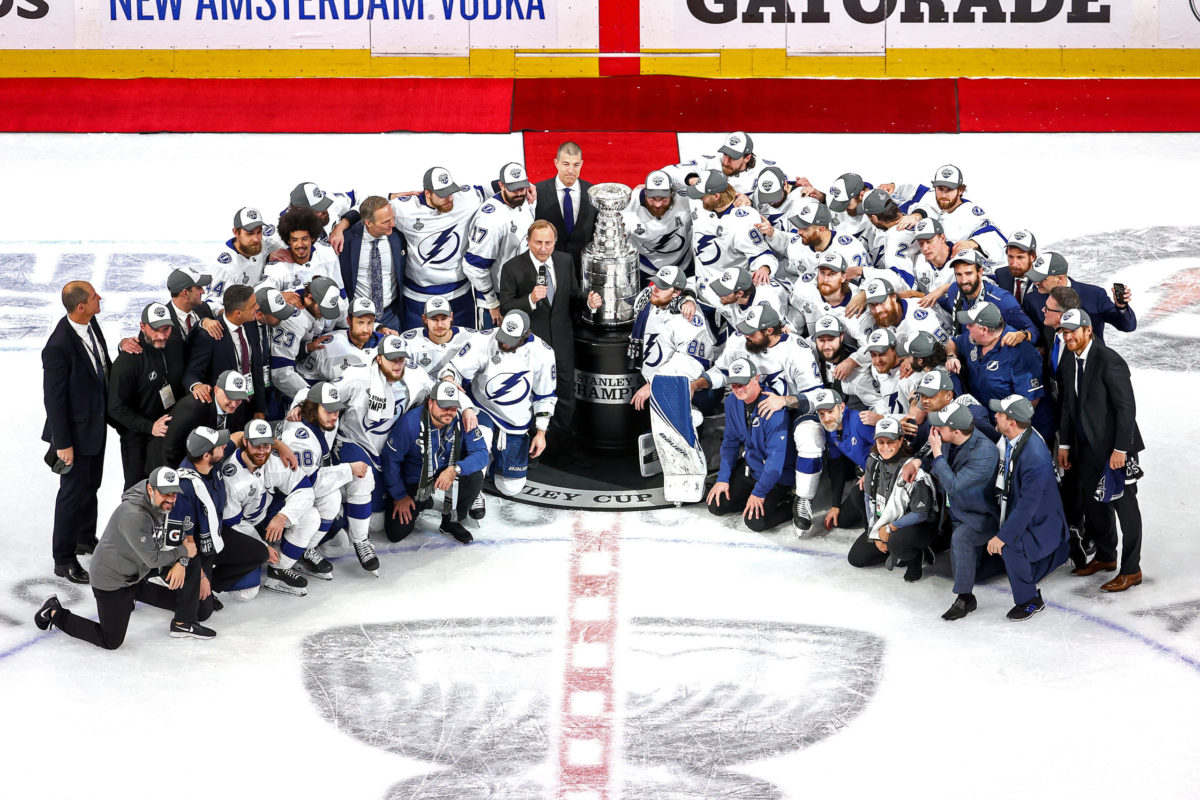 So, with the honor of being the host arena, the hockey would should respectively call Rogers Place "The Bubble" for all the hard work Edmonton put in to pull off the 2020 Stanley Cup.
SAP Center (San Jose Sharks)
"The Shark Tank" is, simply put, one of the best arena nicknames in all of sports. It fits perfectly with San Jose's mascot and captures the feeling of their rabid fanbase as they get whipped up into a frenzy when the home team scores.
Scotiabank Saddledome (Calgary Flames)
The Saddledome is an iconic piece of Calgary's skyline, but it isn't actually a dome. In fact, it's literally the opposite with its concave roof. "The C of Red" is an alternative that does suit the arena, given both the Flames' logo and the predominance of red-clad fans at every home game.
Staples Center (Los Angeles Kings)
While it may not have the same pomp and circumstance as something like Madison Square Gardens, Staples Center has become a bit of an icon in its own right over the years. Between the L.A. Kings, Lakers, and Clippers all calling it home, on any given night from October to June, there's likely to be thousands of fans rocking in L.A.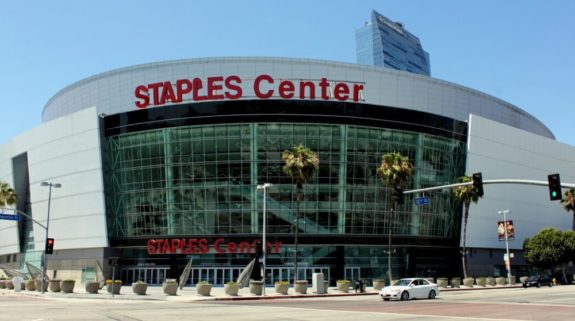 Since it is a center of the sports world, Staples Center needs a name that is both attention grabbing while still having some flair. "The Hollywood Hippodrome." Boom. Flair. You're welcome.
T-Mobile Arena (Vegas Golden Knights)
After entering the league back in 2017-18, the Vegas Golden Knights went from a longshot to a legit Stanley Cup contender. With their success on the ice, I see no problem sticking with "The Fortress" nickname that's already sort of been ascribed to the place.
Related: 4 Golden Knights Poised to Step Up Next Season
However, despite being an entertainment product in Las Vegas, the NHL has made it clear that any references to gambling are unwelcome. Which would make it all the better if we gave T-Mobile Arena a nickname like "The House," or the more hockey-centric, "The Sin Bin."
TD Garden (Boston Bruins)
There might not be a team in the NHL that plays as close to what their moniker suggests as the Boston Bruins. It is only fitting that their building be dubbed "Bears' Burrow"; it really is like entering a lair.
United Center (Chicago Blackhawks)
"The Madhouse on Madison" is pretty cool, not to mention nostalgic; the old Chicago Stadium was dubbed this as well. Can't argue with history, not to mention three Cups since 2010.
Wells Fargo Center (Philadelphia Flyers)
The Flyers' Cup-winning teams are remembered fondly (by Flyers fans, at least) as the Broad Street Bullies, who played out of the now-demolished Spectrum. Given that the Wells Fargo Center is located on the same road, why not call the Flyers' home "Broad Street."
Xcel Energy Center (Minnesota Wild)
Wikipedia tells me that "The X" is the local nickname for the Wild's home ice. I'm just going to go ahead and stick with that, since I don't know what a "Wild" is. Even if I did, where would they play, "The Woods?"
Make It Your Own
All kidding aside, there is nothing in this world that can quite measure up to the live hockey experience; a blindingly fast sport with constant action being played in a venue with just the right amount of people. The atmosphere, the fans, the game ops… NHL hockey is truly something that must be seen in person to be properly experienced.
Related: The Best Nicknames in Hockey
And make no mistake: the venues are an equally important part of this experience. Even if modern facilities don't measure up with regards to quirks, defects, and eccentricities, an NHL arena is still very much what the fans make it. Nicknames breed affection. Affection breeds loyalty. Loyalty breeds memories… and memories last forever.
---
---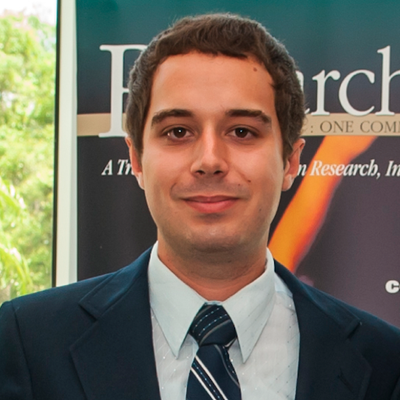 Eugene Helfrick is a Tampa Bay Lightning writer who is actually from Tampa Bay. He has written about the Lightning for six years, covering everything from their run to the 2015 Stanley Cup Final, to their crushing first-round exit in 2019, to their redemption in the bubble in 2020. While he is happy to talk about just about anything from cows to cars to video games, hockey will always remain one of his favorite pastimes.