Opened:
Apr. 6, 2016
Home Team:
Vegas Golden Knights
Owners:
Anschutz Entertainment Group (42.5%)
MGM Resorts International (42.5%)
Bill Foley (15%)
Capacity:
17,500
Location:
3780 South Las Vegas Boulevard, Las Vegas, NV
Former Names:
Las Vegas Arena 
(planning/construction)
T-Mobile Arena is a multi-purpose indoor arena in Paradise, Nevada, United States. Opened on Apr. 6, 2016, it is the home arena of the Vegas Golden Knights of the National Hockey League (NHL). A joint venture between MGM Resorts International and Anschutz Entertainment Group (AEG), T-Mobile Arena is situated on the Las Vegas Strip behind the New York-New York and Park MGM casino hotels.
T-Mobile Arena has hosted various sports and entertainment events, with the latter including concerts, award shows, and beauty pageants. The arena has also hosted various combat sports events, including mixed martial arts (MMA), boxing, and professional wrestling. MMA promoter Ultimate Fighting Championship (UFC) signed a long-term tenancy agreement with T-Mobile Arena in 2017, under which it agreed to host four events per year over the next seven years.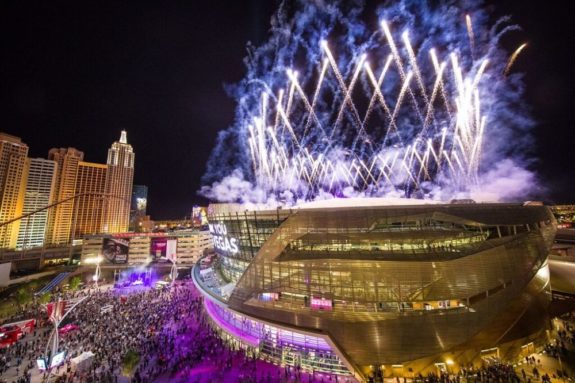 First Games
Oct. 7, 2016 – Dallas Stars vs. Los Angeles Kings "Frozen Fury"
Oct. 8, 2016 – Colorado Avalanche vs. Los Angeles Kings "Frozen Fury"
Notable Events
Stanley Cup Final – 2018, 2023
NHL Awards – 2017
NHL Expansion Draft – 2017
NHL All-Star Weekend – 2022
U.S. Hockey Hall of Fame Game – 2022
NCAA Frozen Four – 2026
WWE Money in the Bank – 2016
WWE Elimination Chamber – 2018
UFC 200, UFC 202, UFC 207, UFC 209, UFC 213, UFC 216, UFC 219, UFC 222, UFC 226, UFC 229, UFC 235, UFC 239, UFC 245, UFC 246, UFC 248, UFC 264, UFC 266, UFC 269, UFC 272, UFC 276, UFC 279, UFC 282, UFC 285, UFC 290
Pac-12 Men's Basketball Tournament – 2017, 2018, 2019, 2020, 2021, 2022, 2023
Professional Bull Riders World Finals – 2016, 2017, 2018, 2019, 2021
Sources