Opened:
Oct. 8, 1994
Home Team:
St. Louis Blues
Owner:
City of St. Louis
Capacity:
18,906
Location:
1401 Clark Avenue, St. Louis, MO
Former Names:
Kiel Center (1994–2000)
Savvis Center (2000–2006)
Scottrade Center (2006–2018)
The Enterprise Center is an 18,096-seat arena in downtown St. Louis, Missouri, United States. Its primary tenant is the St. Louis Blues of the National Hockey League. Still, it is also used for other functions, such as NCAA basketball, NCAA hockey, concerts, professional wrestling, and more. In a typical year, the facility hosts about 175 events. Industry trade publication Pollstar has previously ranked Enterprise Center among the top ten arenas worldwide in tickets sold to non-team events. Still, the facility has since fallen into the upper sixties as of 2017.
The arena opened in 1994 as the Kiel Center. It was known as the Savvis Center from 2000 to 2006 and Scottrade Center from 2006 to 2018. On May 21, 2018, the St. Louis Blues and representatives of Enterprise Holdings, based in St. Louis, announced that Enterprise had acquired the naming rights and that since July 1, 2018, the facility's name has adopted its current name.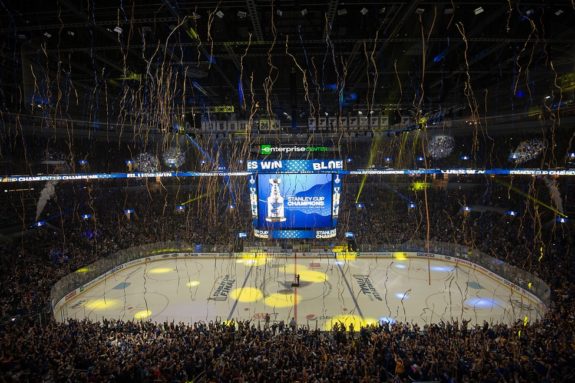 First Game
Jan. 26, 1995 – Blues vs. Los Angeles Kings (3-1 win)
Notable Events
Stanley Cup Final – 2019
NHL All-Star Game 2020
Women's Final Four – 2001, 2009
U.S. Figure Skating Championship – 2006
NCAA Division I Wrestling Championships – 2000, 2004, 2005, 2008, 2009, 2012, 2015, 2017
WWE Royal Rumble – 2012
Sources