Opened:
Sept. 21, 1995
Home Team:
Vancouver Canucks
Owner:
Aquilini Investment Group
Capacity:
18,910
Location:
Vancouver, BC, Canada
Former Names:
General Motors Place (1995-2010)
Canada Hockey Place (2010)
Rogers Arena is a multi-purpose arena located at 800 Griffiths Way in the downtown area of Vancouver, British Columbia, Canada. Opened in 1995, the arena was known as General Motors Place (GM Place) from its opening until July 6, 2010, when General Motors Canada ended its naming rights sponsorship and a new agreement for those rights was reached with Rogers Communications. Rogers Arena was built to replace Pacific Coliseum as Vancouver's primary indoor sports facility and in part due to the National Basketball Association (NBA) 1995 expansion into Canada when Vancouver and Toronto were given expansion teams.
It is home to the Vancouver Canucks of the National Hockey League (NHL), the Vancouver Warriors of the National Lacrosse League (NLL), and the Vancouver Titans of the Overwatch League (OWL). The arena also hosted the ice hockey events at the 2010 Winter Olympics. The name of the arena temporarily became Canada Hockey Place during the Olympics. It was previously home to the Vancouver Grizzlies of the NBA from 1995 to 2001. The Grizzlies spent six seasons in Vancouver before relocating to Memphis for the 2001–02 season.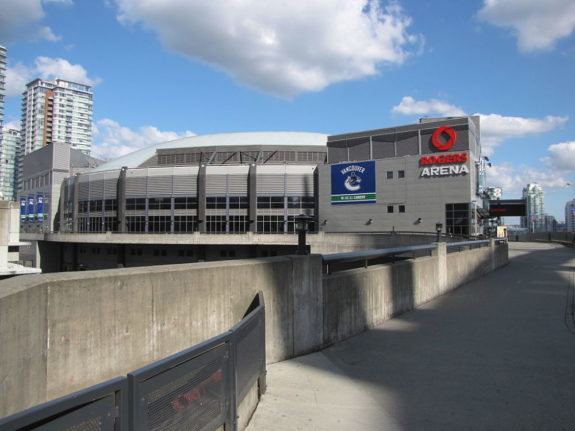 Notable Events
October 9, 1995: First Canucks game at the arena, 5-3 loss to the Detroit Red Wings.
October 6, 2002: Queen Elizabeth II dropped the ceremonial first puck in an exhibition game between the San Jose Sharks and the Canucks.
The 2010 Winter Olympics (ice hockey games only)
June 1, 4, 10, and 15, 2011: Games 1, 2, 5, and 7 of the 2011 Stanley Cup Final. The Boston Bruins defeated the Canucks 4–0 in Game 7 of the Final to capture the Stanley Cup.
Dec. 26, 2018 – Jan. 5, 2019: 2019 World Junior Ice Hockey Championship
Sources