Travis Hamonic lost his father, Gerald, to a heart attack in the summer of 2000. Travis was 10 years old. Opening with the new Calgary Flames defenceman's worst day is jarring, but I feel it's necessary. You can't talk about Travis Hamonic without touching on his origin story, as the event has become so woven into who Hamonic is now.
Humble Beginnings in St. Malo
Hamonic grew up on a farm in rural St. Malo, Manitoba. To fill the ellipses following his father's death, he took up hockey. He played several years with the Moose Jaw Warriors and finished his WHL career with 29 goals and 80 assists for 109 points in 181 games. The Islanders plucked him in the second round of 2008 NHL Draft and called him to the main roster in 2010.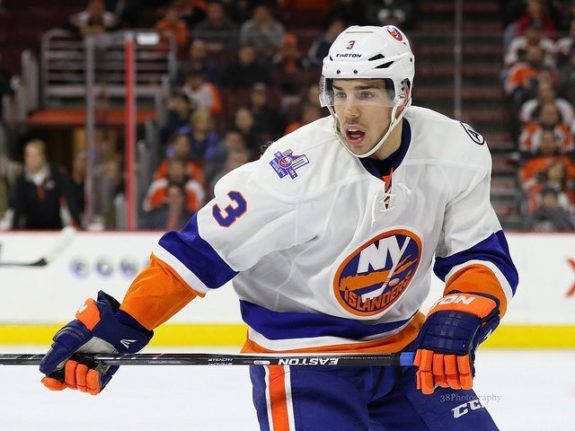 He gave the Islanders seven feisty seasons until this offseason, where the Calgary Flames snagged him for a very hefty grab bag; a 2018 first-round pick, a 2018 second-round pick and a second-rounder in 2019 or 2020.
How Hamonic Will Help the Flames
To circle back, somewhat clumsily, Hamonic has been heavily involved with local charities back in New York, connecting with children who have lost loved ones. He serves a sort of beacon for wayward children hacking their way through the thickets of grief.
I told you it's impossible to mention Hamonic without also mentioning his father's passing.
Let's start with that. Hamonic's biggest contribution to this team, to this city, will likely come off the ice. The Calgary community is already locked into the Flames and Hamonic's dedication to community service and charity will only serve to bolster that bond.
He's big, rangy, and tough. He plays physical and can be a very annoying pest in a lockdown role. His hands look like anvils. They were meant to snap lobster tails and cave in doors during police raids.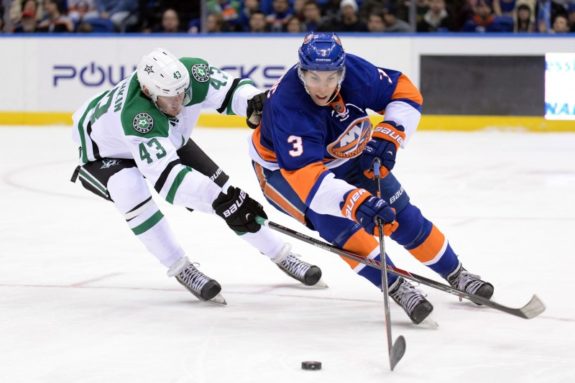 He's averaged a shade under two hits per game (1.9) over his career, including a peak of 3.0 in 2014-2015. Last season, the only Flames defenceman who approached two hits per game was Deryk Engelland (1.7), who left for the Las Vegas Golden Knights in the Expansion Draft. If the Flames hadn't signed Hamonic, the next best grinder was ex-Coyote Michael Stone, who racked up 1.3 hits a game. So you can see where Hamonic will come in handy next year. And why the Flames paid so dearly to acquire him.
He can score. He hung a respectable 33 points in 71 games for the Islanders back in 2014-2015, and even sees some work on the power play unit.
He's still young, 26 years old, and the Flames inherited him on a sweetheart deal ($3.85 million per year for the next three).
Is Hamonic Even That Good?
Hamonic spent most of the 2016-17 season injured and wasn't having that great of a season before he went down. In 49 games he notched three goals and 11 assists. His plus-minus was minus-21. Minus-21 in 49 games. Let that sink in. His Corsi clocked in at an abysmal 43.9 percent, a number so low that a scarecrow with a Bauer stick would end the season with a better plus-minus and Corsi.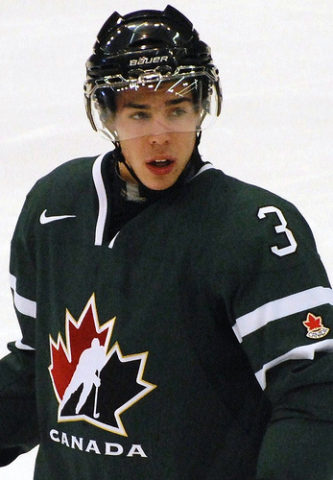 Hamonic wasn't all that better in the 2015-16 season either. We've seen worse seasons. It's not as though Hamonic searched for a short-term rental in Bridgeport, Connecticut during his downtime but he wasn't exactly clearing shelf space for an impending Norris Trophy either.
In 2015-16, he put up five goals, 11 assists, and 35 PIM in 71 games. The advanced stats hammer home this mediocrity. His Corsi (EV) for the season was 49.7 percent, third on the Islanders behind Nick Leddy and Calvin de Haan. He tallied 148 hits, which was second among New York defencemen behind Johnny Boychuk, and 85th in the NHL.
These are respectable numbers, but if this is the version the Flames get, and not last year's version, he can be very serviceable as a minute-eating grinder with a body pocked with the technicolour bruises of a selfless shot blocker.
Bottom Line
Let's break this down as plainly as we can. The Flames traded some very valuable picks for an OK defenceman whose last good season occurred three years ago.
By all accounts, you'll be hard-pressed to find a better person in the NHL; I just don't know if the Flames should have given away as many early round draft picks as they did.
Make no mistake about it. The Flames will be better next year. The defence will be better next year with Hamonic on the ice. Not necessarily because he's a great player but because the exact categories in which Hamonic excels are the same the Flames lack. If—and this is a big if—the man can stay healthy.