The 2017 Young Stars rookie tournament is being held in Penticton this weekend. The Calgary Flames, Edmonton Oilers, Vancouver Canucks and Winnipeg Jets are all participating. Each team is sending their prospects to the exhibition series along with a list of invited hopefuls. The Oilers invited a total of 12 players to camp, not including two on AHL deals.
The tournament is a golden opportunity for underrated, undrafted and sometimes unknown prospects to make a name for themselves. Invitees playing for Edmonton's squad don't have to look further than the 2015 camp when Braden Christoffer emerged.
Christoffer had a spectacular rookie camp after signing an AHL contract. His stock rose exponentially, and he converted that into an NHL contract after the main camp (and Anton Slepyshev's short-term injury might create a spot for one or two players to earn an extended look in Oilers camp). The invitees to this year's camp hope to follow in Christoffer's foot steps.
Here's a breakdown of each of the 12 invitees and the two on AHL deals. Each player is listed with the club they played for in 2016-17.
Trio of Defensemen
Sahvan Khaira (19) – Swift Current (WHL)
Jujhar Khaira's younger brother is a 6'3″, 220-pound blueliner. He's a right shooting defender whose game has improved over the past two seasons since coming over from the Seattle Thunderbirds. Last season, Khaira scored 17 points in 70 games. He's a stay at home defenseman with some shutdown capabilities. He'll suit up for Swift Current again this year.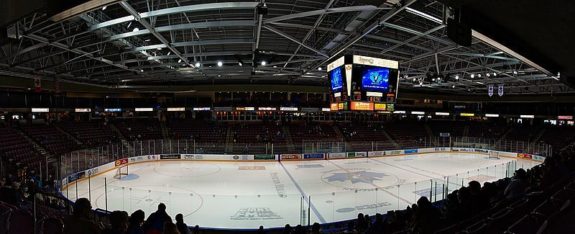 Liam Schioler (19) – Regina (WHL)
An average sized defenseman at 6'1″ and 187 pounds, Schioler played parts of two seasons in the WHL. He's described as a reliable stay at home defender with limited puck moving abilities. He's an underrated player that got pushed down the lineup when Regina acquired a trio of defensemen. There's little to no offensive upside to his game, but he could become a decent defensive defenseman at the AHL level. He'll return to Regina this season.
Austin Strand (20) – Seattle (WHL)
Strand played three seasons with the Red Deer Rebels before coming over to the Seattle Thunderbirds last year. He played in back to back Memorial Cup tournaments with both teams. Strand's offensive game took a positive step forward in 2016-17. He had a career year, scoring nine goals and 32 points in 74 games. As he enters his final year, it's possible he scores more than 40 points with Seattle in 2017-18.
WHL Forwards Auditioning for Oilers
Chad Butcher (21) – Medicine Hat (WHL)
Butcher has managed to improve his offensive production year after year in the WHL. Last season, he put up 27 goals and 103 points in 68 games for the Medicine Hat Tigers. He's a smaller forward at 5'10" and 165 pounds but he has some playmaking upside, and he's signed an AHL deal with the Bakersfield Condors. He could be a nice addition to the Condors' top nine.
Luke Coleman (19) – Calgary (WHL)
An averaged sized winger, Coleman uses his body to open up space. He's been a near 30-point player each year in the WHL and scored 14 goals and 28 points in 73 games last season. He returns to the Calgary Hitmen for 2017-18. It's worth noting he was ranked 168th among North American skaters by NHL Central Scouting for the 2016 draft. So he's a long shot.
Trey Fix-Wolansky (18) – Edmonton (WHL)
It's a bit of an unusual case with Fix-Wolansky. He's an undersized forward at 5'8″ and 165 pounds, but he's been a decent scorer through the AJHL and WHL. The Edmonton-area product scored 24 goals and 54 points last season for the hometown Oil Kings. There isn't much of a sample size to his production, and that's probably one of the reasons he wasn't ranked by Central Scouting for the draft. He could score 30 goals in the WHL this upcoming season and is worth keeping an eye on.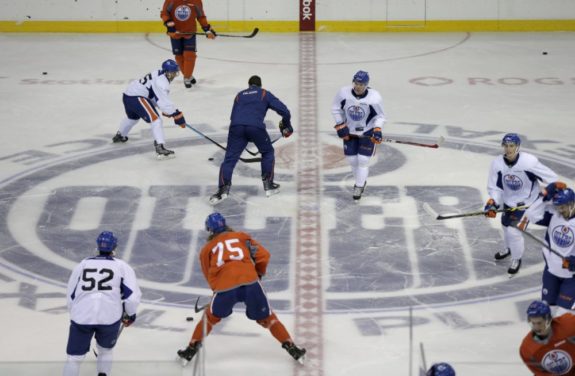 Austin Glover (18) – Red Deer (WHL)
Glover completed his junior career having played for the Kelowna Rockets, Prince Albert Raiders and Red Deer Rebels. He was a former second round pick in the WHL Bantam Draft in 2011 and was a serviceable middle-six forward during his junior days. Glover has committed to the University of British Columbia (UBC) to play college hockey. He's a strong skating center that plays a solid two-way game.
Davis Koch (19) – Edmonton (WHL)
Koch has now been passed over in the NHL Draft two years in a row. The former WHL second round pick exploded for 21 goals and 70 points last season for the Edmonton Oil Kings. In 184 games, Koch has scored 119 points. He's described as a player with smart hockey sense and might be a bit of a late bloomer. He's off to an impressive start to the exhibition tournament after the first game against Calgary.
Who's the Next Christoffer for Oilers?
Steven Owre (21) – Medicine Hat (WHL)
Another Edmonton-area product, Owre just wrapped up his WHL career where he scored 221 points in 282 games. Most notably he scored 26 goals and 88 points last year and was a near point-per-game player through 11 playoff games. Once again, he's a smaller forward at 5'11" and 176 pounds, but he's a talented center.
Grayson Pawlenchuk (20) – Red Deer (WHL)
Pawlenchuk is from Edmonton and has been a top nine forward in the WHL for quite some time. He had an injury shortened year in 2016-17 and only played 19 games. He's versatile and can play both center and left wing. Pawlenchuk has some two-way upside and could be someone to watch in camp.
Evan Polei (21) – Red Deer (WHL)
Polei signed an amateur tryout with the Condors at the end of last season and converted that into an AHL contract for this season. He led the Red Deer Rebels in scoring with 33 goals and isn't afraid to mix it up as he tallied 104 penalty minutes in 2016-17. At 6'2″ and 222 pounds, he has fairly decent hands for a big man.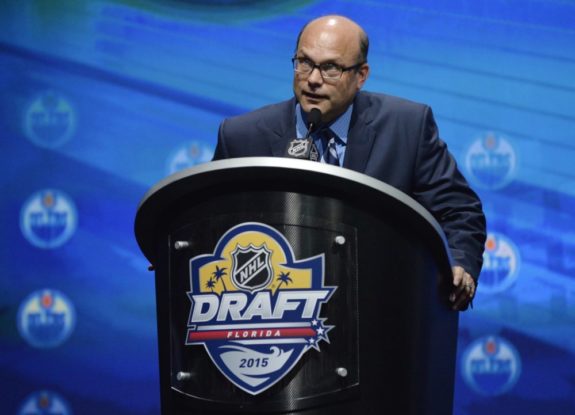 Brandon Saigeon (19) – Hamilton (OHL)
Things haven't gone Saigeon's way. He was a fourth overall pick in the 2014 OHL draft, but struggled out of the gate. He hasn't emerged as a top six talent in junior from the looks of it. Since the Belleville Bulls relocated, he's been mediocre at best with the Hamilton Bulldogs, stats wise. Saigeon did score 49 points in 66 games in 2016-17 and was ranked 148th among North American skaters for the 2016 NHL Draft by Central Scouting.
Ethan Szypula (20) – Owen Sound (OHL)
Szypula enters his final year in junior, and, similar to most, he's been passed over in the draft. He was a first round pick in the OHL draft in 2013 and in 2015, he was ranked 194th among North American skaters by Central Scouting. He's shown modest improvement offensively over the past few seasons; however, his goal total dropped from 18 to 11. He's another small forward at 5'11" and 170 pounds. The scouting report on him is that he likes to play on the perimeter of the ice. Szypula scored 47 points in 64 games with the Owen Sound Attack.
Edmonton Oilers regular contributor providing insight on all things Oilers including club history, prospect profiles, trade breakdowns, and everything else in between. Check back regularly for new and exciting content. Follow on Twitter @SanderTHW.