Welcome to 10 Questions, our new feature for the 2017-18 season. We will bring you interviews with players, coaches and management from the NHL, AHL and OHL. Today, Erie Otters head coach Chris Hartsburg stopped by. 
It was just a matter of time. Kris Knoblauch accomplished just about everything a coach could accomplish in the OHL. After leading the Otters to four straight 50-win seasons and an OHL Championship, Knoblauch proved he was ready for the NHL. He is now with the Philadelphia Flyers.
But life goes on. The Otters needed a new coach. They want to keep up their winning ways. They turned to an old friend to lead the next wave. After a couple of seasons with the USHL's Lincoln Stars, Chris Hartsburg is back.
Hartsburg kindly spent some time with us this week. How did this all come together? Are the Otters really the underdog? What is he like as a coach? What did he learn in Lincoln? I'm glad you asked.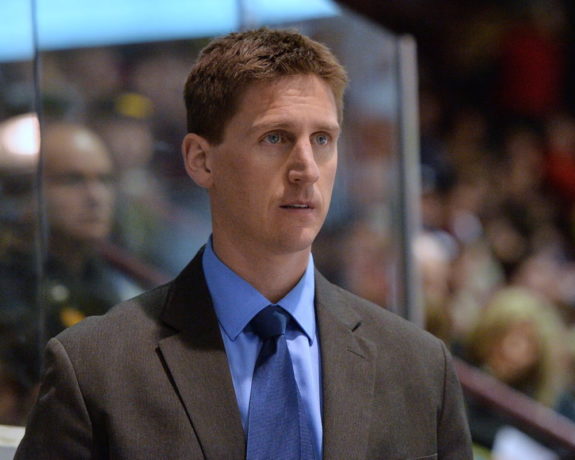 10 Questions
The Hockey Writers: How did this all come together for you? Did you have an idea that this would be a possibility when Kris Knoblauch left for the Flyers?
Hartsburg: I think when I left here initially you always have it in the back of your mind you wanna go coach in places you enjoy. I was only here for a year but certainly enjoyed my time here. The ownership group changed and Brownie (GM Dave Brown) was named the general manager. Me and Dave's relationship over the year I was here was strong. We kept in touch over the years. Kris (Knoblauch) was getting close to leaving. We talked a little bit. It was something I think for me it was just a natural fit.
Also see: Erie Otters Guide to the Offseason.
THW: What makes Erie appealing?
Hartsburg: I think it's the people you get to work with. I think as a young coach you wanna make sure you are putting yourselves in situations where you're working with good people. To me that's what this is about. You never wanna put yourself in a situation where you're constantly checking over your shoulder and worrying about what might be going on where as with Dave (Brown) we are on the same page.
THW: So you went to Lincoln. What things did you learn as a head coach there that will help you here?
Hartsburg: I think just being a head coach. I've never been a head coach before going into that position. It's a trial by fire at times. You learn what works and doesn't work over the course of the years. But for me it was getting that experience and preparing for a higher level.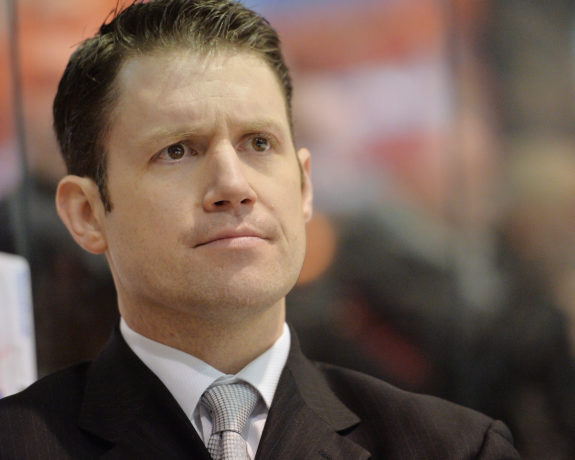 THW: You've now spent time in both the OHL and USHL. Both are well regarded as developmental leagues. What major differences do you see between the two leagues?
Hartsburg: You're still dealing with your 16-20 age group. With that age group you're still dealing with different things. It's a 24-7 job as far as being almost a guardian to these young men. From a hockey standpoint, there are different subtleties between the leagues just based off what you are gearing each player for.
THW: How have you looked up to your dad (Craig Hartsburg) in terms of becoming a better coach?
Hartsburg: I've been very fortunate. He's been a great role model. He's certainly someone who's been through the highs and lows that this sport has to offer. For me, I had the opportunity to work with him for two years as well. That really put me on my path to where I'm at now. I don't think as a young coach you don't get a opportunity to work with an NHL head coach very often . For me, it was a lot of interaction on a day-to-day basis, how you treated players, the expectations and accountability and all those things. For me he's always been there. He's a good father and best friend.
THW: How would you describe your style of coaching to someone if you were to critique yourself?
Hartsburg: I'm big on habits. I think you don't get anywhere in this game without creating good habits. You set your base and are trying to get better. I demand accountability. I demand that things get done the right way. It's about pushing and getting guys to commit. There's different ways to do it. I'm not a big screamer/yeller. But certainly I'm a guy that when I have to when my voice raises it's for a reason. It's not just for no reason.
THW: What kind of a team are you hoping to build here?
Hartsburg: I want to be a team that is attacking. We don't wanna be a team that plays a safe game. We want to be hard to play against. We're constantly attacking pucks and good defensively, but at the same time we're taking risks on the offensive side. We want to score goals but I think for us the key to being sound structurally is creating layers of defense and making sure we're moving our feet. All those come into play when I think about being hard to play against.
THW: Can you summarize for us the current overage situation? You have four on the roster battling for spots. How do you see this playing out?
Hartsburg: We won't know until T.J. (Fergus) is cleared. Until that happens we only have three healthy OA's. So we don't have to deal with that.
THW: (Follow-up question) Is there an update on T.J Fergus?
Hartsburg: He's skating so we're not sure until he sees his doctor. I don't know when that's going to happen. But as of right now, we only have the three guys (Timpano, Headrick, Fellows) to go with.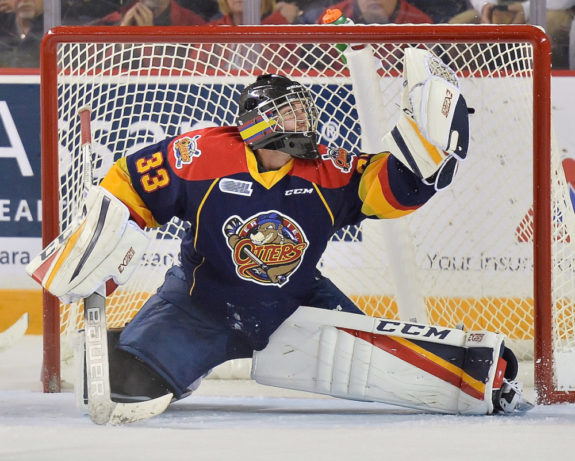 THW: Can you go over the goaltending situation? Troy Timpano is back. The perceived goalie of the future Anand Oberoi is here as well. What kind of a plan are you going to put in for development purposes? How do you see playing time working out?
Hartsburg: I think for Anand he is going to have to abide his time for a little bit. Having a 20-year old goalie back that won a league championship and is experienced you don't let those guys split. I'm big on playing the hot hand. Certainly if Obi gets hot we're going to let him play a little bit. Our expectation going in is that Troy is our number one and Obi is going to play a typical backup role.
THW: A lot of "outsiders" think the Otters are going to take a huge step back this season. Tell us why you think this team can be good?
Hartsburg: There's too many intangibles in this group. This is a group that's won before. And two there's a lot of kids that care. I think you can go a long way with those two things. We have players that are ready to take big steps. In order to do that there needs to be opportunity and certainly, there's a lot of opportunity this year for a lot of those guys. No one knows what's going to happen this year until that puck drops in game one and we'll get going from there.
We thank coach Hartsburg for his time in speaking to us about the upcoming season.