The Erie Otters are officially back on the ice — we are through training camp with exhibition games scheduled against Peterborough, Flint and Kitchener this weekend (Sept. 1 to Sept. 3). This season will be a test of the management of the organization as well as the grit of remaining players.
Fifteen players from the Otters' championship run are returning to camp, but for the first time since the blockbuster acquisition of Connor McDavid in 2012 OHL Priority Selection Draft, the Otters are without a plethora of big-name star power.
The Grit(z) Factor
The Otters recently acquired forward Alex Gritz from the Sault Ste. Marie Greyhounds in exchange for two future picks.  The Pittsburgh-native played Minor Midget AAA hockey for the Waterloo Wolves where he tallied 27 total points during playoffs before SSM picked him up. Gritz has grit in more than just his name, which is why Otters general manager Dave Brown was so interested in adding him to the roster for the upcoming season.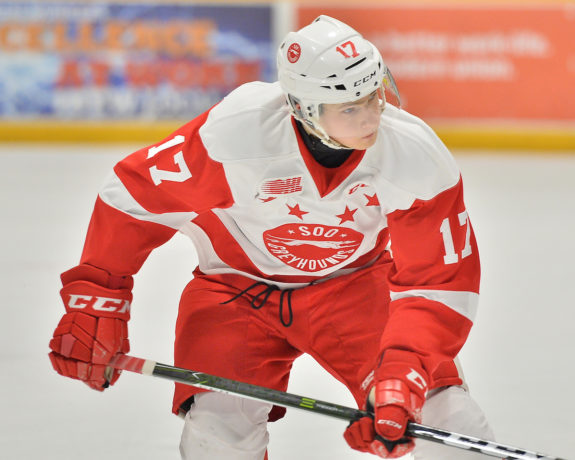 "Alex is a hard-working player that makes the ice uncomfortable for his opponents. We felt we needed a little more jam in our forward group," Brown announced in a brief statement following the Gritz acquisition.
Big Roles to Fill
The Otters certainly have some holes in their lineup after the departure of so many big-name players, but all signs point to the conclusion that they are not yet in a 'rebuild now' state. They have a deficit in the draft picks department, but it appears as though they're not ready to trade valuable players like Ivan Lodnia to replenish picks, preferring to keep them around in hopes of pulling off yet another championship run this season.
Despite playing on the left wing for SSM, Gritz has been practicing at center in training camp. He may serve as a patch for the hole they now have there on the third or fourth line. The Otters have already trimmed their roster down to 44 players for the start of the OHL Pre-Season Showcase beginning this Friday night (Sept. 1) in Buffalo, NY.
The new kids on the block will be integral to the success of the team this season, but with veteran players like Kyle Maksimovich, Taylor Raddysh, Troy Timpano and Jordan Sambrook returning, the hope is that they will not only contribute to play in a big way, but also aid in passing the torch and fostering a winning mentality in the plethora of new players that will be taking the ice alongside them come Sept 21.
Taylor Raddysh will not be back in Erie for the 2018-19 season as he will have played the maximum four seasons in major juniors by the close of the 2017-18 season, but it seems as though management is still set on using him in their lineup while they can instead of opting to cash in on his trade value now.
If, by early January, the Otters record doesn't seem conducive to a playoff run, then we will likely see a shift to a more rebuild-centric mindset. Players like Taylor Raddysh will be the first to be traded for picks before the January 10 OHL trade deadline, followed by players like Ivan Lodnia who have lots of trade value and are not likely to be back for another season.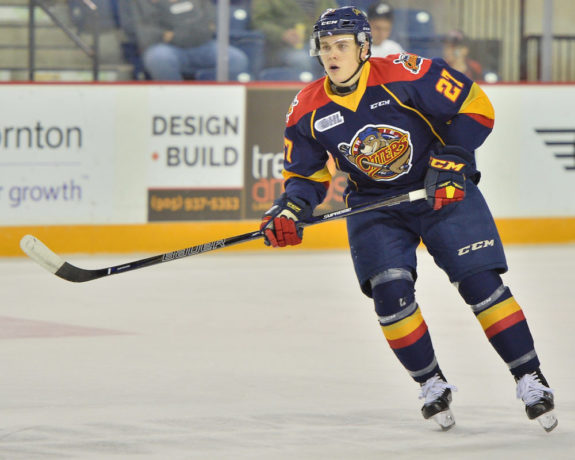 Coach Hartsburg may be grooming Lodnia to switch from right wing to center this season, as evidenced in training camp, which will garner him valuable experience in that position and likely increase his trade value even more. However, this may also incentivize the Minnesota Wild to take Lodnia next season considering center Matt Cullen's one-year contract will be up by then and they will be looking to groom a new center of their own for implementation into their roster.
There are still a lot of questions heading into the Otters' 2017-18 season, but we now at least have tangible possibilities for answers instead of merely a line of unending question marks.
Erie/Pittsburgh, PA | Erie Otters; Junior Hockey | Editor-in-Chief of The Grizzled Vet | Formerly: University of Pittsburgh D1 Hockey Journalist