The 2017-18 season will be an interesting one for the New Jersey Devils, as Ray Shero, the team's general manager, continues to make major changes to his roster. Hired a month before the 2015 NHL Draft, Shero has been retooling the Devils with skilled forwards and young defensemen through numerous trades and draft picks, and now his roster is showing signs for a brighter future. From the acquisition of Taylor Hall, to landing the first overall draft pick in 2017, to the recent acquisition of Marcus Johansson, the Devils should start turning over a new leaf.
Benefits from Oilers' Unfortunate Situation
Shero's first major move was a trade for Hall on June 29, 2016, in a transaction that gave defenseman Adam Larsson to the Edmonton Oilers. The Oilers have since found themselves between a rock and hard place, as their ridiculous number of first-round picks have made it impossible for the franchise to afford all of them. Perhaps the salary cap was working against the Oilers that day, but for the Devils, it was the first step to leveling the playing field.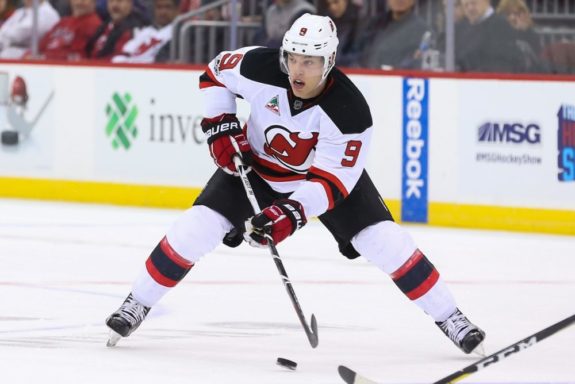 Since Hall's arrival, he's had the highest point production rate of any of his teammates and it goes without saying that he's been a huge asset to the Devils during their time of need. He's putting up the points.
Benefits From Sharks' Lagging Development
The next noteworthy move was a trade for Mirco Mueller, a first-round defenseman in the 2013 draft from the San Jose Sharks, in exchange for a second and fourth-round pick in the 2017 draft. This trade may or may not work out, as Mueller's progress has been slow. Yet some fans perceive San Jose as giving up on another prospect too early in his development process.
Perhaps it depends on whether you view this trade with a glass-half-full or half-empty kind of mentality, but if this defenseman's non-bruising style of play were to work out somewhere, it'd be in New Jersey rather than some Pacific Division team.
The First Overall Pick Despite Bad Odds
At the 2017 draft lottery, the Devils managed to land the No. 1 selection despite the odds, which were left at an 8.517 percent chance. They selected Swiss centerman Nico Hischier, who played for the QMJHL's Halifax Mooseheads last season, scored 86 points in 57 regular-season games last year and another seven in six playoff games. According to SB Nation, he describes his own style of play to resemble that of Pavel Datsyuk, which is nothing short of extraordinary. And Future Considerations describes him as:
…an incredible stick handler who thrives in possession and can make defenders look foolish… – Future Considerations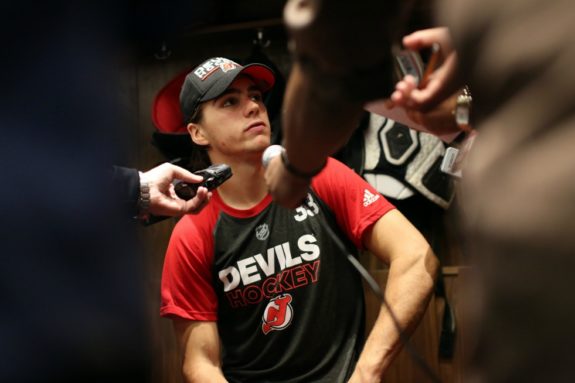 Although the 2017 Draft was said to have lacked depth, there's lots of potential for the number one draft pick to make an immediate impact for the Devils. The unfortunate injury of Travis Zajac during the offseason will likely give Hischier the opportunity to start the 2017-18 season off with top-six minutes and that doesn't just benefit Hischier and his own development but also the team's development.
Benefits From Capitals' Unfortunate Situation
Now that the Devils have Marcus Johansson in the fold for a little more than $4.5 million a year for two years, things are really looking up. Johansson happens to be another byproduct of a tight salary-capped league, who was taken from his NHL-drafted team since they could no longer afford him. After the Washington Capitals re-signed defenseman Dmitry Orlov (six years, $30.6 million), right-winger T.J. Oshie (eight years, $46 million) and centreman Evgeny Kuznetsov (eight years, $62.4 million), they were up against the salary cap, so they traded Johansson to open up room.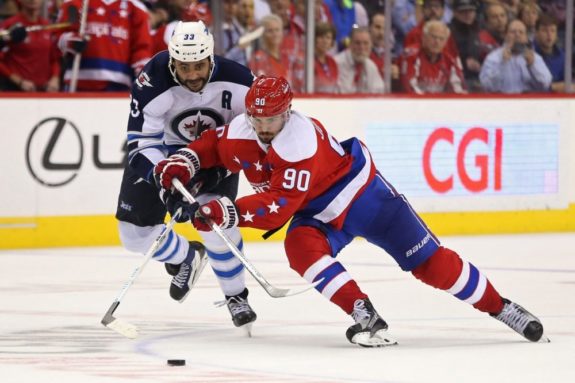 So for players deciding to come play for Shero, one of the more appealing aspects of being on his roster are its available opportunities for bigger roles—roles that were permanently unavailable elsewhere. Unlike the Toronto Maple Leafs, for instance, there's actually a need for scorers in New Jersey, especially at the front end. Even in Washington, Johansson wasn't the only forward who could score. He wasn't even the only center who could score. In fact, last year, Alex Ovechkin, Oshie, Nicklas Backstrom and Kuznetsov all had higher P/GP (point per game played) rates than Johansson did. But now that he's with the Devils, Kyle Palmieri is the only person to score more goals during the 2016-17 season. For Johansson, the opportunity to have the best season of his career is certainly there and perhaps that's one of the reasons why he's looking forward to playing with the Devils.
Benefits from CBA Regulations
Although the Devils' backend is seeing a huge progression in terms of point production, opportunity lurks there too, and this opportunity may have contributed to NCAA-developed defenseman Will Butcher's decision to sign with them. Butcher, who won the 2017 Frozen Four championship with the Denver Pioneers in April, as well as the 2017 Hobey Baker award, is the second consecutive Hobey Baker winner to pursue free agency after finishing college hockey.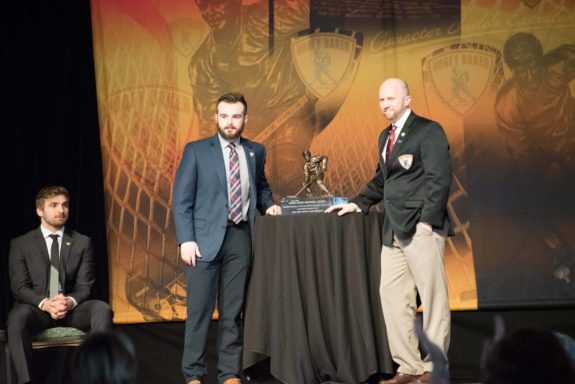 Instead of signing with the Colorado Avalanche, the 2013 fifth-round pick spent considerable time talking with many NHL teams before he finally decided to call New Jersey his home turf. The NHL's collective bargaining agreement (CBA) states that players who don't sign with their draft team by Aug. 15 after their senior year become unrestricted free agents, and it was Shero who sold him on New Jersey and all the benefits that come with the territory.
Thanks to the NHL's salary cap, general managers have another way to effectively rebuild their teams other than through the draft. The cap makes it harder for teams who've collected numerous first-round picks to hold onto them all, and that's allowed Shero to swoop in and make the most of several unique situations.
The cap has also given highly-touted college players drafted in later rounds the ability to pick and choose where they want to play because they're cheap and therefore low-risk. Along with the pros of a salary-capped league and a little bit of luck, the New Jersey Devils have had one of the best offseasons in the NHL. Not to mention, it only took Shero three seasons to win the Stanley Cup as a general manager with the Pittsburgh Penguins back in 2009. His reputation for a quick directional turnaround is beginning to make good once again.
I'm a Hockey Journalist based out of Barrie, Ontario, a Contributing Writer for The Hockey Writers covering OHL, and NHL prospects with an insatiable thirst for all things LA Kings, and PR gal for Abel Sports Management.