Summer is about to come to a merciful end for hockey fans. Teams report to training camp in a few weeks, and in just over a month we will welcome back regular-season hockey. This means, among other things, that the Stanley Cup's second straight world tour in the hands of the Pittsburgh Penguins is nearing its closing set. On Oct. 4, in front of a packed house, the Penguins will raise their 2016-17 championship banner and return hockey's grand trophy to its keepers.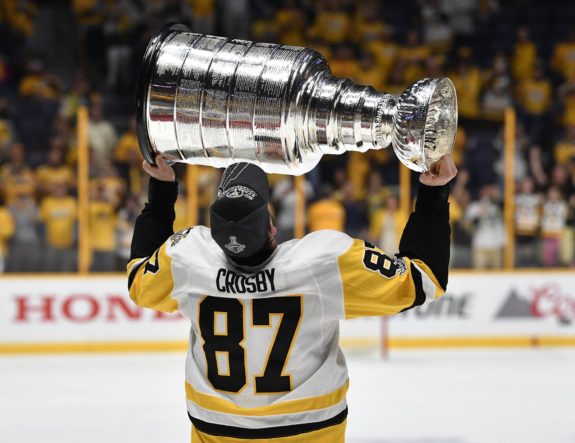 As the Cup is transferred once again into neutral hands, a reality will have just about set in for Penguins fans: the 2017-18 model of their beloved team is going to look markedly different from the previous two. The Penguins had their talent plundered both on and off the ice this offseason, losing several key players, an assistant coach, and even their associate general manager, to new locations. However confident one may be in the personnel remaining, one can't help but wonder what kind of impact these losses will have.
We have no way of knowing how it will all unfold in the long term, but we do know of a few key story lines to pay attention to early in the season for the new-look Penguins.
Big Skates to Fill
Among the Penguins' notable departures via free agency were forwards Chris Kunitz, Matt Cullen, and Nick Bonino. All three were invaluable locker-room leaders who personified Mike Sullivan's "Just Play" mantra. League rules require Pittsburgh to dress three players in their stead this coming season, but the voids left behind by each are not easily filled.
From a roster standpoint, the losses of Cullen and Bonino leave Pittsburgh relatively vulnerable at a position where they were once among the league's strongest: center. The most burning question all summer for fans has been the wonder of how the team will go about replacing them down the middle in the bottom six.
Barring a trade, Carter Rowney likely gets the first crack. Rowney has only played 47 NHL games, but fortunately, 20 of those were in the playoffs. He'll need to lean on that crunch-time experience to make the best of his full-time opportunity in 2017-18. Rowney led all Penguins in hits throughout the postseason by a long shot despite missing five of the team's 25 games, which proves at the very least that he's more than willing to play the physical style of hockey that's often asked of bottom-six forwards. He needs to parlay that physicality into some adequate two-way ability if he is going to be a go-to center all season. In any case, in-house options are scarce outside of him.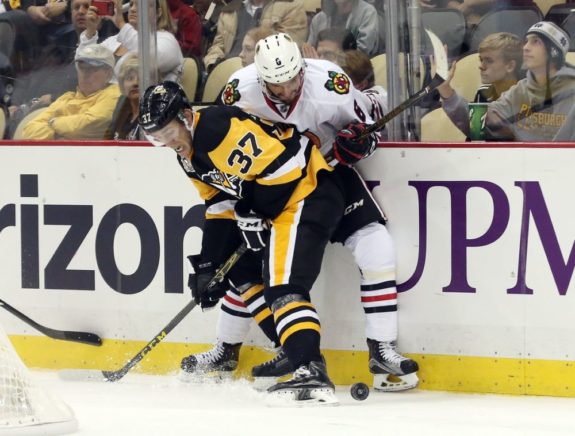 The Penguins also recently extended a training camp invitation to Jay McClement. Whether he makes the roster or not is up in the air, but he could fill a positional need at center.
The departure of Kunitz can be likened to coach Herman Boone's somber press conference toward the end of Remember the Titans: "Cannot replace a [Chris Kunitz], as a player or person." Alright, maybe that's a stretch, but it was the first analogy that came to mind when contemplating what Kunitz meant to the Penguins during his time there.
Kunitz's scoring numbers have been on the decline for three years now, and at 38 years old, it's unlikely they're ever coming back up. But he was a fixture and alternate captain on a team whose core won three Stanley Cups. He was second on the team in hits during the 2016-17 regular season, throwing his body around with such reckless abandon that it was evident his own personal safety was of secondary importance to him. He was always among the first to get in the face of an opponent who'd taken liberties on one of his teammates. And let's not forget his legendary double-overtime game-winner against the Ottawa Senators that sent Pittsburgh roaring into the 2017 Stanley Cup Final.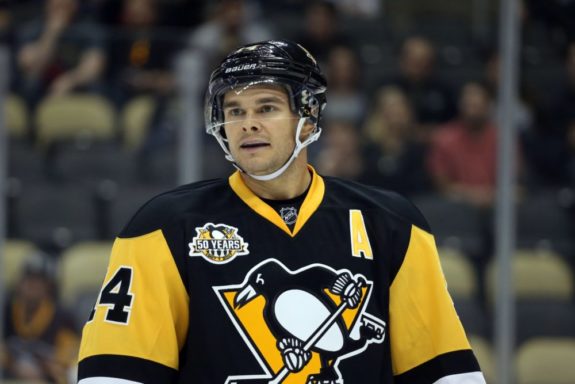 A lot of that sounds like it could've been written about another Penguins winger, doesn't it? Perhaps Patric Hornqvist? Hornqvist was the only Penguin to out-hit Kunitz last season. He plays the same fiery style of hockey, he wears down opponents with his body, and he is an absolute nuisance in front of the opposing net.
Hornqvist even achieved Pittsburgh immortality in his own right, netting the Cup-clincher against the Nashville Predators a few short months ago. Kunitz will undoubtedly be missed in Pittsburgh, but Hornqvist had already begun inheriting his role. He will do a fine job carrying the torch now that he has it all to himself.
A Lone Wolf in Net
Another tough loss suffered by the Penguins was that of Marc-Andre Fleury. Fleury's departure to the Vegas Golden Knights seemed to be the most difficult to accept from an emotional standpoint. He'd spent his entire career in Pittsburgh to that juncture, and even when we see it, it's going to be hard to believe he belongs to a different team now. At least he got to take one last ride in net, guiding the Penguins through volatile waters in the first two rounds of this last postseason before bidding a truly stirring farewell.
Still, the writing had been on the wall regarding Fleury's future ever since the emergence of the heir apparent, Matt Murray. Amid all the emotional ramifications of Fleury's exit, what it means for Murray and the Penguins at a fundamental hockey level seems to have been lost in translation.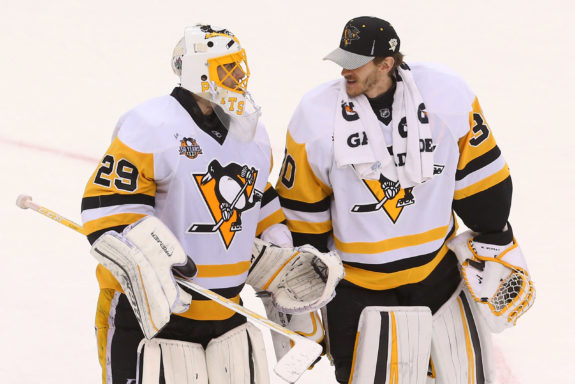 When Murray broke onto the scene in the 2015-16 season, the Penguins found themselves with two number-one goaltenders. That's a luxury any fan base would die for, and one Penguins fans are going to have to get used to living without.
Murray started just over half (47) of Pittsburgh's games in 2016-17, and as we all know, did not play in the first two rounds of the 2017 postseason. Assuming he's healthy for all or most of the team's 82 games in 2017-18, he's going to start a heck of a lot more than 47 of them. The newly-acquired Antti Niemi will be able to spell him here and there, but Niemi is no Marc-Andre Fleury.
Perhaps it's just because Murray has done nothing but win since he arrived in the NHL, but his new role as the unchallenged number-one goaltender seems to be getting overlooked. He's not suddenly going to become an average goalie just because the team can't fall back on Fleury anymore, but the workload he is poised to receive in net this season is something to keep an eye on.
The Kessel Saga
When former assistant coach Rick Tocchet accepted the Arizona Coyotes' head coaching job in July, there was considerable speculation about how it would impact Phil Kessel's future with the Penguins. Fans were forced to do a complete 180 from celebrating a second consecutive Stanley Cup to wondering if Kessel would even be on the team in 2017-18.
Kessel's tumultuous personality is well-documented at this point in his career, and it's widely believed that the presence of Tocchet behind Pittsburgh's bench was what kept him at bay for the last two seasons. When Tocchet left, Ron Cook of the Pittsburgh Post-Gazette reported on Kessel's lack of chemistry with superstars Sidney Crosby and Evgeni Malkin, and his name has since been loosely floated around as a trade possibility due to how difficult it can be to coach him.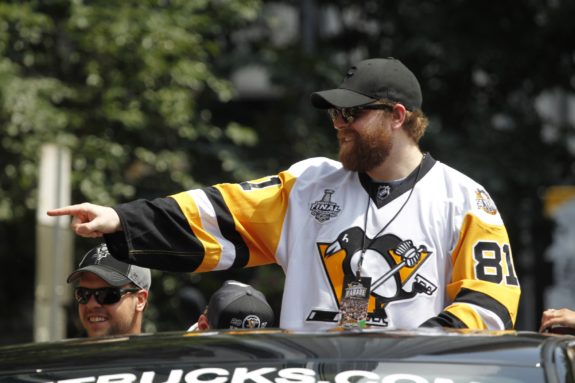 If stories like that were the first hockey-related news you'd read since his arrival in Pittsburgh in 2015, you'd almost believe Kessel hadn't immediately become a fan favorite, that he hadn't averaged nearly a point per game in the Penguins' two postseason runs, that they hadn't just won back-to-back championships, or that NHL.com didn't take the time to report on an all-in-good-fun prank war between him and Malkin just months earlier.
Can we trace all this smoke back to a flame? Of course. Kessel's lack of chemistry with Crosby is evidenced by the fact that Sullivan virtually never shifts them together outside of the power play, even when injuries force him to shuffle the lineup. For a player with Kessel's skill set, one would think he'd mesh perfectly with a playmaker like Crosby, but for some reason, that operation has never gotten off the ground. Still, Kessel amassed 70 points last season, and the Penguins aren't exactly struggling to find other players who do click with their captain.
He also butts heads with Malkin from time to time. So what? Would we prefer to see our star players shrug their shoulders when things aren't going well instead? A couple of fierce competitors occasionally taking their frustrations out on each other isn't the end of the world, and it's a small price to pay in exchange for two championship runs.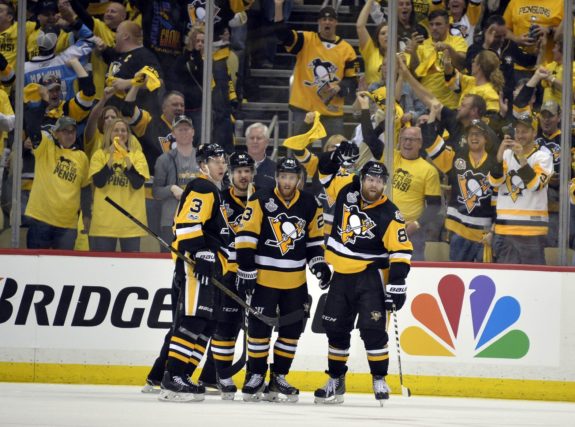 The idea that Tocchet was the one man in the universe who could keep Kessel from unraveling is a bit of a stretch, and the resulting insinuation that the Penguins should trade him is more ridiculous than it is worrisome. Tocchet may have had a knack for corralling him, but Sullivan is as no-nonsense a head coach as there is in the NHL. He knows how to get what he needs out of his players, and he's not going to throw in the towel on Kessel just because he lost an assistant coach who was effective at getting through to him.
For any Penguins fan who's genuinely nervous about any facet of this team heading into 2017-18, I invite you to try this one simple relaxation technique: tune into the Oct. 4 season-opener when the team hosts the St. Louis Blues, and watch as yet another championship banner is raised to the rafters at PPG Paints Arena.
Think about everything the Penguins had to go through to earn that banner. Remember every injury, every defeat, every falsely prophetic headline that predicted their end. You might feel nostalgic as you retrace the memories, but your worries will be long gone.