Despite falling short on signing both Kevin Shattenkirk and Ilya Kovalchuk this summer, the New Jersey Devils have steadily improved since their dreary 2016-17 performance. Ray Shero has flexed his creativity recently by bringing in both Drew Stafford and Will Butcher in hopes of bringing the team back to the playoffs, which have eluded the Devils each of the last five years.
The two skaters could not be more different: Stafford is a veteran scoring right wing whereas Butcher is a green offensive defenseman. However, they both serve vital roles in the makeup of the current Devils and are likely to be significant contributors this season. Looking at the two newest add-ons individually will make slotting them in the Devils' opening night lineup a much simpler task.
Drew Stafford – RW
Moving chronologically, Stafford was announced a Devil on Aug. 25. The right wing is best known for his time in Buffalo when he picked up two 50-point seasons. That time came to an end when he was traded to the Jets in 2015. That summer, he re-upped with the team for two more years at $8.7 million but would wear out his welcome before the end of the pact. He was traded to Boston in March 2017 where he would collect 10 points in 24 games (including the playoffs) before hitting free agency. Interest was ultimately low, allowing the Devils to swoop in and sign the winger at a good rate—$800K for one year.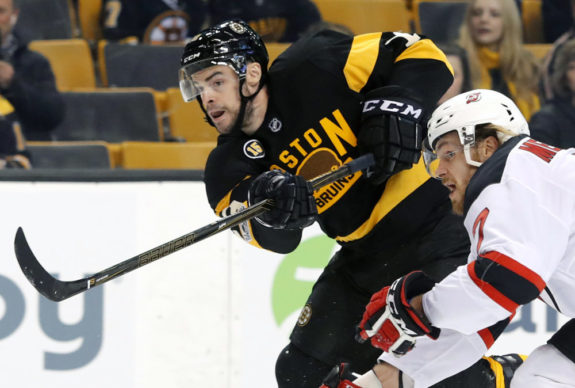 Stafford does not come in with a tantalizing skill set in the ilk of Nico Hischier or Taylor Hall, but he is a hard-nosed player who can put the puck in the net. As a middle-six right wing with light power-play duties over the years, Stafford has stabilized into a 15- to 20-goal scorer, capable of firing pucks at the net and driving play. However, his two-way game is mediocre, meaning that he could turn into a liability when he's not scoring.
The Devils currently have a shortage of right wings at the NHL level. Kyle Palmieri leads the list, followed by Blake Speers, Stefan Noesen, and Nick Lappin. It is worth wondering if any of those three players would be on other teams' opening night lineup, let alone in the top-six. Speers is plenty talented but only 20 years old and with almost no AHL or NHL experience. Noesen and Lappin would be no better than fourth-line right wings on most teams and should no longer be anything more than that on a Devils squad that now features Stafford.
ICYMI: Should the #NHLBruins have pushed to re-sign Drew Stafford given how inexpensive his contract ended up being?https://t.co/JPpFynRWuT

— Brandon Share-Cohen (@BShareCohen) August 28, 2017
On opening night, Stafford will likely be in his usual middle-six right wing role. He will get to finish for talented players like Marcus Johansson, Hall and Hischier, all of whom play best when setting up rather than shooting. Time will tell whether he winds up as this year's version of Lee Stempniak or Jiri Tlusty.
Will Butcher – D
One of the shrewdest moves of Shero's summer, the signing of Butcher could prove fruitful for a Devils team in need of defensive help. The Devils' newest defenseman is the 2017 Hobey Baker winner (the NCAA's top player). Despite going to school just minutes away from the Pepsi Center, where the Avalanche play, Butcher spurned the team that drafted him and opted to head to New Jersey on a two-year entry level deal.
Likely, the first question on everyone's mind is whether Butcher can help the Devils. The last defender to win the Hobey Baker, as NJ.com points out, was Matt Gilroy in 2009, who would put up just 48 points in 255 games before fizzling out of the NHL. Before that, Matt Carle, also of Denver University, won the award in 2006. Obviously, Devils fans are hoping that Butcher turns out more like the latter than the former.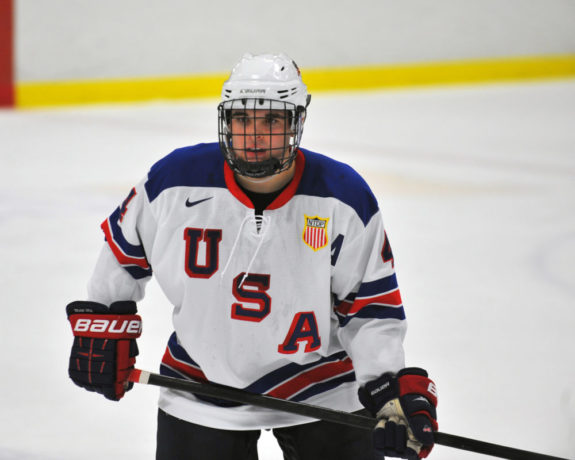 Butcher was an integral component of Denver University's NCAA title run in 2017 and brings an impressive skill set to New Jersey. Here's Last Word on Sports' Ben Kerr on the newest Devil:
Butcher has very good vision and the ability to thread the needle on passes both to start the transition game and in setting up plays in the offensive zone. He also has a good shot, and understands how to get it through to the net and keep it low to create opportunities for tip-ins and rebounds for his teammates. He has good agility and walks the line well to open up passing and shooting lanes in the offensive zone. Butcher also shows poise with the puck and can stick handle away from a forechecker, or to create space in the offensive zone.
The Devils do not currently have a great puck handler playing on the left side of the defense. Andy Greene mostly sticks to the defensive zone nowadays and is tasked with playing conservative hockey to bail out his risk-taking linemates. John Moore puts up good numbers but mostly thanks to his shot and playing higher up than most of the team's other defensemen. Butcher will provide a nice balance, as he does not seem to have the same sort of defensive issues that Moore has.
Butcher will likely be competing for a third-pairing role in his first year with another recent acquisition, Mirco Mueller. The Swiss-born defenseman may not get the extended opportunity to prove himself with Butcher breathing down his neck. Although either one could plausibly slot on the right side—Butcher played on the right last year due to team need—it would likely take an amazing preseason from both of them to push one of Damon Severson, Steven Santini, or Ben Lovejoy out of the lineup.
Butcher's current skill level is likely a bottom-pairing defender at the moment, but long-term he could become a mainstay in the Devils' top-four on the left side, a major organizational need. Giving him ample power-play time and sheltered minutes at even strength will help Butcher adjust to the speed of the NHL so that he can be an effective contributor in the future.
Overall, the Devils have brought on two new acquisitions who can help to balance a lineup that has youth and firepower but holes near the middle of the lineup. Stafford can come in as a middle-six right wing providing scoring help to the team's playmakers in the Devils' quest to leave the goal-scoring cellar. Also helping to remedy that will be Butcher, who can make plays from the blue line's bottom pair. The two of them will be important pieces to a fresh Devils squad this year, one that looks poised to push for a playoff spot.