Another day, another snub of the Buffalo Sabres by a college free agent.
This time around it was reigning Hobey Baker Award winner and University of Denver captain Will Butcher who  spurned the Sabres and opted to sign with the New Jersey Devils. This is the second summer in a row that the Sabres were left at the altar by a highly sought after NCAA player.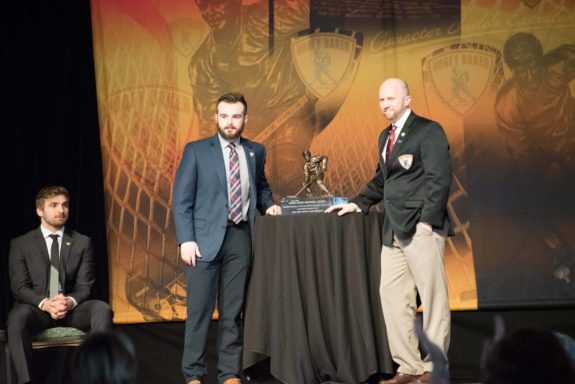 Last year, it was Jimmy Vesey whom the Sabres acquired negotiating rights to from the Nashville Predators. Vesey elected to head to free agency and ultimately chose the bright lights of Manhattan to play for the New York Rangers over coming to Buffalo. And let's not forget the departure earlier this year of goalie Cal Petersen, a Sabres draft pick who the team had yet to sign. After listening to the pitch from General Manager Jason Botterill, Peterson decided to instead sign with the Los Angeles Kings.
Three college free agents, three players who aren't going to wear the Blue and Gold.
Recruiting Problem?
With these rejections, Sabres fans have to wonder if their favorite team has a recruiting problem.
Despite an owner willing to open the wallet for player salaries, a new general manager, a new coaching staff and plenty of high-end talent, why aren't the Sabres viewed as a desirable landing spot for free agents?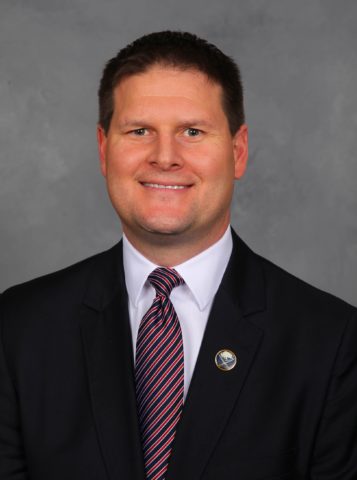 This public rebuke seems like a slap in the face for the team, the city and the fans. But let's be honest, there are so many factors that go into these decisions and each player is going to value certain characteristics of a team or city differently.
Moreover, Botterill has talked extensively about his philosophy of cultivating his roster at the AHL level. He's not looking for a quick fix. He's not looking to toss young players into the NHL when they're not ready. For this reason, Butcher may have been persuaded to head to the Devils for a possible starting job on opening night rather than riding the bus for the Sabres' minor league team in Rochester.
Sabres Have No Shortage of Young Talent
Would Vesey and Butcher have helped the Sabres? Without a doubt. Would their arrival have turned the tide and made the team a playoff contender? No. That's why it's important to examine the Sabres with a wider lens.
One look at the minor league team in Rochester, with the number of draft picks in college and junior, and suddenly the cupboard doesn't look as empty as fans may have thought. The Sabres' organizational depth is ranked as high as 11th in the league according to some experts.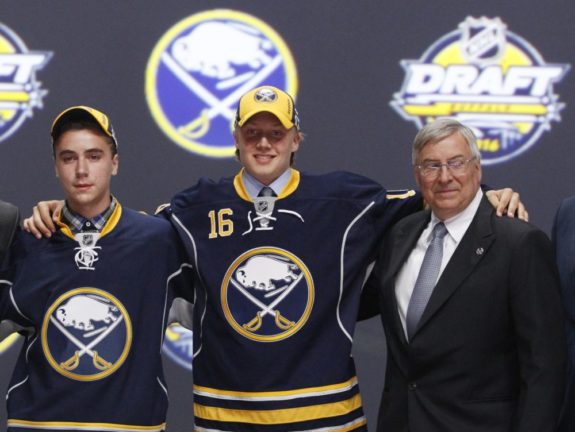 And with the addition of explosive high school forward Casey Mittlestadt this past June, the Sabres now own four players in the top 100 overall prospects, including two in the top 10, according to ESPN Insider's Corey Pronman. Aside from Mittlestadt and fellow top-10 pick Alex Nylander, the Sabres' stable of prospects is highlighted by Brendan Guhle, Rasmus Asplund, Cliff Pu, Marcus Davidsson and goaltender Ukko-Pekka Luukkonen.
Pronman said of the Sabres: "The system is a little thin after the top names, with their AHL affiliate lacking in potential contributors." He's likely referring to Justin Bailey, Nic Baptiste, Hudson Fasching, C.J. Smith and Linus Ulmark. How these players progress in the AHL, how they are treated by the coaching staff and front office, and how they are assimilated into the NHL will go a long way in helping land future college free agents.
Free Agency Approach
Hopefully, Botterill, head coach Phil Housley and owner Terry Pegula will see the decision of Butcher to sign elsewhere as a teachable moment. Improving the pitch to free agents – both collegiate and NHL – will be vital as the Sabres attempt to become an upper-echelon team.
Selling the team's new outlook and long-term vision will have to suffice until the day the on-ice product will be the primary selling point for players – similar to what we've seen in Chicago and Pittsburgh in recent years.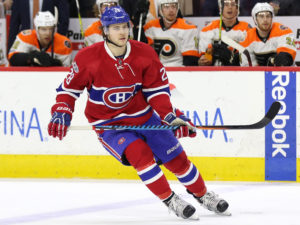 But re-signing goalie Robin Lehner and signing new-comer Nathan Beaulieu and depth forwards Johan Larsson, Evan Rodrigues and Zemgus Girgensons is also important. The moves show the team's commitment to its players and that will help enhance the team's perception around the league and with player agents.
And to the Sabres' credit, the dynamic of the team and the city are also vastly improved from three or four years ago. The arrival of Botterill and Housley has earned praise from around the league. And Pegula has spared no expense when investing in the team and downtown Buffalo (not to be discounted when recruiting players).
And possibly the most important selling point of all, according to Botterill?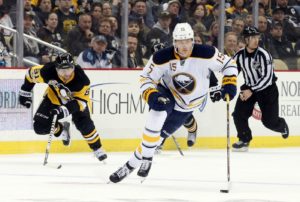 He told Sabres.com that it's players like Jack Eichel: "We're trying to develop an organization here in Buffalo and Rochester where players do want to come here, where if your drafted here, you're bringing them to development camps, you're interacting with them, and they want to be a part of what we're trying to create up top with Jack [Eichel] and [Rasmus Ristolainen] and [Ryan] O'Reilly."
So, maybe it's Butcher and Vesey that are missing out and not the Sabres.