The Edmonton Oilers haven't officially begun training camp and have already lost forward Anton Slepyshev to injury. The 23-year-old will miss camp due to an ankle injury he sustained this week. Slepyshev was competing for one of the top nine spots in the Oilers lineup.
News of the injury initially came from TSN's Bob McKenzie who heard Slepyshev was a little banged up. Sportsnet's Mark Spector elaborated and said the Russian forward would miss the entire camp. It's possible he won't be ready for the season opener either. Reading most of the reports online, it sounds like it could be a high ankle sprain.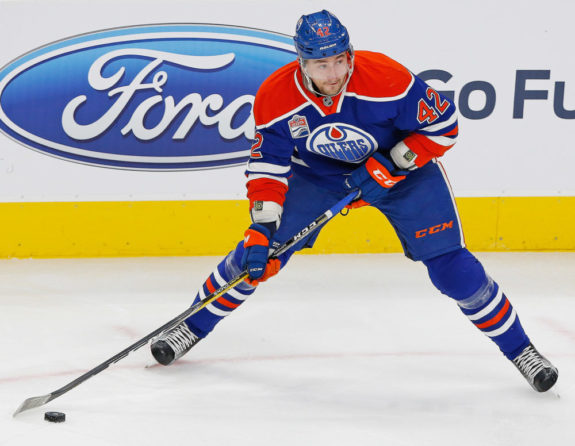 Slepyshev started to emerge as a regular in the Oilers lineup last season scoring 10 points in 41 games. He went on to score three goals in 12 playoff games for Edmonton in two rounds. When Jordan Eberle and Ryan Nugent-Hopkins went through scoring droughts, Slepyshev showed his value and proved to be a versatile forward for head coach Todd McLellan to rely on during the playoffs.
Slepyshev's Injury Creates Opportunities
The injury doesn't look to be a long-term issue like the one to defenseman Andrej Sekera. The blueliner is a focal piece in Edmonton's top four and will be out of action for several months. The long-term implications of Sekera's injury are likely why Edmonton was rumored to be talking to free agent Cody Franson.
However, it's unlikely Oilers GM Peter Chiarelli goes looking for a replacement for Slepyshev. Edmonton has several players auditioning for meaningful minutes including 2016 fourth overall pick Jesse Puljujarvi. If anything, the injury to Slepyshev creates an opportunity for other players; there's now a roster spot for a guy like Ty Rattie who hasn't found his NHL legs yet.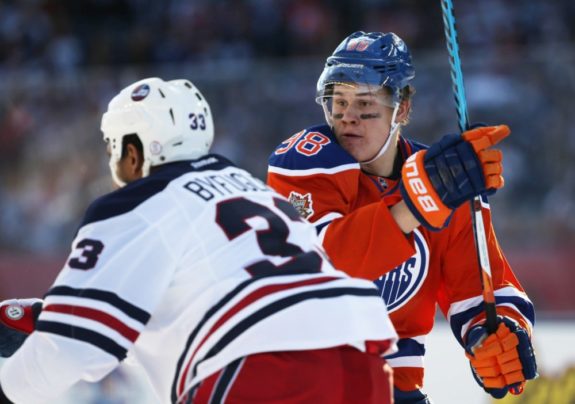 It's possible Kailer Yamamoto, Edmonton's first round pick this year, might start the season with the Oilers as well. the team has a fluid situation on the wings with Puljujarvi, Rattie, and Yamamoto. Drake Caggiula showed he could play up and down the lineup and played a few shifts with Connor McDavid in the playoffs. While free agent signing Jussi Jokinen has been versatile throughout his career as a middle-six forward.
Slepyshev's great, but this isn't a death blow for Edmonton. There's also no need for fans to panic and cry for Chiarelli to acquire a free agent.
Oilers' Training Camp Battles
You might as well throw McLellan's lines from last year into a blender, as there were so many line combinations. If you stick to pairings that worked well last year, McLellan could put Patrick Maroon and McDavid back together. It's been successful, on and off, for parts of three seasons, so why change it? There's also Milan Lucic and Ryan Nugent-Hopkins who, believe it or not, had positive possession numbers together last year.
From there, the coaching staff will have to decide what to do at center ice. Do you give Leon Draisaitl his own line, or put him with McDavid? That decision will have a domino effect on the lineup. If Draisaitl plays on the Oilers' top line again, that'll give Mark Letestu an opportunity to move into the three hole and Jujhar Khaira, who's struggled to get his NHL legs like Rattie, will move into the four spot.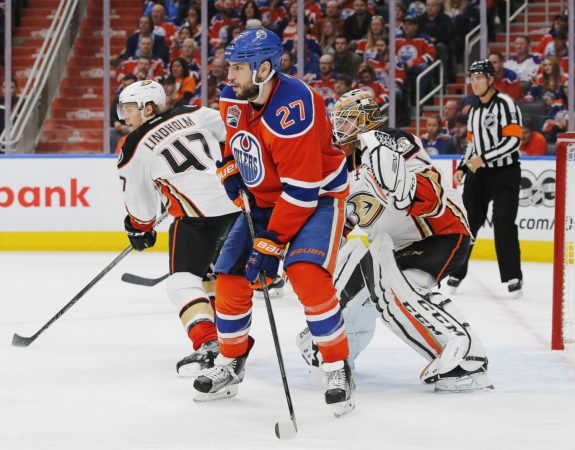 The last spot in the top six would come down to Caggiula, Puljujarvi, Rattie, and Yamamoto. Wait, we forgot Ryan Strome! This is another wild card for the Oilers. Caggiula showed he could play in the top six if needed and plays better with a big body. That said, he doesn't have the offensive upside of Puljujarvi or even Strome. If McLellan wants a sure thing, I'm betting Strome gets that spot.
With the remaining names, there's the possibility to create a lineup that allows McLellan to roll four lines. That would mean putting Caggiula with the linemate he played with the most last year, Zack Kassian. The pairing was terrific on the forecheck and gave Edmonton a real energy line. Insert Khaira into the mix, and the Oilers would have a line of equal size, speed, skill and checking abilities.
That leaves Jussi Jokinen to play with Mark Letestu, and either Puljujarvi, Rattie or Yamamoto to get a spot on Edmonton's third line.
Projected Oilers Forward Lines
Here's how the Oilers' forward lines should shake out, barring another injury:
| | | |
| --- | --- | --- |
| Left Wing | Center | Right Wing |
| Patrick Maroon | Connor McDavid | Leon Draisaitl |
| Milan Lucic | Ryan Nugent-Hopkins | Ryan Strome |
| Jussi Jokinen | Mark Letestu | Jesse Puljujarvi |
| Drake Caggiula | Jujhar Khaira | Zack Kassian |
| | | X – Iiro Pakarinen |
You've got a unit that proved to be one of the best lines in hockey last year; and the second line of Lucic, Nugent-Hopkins, and Strome, all out to prove something.
Having two veterans play alongside the 19-year-old Puljujarvi might not be the best thing for his fantasy stats. Then again, having two veterans will help cover up any defensive warts in Puljujarvi's game that caused him to go down to the AHL last year. Puljujarvi will be useful on one of the team's two power play units, so the offensive value isn't an absolute loss.
There's also a solid energy line with Caggiula, Khaira, and Kassian. Either way, this is one of the deeper forward ranks the Oilers have had in a decade or more. When was the last time an Oilers coach could roll four lines? It hasn't happened in quite some time. There's plenty of question marks, but if guys like Strome, Caggiula, and Puljujarvi take a step forward this could be the best offense in the league.
That's a pretty positive feeling, and factor in a bounce back from Nugent-Hopkins and I could be right.
Edmonton Oilers regular contributor providing insight on all things Oilers including club history, prospect profiles, trade breakdowns, and everything else in between. Check back regularly for new and exciting content. Follow on Twitter @SanderTHW.