Twenty years ago, it would have been unheard of to see guys like Sam Gagner on your fourth line. Now, it's becoming a trend in the NHL.
As the game moves to eliminate some of the enforcers of old, skilled guys are finding their way into bottom-six roles. Gagner was a prime example of that last year in Columbus. Playing on a fourth-line with Scott Hartnell and Lukas Sedlak, Gagner showed his offensive prowess while he was sheltered from top competition. He went on to thrive in a power play role for the Blue Jackets.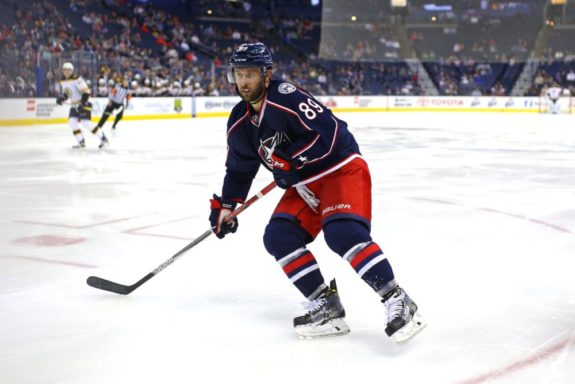 The Canucks saw promise in Gagner after his strong campaign, and signed him to a three-year contract on July 1. He figures to fit into the Canucks' bottom-six, although his salary suggests he'll get more than a fourth-line role.
What the Canucks choose to do with their fourth line could go in a few directions.
Offensive Shine Guys
One the one hand, skilled guys like Alex Burmistrov, Reid Boucher, Anton Rodin and Nikolay Goldobin are all competing for NHL jobs. Many of them won't grab a spot in the top nine as long as the Canucks are healthy.
The top-six is almost assuredly comprised of Bo Horvat, Sven Baertschi and the Sedins. Most would say Brock Boeser is in that mix too. That doesn't include the likes of Loui Eriksson, Sam Gagner or Thomas Vanek. This means other offensive-minded forwards on the team will be pushed to the fringe of the roster.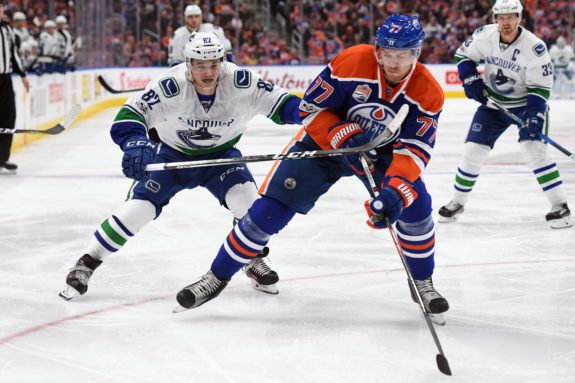 The Canucks were the second-lowest scoring team in the league last year, behind the New Jersey Devils. There is an argument to be made for the Canucks to try putting some of these offensive players in a fourth line role. Travis Green needs to get creative when figuring out how to squeeze more offence out of this group.
The other side to that argument, is that the Canucks also allowed the third-most goals last year. There needs to be a balance of defence and offence on this roster, especially in front of a relatively unproven goaltending tandem. Burmistrov, Boucher and Goldobin have never thrived in defensive roles, which hurts their chances of playing in a bottom-six role.
Defensive Grind Guys
While there are a number of offensively minded guys who could play in the bottom six, that doesn't necessarily suit Benning's style. He was part of that Boston Bruins Stanley Cup-winning team that employed Daniel Paille, Gregory Campbell and Shawn Thornton on the fourth-line. His recent PTO signings indicate he wants grinders in his forward corps.
Scottie Upshall was signed to a PTO by the Canucks on Sept. 7. The veteran winger had 10 goals and 18 points while playing fourth-line minutes for the St. Louis Blues last season. Benning's first PTO signing of the fall occurred last week when he signed Ryan White.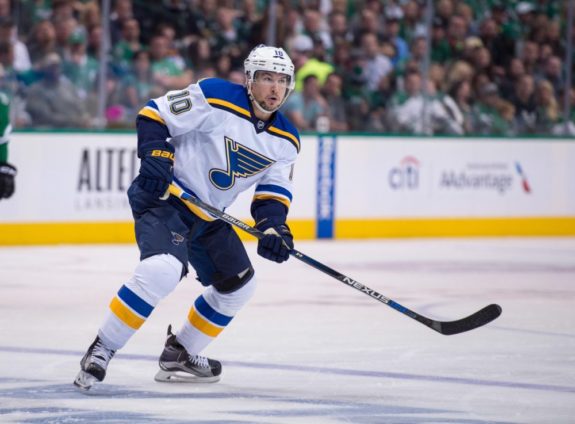 Both players would bring some grit and sandpaper that the Canucks are lacking in their lineup. Upshall, in particular, also provides a strong presence on the penalty kill. He scored two shorthanded goals last year and had the third-most shorthanded ice time among Blues forwards.
Current Canucks like Brendan Gaunce, Derek Dorsett and Jake Virtanen also fit into the mix here. Although Gaunce didn't score last year, he showed strong defensive awareness. Dorsett posted positive possession numbers in his short stint last season. Virtanen was also a positive possession player during his rookie seasons, and the Canucks lack his physical element.
The Verdict
The answer to this fourth-line equation isn't black and white. While the Canucks would be foolish to load up on a fourth-line with inexperienced defensive players, they could go the Sam Gagner-route.
One of the offensive "shine" guys listed above could steal a fourth line spot, with two other defensively sound players flanking him. That way there could be a balance of offensive potential and defensive awareness on the same line.
It's a toss-up between which of the four offensive guys listed before get's a spot. At this point, the front-runner is probably Burmistrov — I had him in my recent prediction for the Canucks forward group. My THW colleague Brian Wiebe had both Burmistrov and Goldobin in his opening lineup.
The other thing to consider is which Canucks will be ready for the season to begin. Gaunce, Dorsett and Markus Granlund are all recovering from surgery. Will some of them miss out on opening night?
If they aren't able to go, there's a full stable of forwards waiting for an opportunity.
KPU Journalism Graduate. Trevor has been writing for The Hockey Writers since October 2014. He has contributed articles related to the Ottawa Senators, Vancouver Canucks, and other issues/stories regarding the game of hockey. Trevor currently lives in White Rock, B.C.