With this week's news that the Arizona Coyotes had signed restricted free agent Anthony Duclair to a one-year contract, the offseason unofficially came to an end for Coyotes' general manager John Chayka. All of his restricted free agents are now under contract, and his roster appears to be finalized for the start of training camp and the preseason.
Duclair, who will earn $1.2 million this year, enters the 2017-18 season looking to redeem himself after suffering through the worst year of his career in 2016-17. After scoring 20 goals as a rookie during the 2015-16 season, Duclair regressed heavily last season, as he scored just six goals between the NHL and AHL, and finished the year with a dismal NHL shooting percentage of just 6.6 percent.
What Happened?
Although there were many theories floated as to the reasons for Duclair's regression last season, his struggles seemed to be due to a lack of consistent ice time. Former head coach Dave Tippett played Duclair an average of just 13:17 per night last season, down more than a minute from the 14:22 he played per game as a rookie in 2015-16.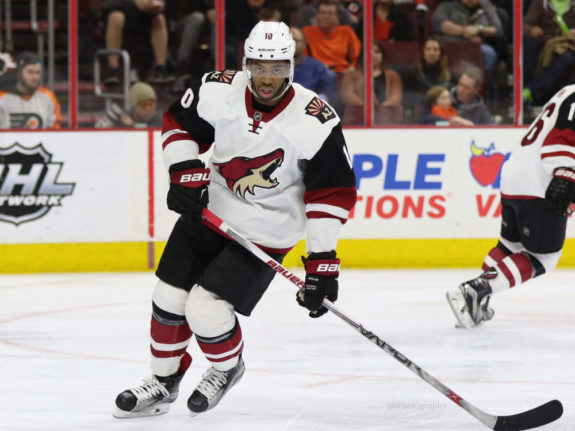 In addition to limiting his ice time, many also observed that Tippett was reluctant to place Duclair on Arizona's scoring lines last season. As a result, Duclair received little to no power play time on most nights — he ranked 15th among all Coyotes skaters in power play time on ice per game — and was often paired with lesser-skilled players on Arizona's third or fourth lines while on the ice.
Despite his struggles, though, there are reasons to believe that Duclair will bounce back with a strong performance this season. First, the Coyotes have a new head coach — it's likely that Duclair will benefit significantly from a clean slate with new head coach Rick Tocchet. Tocchet has stated that he wants to bring a more exciting brand of hockey to Arizona, and as such, will presumably open up his offense and give his skilled players a chance to shine.
Additionally, with the offseason departures of Radim Vrbata (signed with Florida) and Shane Doan (retired), the Coyotes are perilously thin on the wing. These losses, combined with Arizona's relative youth at the forward position, make it likely that Duclair already has a spot locked up in Arizona's top-six.
Reunion with Domi?
While a return to the top-six for Duclair would obviously result in more ice time, it could also result in a reunion with winger Max Domi. Duclair and Domi have been teammates in Arizona for each of their two NHL seasons and are also very close friends off of the ice.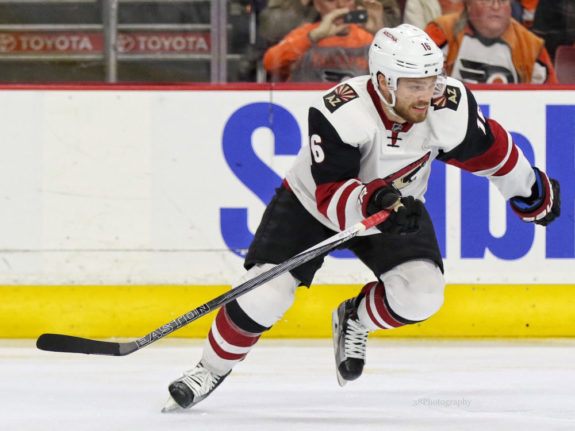 While being on a line with Domi does not necessarily guarantee success for Duclair, pairing the two together has been a successful strategy in the past. Of the 25 goals Duclair has scored during his two seasons as a Coyote, Domi has assisted on 13 of them, suggesting that the two have a high degree of on-ice chemistry.
4. @aduclair10 has scored 1 goal in each of past 2 games, both assisted by @max_domi, who's assisted on 13 of Duclair's 25 goals with team.

— Dave Vest (@davestinaz) April 7, 2017
Either way, no matter who he plays with in 2017-18, this will be a pivotal season for Duclair. On a one-year contract and with no guarantee of an NHL job beyond April, Duclair must prove he belongs at this level.
If he turns in another 20-goal campaign, it's likely that he'll be rewarded with a hefty raise next summer. If he struggles again like he did last season, there's a very real possibility that this will be his final year in Arizona. With many other youngsters in the organization eagerly awaiting their chance in the NHL, Duclair can't afford to slip up again.
A lifelong Phoenix resident, Louis has been following hockey since 2010, has covered the Arizona Coyotes since 2015, and has been playing hockey since 2020. So far, Louis has visited eight NHL cities, and one of his personal goals is to eventually make it to all 31 NHL arenas. For any questions or concerns, contact the writer via Twitter @LouisPannone.