The St. Louis Blues have officially unveiled their 50-man roster for training camp, which will start on Sept. 15. Hockey season is almost upon us for real. Veteran Blues players Vladimir Tarasenko, Alex Pietrangelo and Alexander Steen will all soon be hitting the ice together again. For newer players, such as Brayden Schenn and Chris Thorburn, this will be their first real chance to be a part of the St. Louis organization. It is certainly a wonderful time of year.
Lost in excitement of the beginning of training camp are some of the Blues' young prospects, so today we'll look at a few players who may not necessarily make the team this year, but could have an impact down the road.
Robert Thomas
Let's start with the Blues highest first-round pick in 2017, Robert Thomas. The Blues picked Thomas 20th overall after the 18-year-old scored 66 points in 66 games for the London Knights in the OHL. Talk about consistency.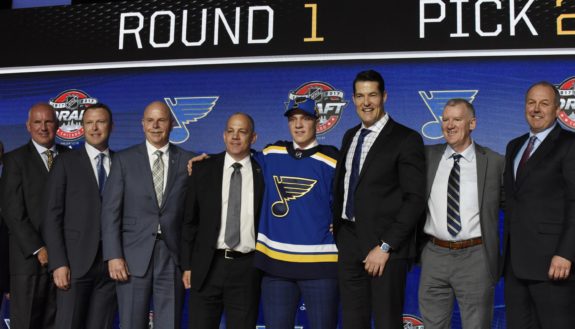 Thomas is a 6-foot tall center who has a reputation for winning. With the Knights he won the Memorial Cup and the OHL title in 2015-16. He also won a gold medal as a member of Canada's under-17 team the same year. Thomas is more of a playmaking center than a sniper, only 16 of his 66 points with London last season were goals. According to Elite Prospects, which has tracked his stats going back to 2014-15, Thomas has yet score 20 goals in a season. To be fair last season was the first time he played over 40 games in a year.
In all likelihood Thomas will be heading back to the Knights again for this season. Another year in junior is the best bet to help him get over the 20-goal hump. But attending his first NHL training camp will be a great chance for him to learn new skills.
Klim Kostin
Klim Kostin was the final pick of the first-round of the draft in 2017, going 31st overall. The 18-year-old made his KHL debut last season, playing eight games for Moscow Dynamo where he scored zero points.
Only eight games and zero points? Why would the Blues want this guy at training camp you ask? Simple. His draft year was cut short due to an injury that required him to have shoulder surgery and kept him out for months. Kostin has plenty of skill, as can be seen in the tweet below.
…as Klim Kostin basically could carry a whole line on his shoulders. #2017NHLDraft pic.twitter.com/Lf3i6ZdbSb

— Russian Prospects (@RUSProspects) April 23, 2017
Due to the fact that Kostin didn't play much at all last season it's unlikely he's going to the AHL — in all probability he's bound for the WHL's Kootenay Ice, who selected him first overall in the CHL import draft in 2016. Kostin will surely also benefit from his first NHL training camp, where he can get used to playing on the North American size ice.
Tage Thompson
They don't make centermen much bigger than Tage Thompson. The first-round pick of the Blues back in 2016 is a whopping 6-foot-5 and weighs 200 pounds. He spent most of last season playing for the University of Connecticut before being moved up to the AHL for 16 regular season games and 10 games in the postseason. He was also a member of the USA World Junior team, scoring five points in seven games.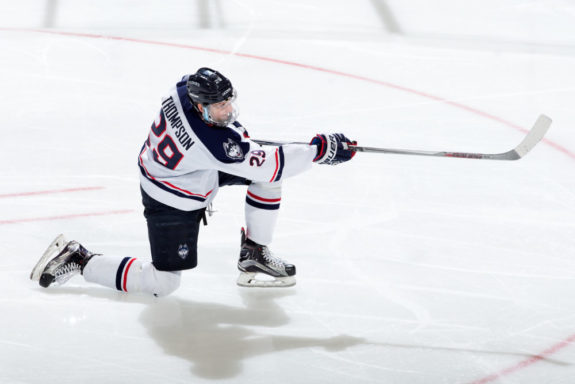 Thompson had a fantastic season with Connecticut, scoring 32 points in 34 games. Unfortunately for him, that consistency didn't translate to direct success with the Chicago Wolves in the AHL where he only managed two points in his 16 regular season games. His numbers did fare slightly better once the playoffs started though, he had a total of three points in those 10 games.
Based on his performance in the AHL last season, it's fair to assume that this year won't be the year that Thompson makes the jump to the big club. That being said, the future is bright for him.
He showed at university he has the ability to score and his size is certainly an advantage in an era where players seem to keep getting bigger and bigger. He also already knows how to play a discipline game. In his regular season games with the Wolves last season Thompson only took a single penalty. Another couple years in the AHL to work on his game and he may be ready to challenge for a spot on the Blues though.