The Vancouver Canucks have finally embraced the notion that many fans were asking for over the last few seasons – a rebuild. Team president Trevor Linden finally admitted as much this past April, tempering expectations that the Canucks are a playoff club, let alone a contender in the ultra competitive Western Conference.
Canucks general manager Jim Benning was busy when free agency opened in July, signing five veterans in defencemen Michael Del Zotto and Patrick Wiercioch, goalie Anders Nilsson and forwards Sam Gagner and Alex Bumistrov.
Reaction to the signings are mixed from fans and media, with some saying the Canucks caused the rebuild to take a step back since the vets take up roster space that should be for younger players. Others said the signings buy time for the youngsters to percolate in the American Hockey League without being immediately thrust into the NHL spotlight.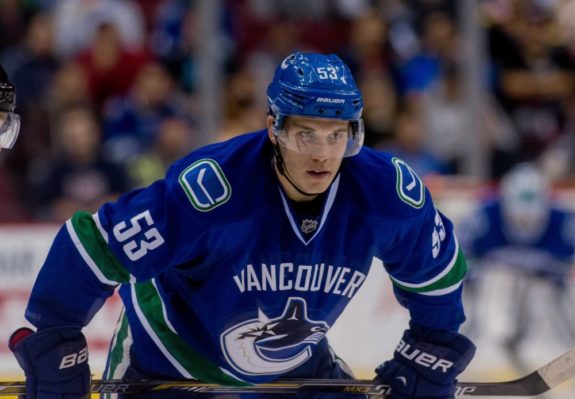 As of this writing, only one Canucks free agent is without a contract – Bo Horvat. There's no doubt he'll be signed, so for the purposes of this exercise, he's included on the roster. The Canucks have more players on one-way contracts than roster space, so team owner Francesco Aquilini will be forced to sign NHL paychecks for players skating in the minors. That's not necessarily a bad thing, as the depth forces competition for the last few spots on the Canucks. So, who takes the 23 roster spots on the Canucks?
Goaltenders
Definitely In: Jacob Markstrom, Anders Nilsson
Contenders: Thatcher Demko
Ryan Miller signed with the Anaheim Ducks and Markstrom's three-year, $11-million contract extension kicks in this season, so the Canucks' crease is the 27-year-old's to lose. He finally gets the opportunity to show he can be a number one goalie in the NHL. Nilsson was signed to push Markstrom and is capable of carrying the mail for stretches if his compatriot falters.
Prized prospect Demko needs another year in the minors before being ready for prime time, so unless he is lights out ridiculous in training camp and pre-season, the 21-year-old is ticketed for the number one job with the Utica Comets.
Defense
Definitely In: Chris Tanev, Alex Edler, Michael Del Zotto, Erik Gudbrandson, Troy Stecher, Ben Hutton, Patrick Wiercioch
Contenders: Andrey Pedan, Philip Holm, Alex Biega, Olli Juolevi, Jordan Subban
Whether there's a spot available on the Canucks blueline depends on if new head coach Travis Green decides to go with seven defensemen or eight. If he goes with seven and everyone is healthy, it'll be tough for any of the contenders listed above to crack the established NHL seven. The only way is if one of them does what Stecher did last season and forces his way onto the team.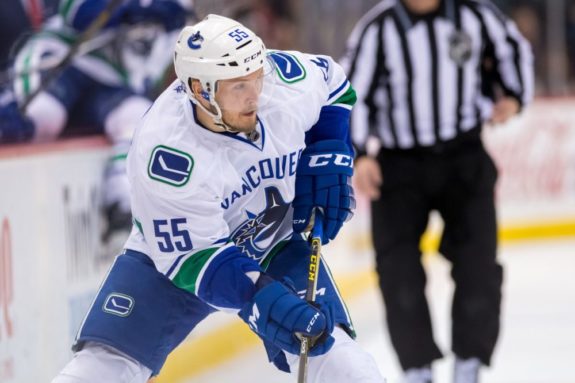 If Green goes with eight defenseman, the job may be Biega's or Pedan's to lose. Biega played the last two years with the Canucks and might have the inside track, he's also signed to a one-way contract. Pedan spent the majority of the last two seasons in Utica, but did get into 13 games with the big club in 2015-16.
The wild card is 2016 first round draft pick Olli Juolevi. The 19-year-old is ineligible to play in the minors, so if he plays in North America, it's either with the Canucks or the London Knights of the Ontario Hockey League. The best bet is he goes back to Finland to play in the SM-liiga. It will do wonders for his development to play against men as Juolevi doesn't have much left to prove in junior hockey.
My colleague Trevor Beggs thinks the Canucks will go with seven blueliners, so in figuring out the 23-man roster, I agree.
Forwards
Definitely In: Henrik Sedin, Daniel Sedin, Loui Eriksson, Sven Baertschi, Sam Gagner, Bo Horvat, Markus Granlund, Brandon Sutter, Derek Dorsett, Brock Boeser
Contenders: Alexander Bumistrov, Nikolay Goldobin, Brendan Gaunce, Jayson Megna, Jake Virtanen, Anton Rodin, Michael Chaput, Reid Boucher
There's a lot of questions surrounding the contract status of Henrik and Daniel Sedin – both are set to become unrestricted free agents next summer, but that's an article for another day. There's no question the twins will continue to be at least top six players for the Canucks, the team. Having ten forwards definitely on the Canucks roster means the eight contenders will battle for only four available spots.
Boeser was very impressive in a nine game NHL audition at the end of last season with five points, including four goals after joining the Canucks from the University of North Dakota. He should play on the top two lines and contend for the Calder trophy.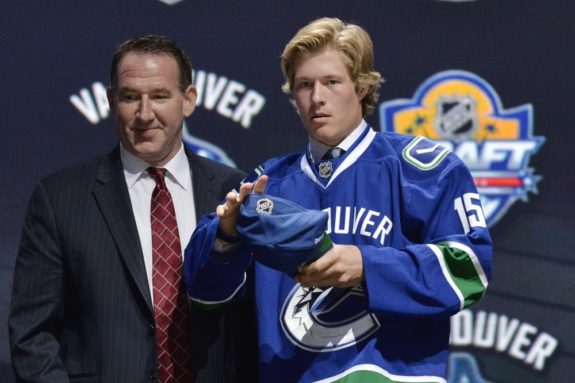 Burmistrov was signed to add to the Canucks' forward depth and I've got him penciled in to center the fourth line. He's definitely behind Henrik Sedin, Horvat, and Sutter down the middle, but ahead of Michael Chaput and Brendan Gaunce. Both Chaput and Gaunce were full-timers with the Canucks last season and signed one way deals earlier this summer. Neither player is waiver exempt this season, but Chaput is 25-years-old and coming off his first full NHL season, it's unlikely a team would put in a claim if he was sent down to the AHL. Gaunce is two years younger and his zero goal total is an anomaly, he needs to show that his 28 goals in two seasons with the Utica Comets is no fluke.
Goldobin showed flashes with the Canucks after being acquired in March's Jannik Hansen trade with San Jose. He slots in ahead of Reid Boucher on the left side for Travis Green's squad. The 21-year-old isn't a fourth line player, but Daniel Sedin, Baertschi, and Granlund are ahead of him on the roster. Goldobin's speed, skill and youthful exuberance should afford him a spot on the Canucks roster, he'll just need to steer clear of the defensive lapses.
Virtanen is one of the more polarizing prospects the Canucks have had in a while. He's got size, can score and is a very good skater. However, his consistency is suspect and he needs to raise his game to show that he can be an everyday NHLer. On my 2017-18 Canucks roster, the 21-year-old is the 14th forward, which means he'll get back to practicing with NHL players everyday and learning from veterans like the Sedins, Gagner, Eriksson and Tanev what it takes to excel at the highest level.
The Canucks Opening Night Roster
When the 2017-18 season starts for the new(ish)-look Vancouver Canucks, I believe their roster looks like this:
Forward Lines
D. Sedin – H. Sedin – Eriksson
Baertschi – Horvat – Boeser
Granlund – Sutter – Gagner
Goldobin – Burmistrov – Dorsett
Extra Forwards
Gaunce – Virtanen
Defensive Pairings
Edler – Tanev
Del Zotto – Gudbrandson
Hutton – Stecher
Wiercioch
Goaltenders
Markstrom
Nilsson
I'm a faculty member in the BCIT Radio Arts and Entertainment Program and Operations Manager for Evolution 107.9 FM. Also Assistant GM/Director of Media and Communications for the Port Moody Panthers, Media Relations Director for BC Superweek, and Podcast Host for the BC Intercollegiate Hockey League.