During this time of year some of us are relaxing, enjoying some sunshine, or perhaps cruising down that old country road.
Others, we're still talking hockey mid-August. Today, it's time to check out the state of the Canucks defence.
It was evident on July 1 that the Vancouver Canucks are creating stiff competition during training camp. By signing both Michael Del Zotto and Patrick Wiercioch, the Canucks shored up holes in the lineup left by Luca Sbisa and Nikita Tryamkin.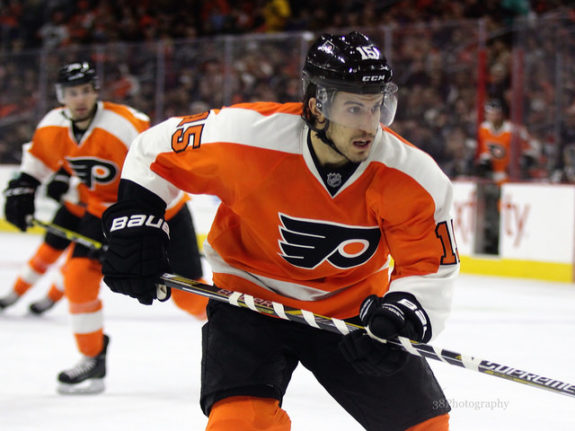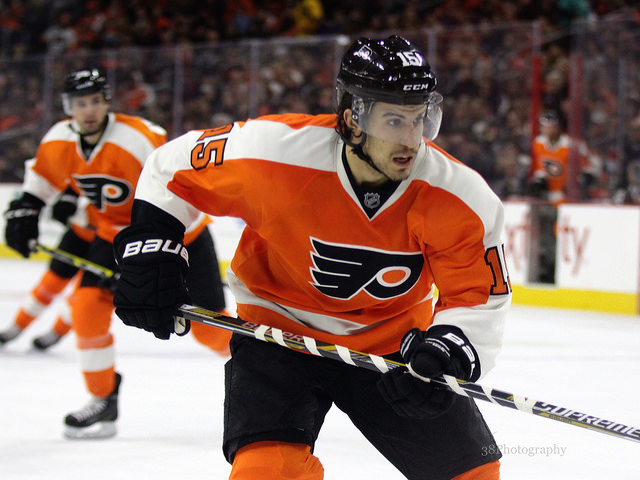 It's no Stanley Cup worthy top-six, but this defence isn't bottom of the barrel variety either. My colleague Larry Fisher had the Canucks defence as 20th when he ranked NHL Teams By Defence. The Canucks finished ahead of teams like the Boston Bruins, Chicago Blackhawks, and Edmonton Oilers.
While some will argue that ranking is too high for the Canucks, it's justifiable considering their depth. Injuries to Chris Tanev and Erik Gudbranson hurt the Canucks last year, especially with Tanev missing 29 games (yes, I know Gudbranson missed 52 games). Veteran depth has been infused with promising youth on this blue line.
"Veteran" Group on Defence
Alex Edler and Tanev are the clear leaders on the Canucks defensive unit. While the Canucks would be best to trade these defencemen for future assets, that won't happen before the start of next season. Jim Benning had no interest in trading Tanev, and Edler clearly doesn't want to leave Vancouver.
Del Zotto and Gudbranson represent high draft picks who never lived up to their billing. That's especially true for Gudbranson, who was selected at third overall despite contributing little offence. The jury is still out on his defensive game.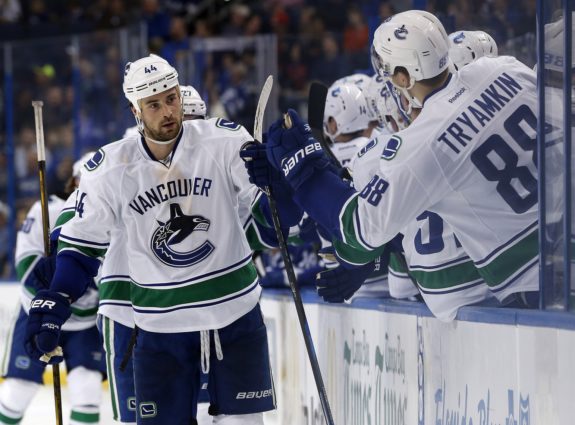 Del Zotto is an interesting case. His inconsistency is highlighted by three fantastic seasons during his eight-year stint in the NHL. In his rookie year with the New York Rangers, he put up 37 points, including 22 power play points. After going through the sophomore slump, he exploded for 41 points in 77 games, along with 10 points in 20 playoff games.
Injuries and inconsistency slowed Del Zotto, and he comes to Vancouver after three up and down years in Philadelphia. His contract indicates that he's a lock to make this roster, but he will have to maintain a consistent level of play with other young players chomping at the bit for NHL spots.
Two of those young guys will already be permanent fixtures next season, barring any trades. Ben Hutton and Troy Stecher represent hope on the Canucks back-end moving forward. Both defencemen show good mobility and are effective puck movers.
They aren't without their flaws. Hutton was fairly ineffective last season, although he wasn't supported by either of his two main partners: Gudbranson and Nikita Tryamkin. Stecher showed good defensive awareness and tenacity for his size, but still had the expected rookie gaffes. With experience, Stecher should continue to improve in his own end.
Defence Dark Horses
The top six seems pretty much set, but Benning did state that the organization will make room for young players if they earn a spot.
Olli Juolevi will be the one guy that everyone has their eyes on. The fifth overall pick from 2016 is on the roster bubble, with not much left to learn at the OHL level. He won't have an easy path to the NHL, and will have to shine in training camp to earn a spot.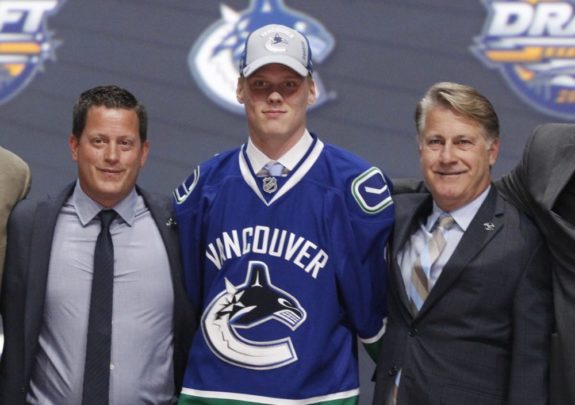 The best spot for Juolevi is likely in Finland, to play under assistant coach Sami Salo in TPS Turku. If Juolevi isn't ready for the NHL, he should be playing against men in Finland's top hockey league.
Another Canucks defenceman is crossing the Atlantic Ocean in the other direction. Benning signed Swedish defenceman Philip Holm after a strong showing in the World Hockey Championships back in May. He's not young at 25 years old, and reportedly has good awareness mixed with high-end skating ability. He's a dark horse to steal an NHL roster spot.
The defenceman with the most NHL experience fighting for a spot is Burnaby native Wiercioch. For a time, it looked like Weircioch was a budding top-four defenceman for the Ottawa Senators. He had three strong seasons before a 2015-16 campaign that saw his struggle with consistency and injuries. He played for the Colorado Avalanche last season in what was another down-trodden year for the 26-year-old.
Wiercioch needs to rediscover what made him an NHL-calibre defenceman in the first place. In 2014-15, his performance was good enough to earn him a spot on Team Canada at the World Hockey Championships. He has the size to play the game, and he has an extremely powerful slap shot. For now, Wiercioch is slotted in as the Canucks seventh defenceman.
Fierce Camp Competition Upcoming
Alex Biega is one guy who spent the last two seasons with the Canucks, but will be in tough to keep a roster spot. That is, unless Travis Green decides to put the bulldog on the fourth line?
There are also AHL options to consider for the Canucks, who are all admittedly long shots to to make this team. Jordan Subban cracks the top of that list, after a strong showing in his second AHL season. He was one of the highest-scoring defencemen in the AHL, but he still has some holes in his defensive game. That part of his game has improved since his rookie year, and he is familiar with Canucks new head coach Green.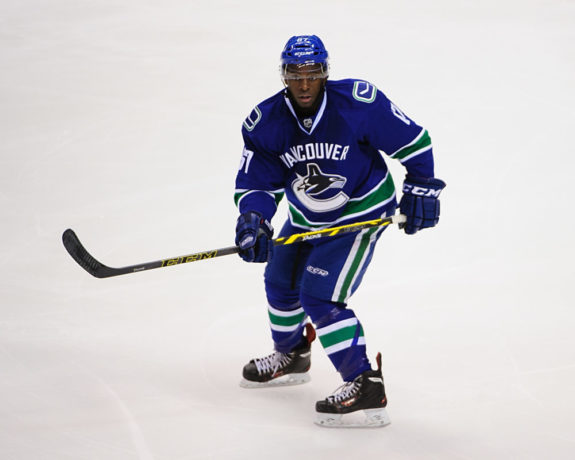 Andrey Pedan warrants some roster consideration, but a tumultuous 2016-17 season didn't help his cause. He's intrigued the Canucks with his size, which is part of the reason why they signed him to a one-year deal this offseason. At 24 years old, this is a huge season for Pedan.
There was one name that most Canucks fanatics wouldn't have recognized at the beginning of last season. Evan McEneny metaphorically came out of nowhere last season and ended up being the Utica Comets best defenceman. Subban is more dynamic than McEneny, but his game isn't as complete. McEneny will start the season in Utica, but don't be surprised if he's called up ahead of more notable names. It wouldn't be the first time.
For the record, my Canucks depth chart on defence looks like this heading into the season.
Alex Edler – Troy Stecher
Ben Hutton – Chris Tanev
Michael Del Zotto – Erik Gudbranson
Patrick Wiercioch – NHL (extra)
Philip Holm – AHL
Jordan Subban – AHL
Alex Biega – AHL
Evan McEneny – AHL
Andrey Pedan – AHL
Olli Juolevi – SM-liiga (Finland)
Who Saves the Power Play?
The league's worst power play over the last five years needs a major shake-up. Something that will go a long ways towards shoring up the power play would be some more support from the blue line. Stecher was the Canucks main point man on the power play last year, but the numbers suggest he wasn't the best power play defenceman on the team.
That designation goes to Hutton, who led the Canucks in points-per-60 on the power play. He had more points than Stecher as well despite 40 fewer minutes with the man advantage. Both Hutton and Stecher are good at distributing the puck, but both lack a heavy shot. Hutton's two power play goals were both the result of pinching and capitalizing on a rebound.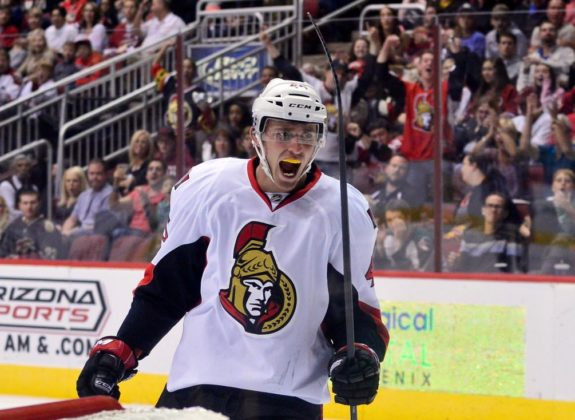 One guy who does have a booming shot, as mentioned before, is Wiercioch. That could play a part in him snagging some ice time away from the other six defencemen ahead of him on the depth chart. He played on the top power play unit in Ottawa with Erik Karlsson before he fell out of favour.
Del Zotto could find himself on the power play more in Vancouver. Shayne Gostisbehere, Ivan Provorov and Mark Streit were ahead of him on the power play depth chart in Philadelphia. It's been a while since he had success there, but he does have seasons with 22 and 14 power play points on his resume.
The other dark horse to consider for the power play is Subban. If Subban makes this team, he should be used primarily as a third-pairing, power play guy. He was extremely effective in that role for Utica last season, and he might be a better shooter than any of those guys mentioned above. No one knows that better than Green, who will have a tough job reviving this power play.
KPU Journalism Graduate. Trevor has been writing for The Hockey Writers since October 2014. He has contributed articles related to the Ottawa Senators, Vancouver Canucks, and other issues/stories regarding the game of hockey. Trevor currently lives in White Rock, B.C.