The Detroit Red Wings have only been able to go so far "retooling on the fly," suffering three consecutive first round exits before biting the dust on the 25-year playoff streak last season. A big part of their decline has been the dynamic defense losing to Father Time, with Nicklas Lidstrom being the most impactful loss of the bunch.
A season before him, Brian Rafalski retired due to injury, leaving Niklas Kronwall to take on a heavy workload in his 30s that has worn him down tremendously to the tune of 24 minutes per game. In fact, he's unsure if the pain will ever go away as his career winds down. His 13-point performance this season indicated as much.
Gradual Decline to a Gradual Rebuild
To put it in perspective, three aforementioned blueliners combined for 169 points in the 2008-09 season, whereas the Red Wings' defence totaled 113 among the 12 defensemen to play for the team in 2016-17. Mike Green is the sole offensive contributor with a respectable 14 goals and 36 points, but he, following a pattern, is a solid top-four defenceman that is playing a role that the Wings have no elite assets to fill.
Thankfully, there does exist a creative way to start gradually rebuilding and the opportunity is there for a plan to be set as soon as the 2018-19 season. It will take years before the defence is dynamic again, and there will be obstacles along the way that involve getting out of questionable investments and watching a product that is not up to standard, but it is ultimately for the best. Detroit also has a head start with the cupboard of puck movers that they have in the system already.
Without further ado, here's how the Red Wings can kick start the impending rebuild of their core defence.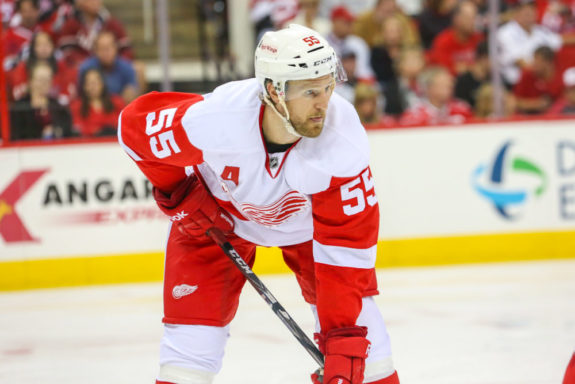 1. Shedding Dead Weight
General manager Ken Holland has made some questionable investments over the years, and those are not just exclusive to the $13.35 million invested in the Frans Nielsen-Justin Abdelkader-Darren Helm trio up front for the next four years at least. In terms of projected pairings and short-term depth chart, another established, reliable offensive piece is nonexistent and there are plenty of dollars allocated to the wrong players.

Kronwall cannot play at the level he is used to but will start the season on the team, likely playing a role on the bottom pairing. It's difficult to see him playing the entire season, however, without a debilitating injury to an already surgically-repaired knee. At some point, he's going to retire, whether it be this season or next summer. This is where the Wings can use something they've used on Johan Franzen, long term injured reserve.
Though the Wings would need to replace his $4.75 million cap hit in "LTIRetirement," that wouldn't be hard with new contracts up next summer for Dylan Larkin and Anthony Mantha along with Andreas Athanasiou signing this off-season. It's better than the cap recapture penalty the team would have to endure if he were to officially retire before the 2018-19 campaign, as $3 million would still be on the books for that season because his contract signed in 2011 is more than six years.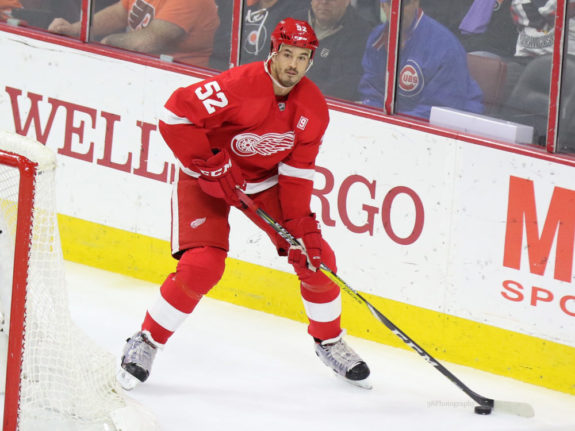 As for Jonathan Ericsson, Holland is not going to buy anyone out this offseason, but next summer would be ideal with two years remaining on his contract. Though the Wings would be paying $1.4 million from 2018-22, in the short term, it would save them nearly $3 million from 2018-20 with a young defenceman primed and ready to take his place. Stephen Weiss and Ericsson would be taking up $3 million in dead space until 2021, but it is a price that Holland must be willing to pay to get this defence restructured as soon as possible.
2. Dealing Mike Green
Why would Holland trade Green? Remember he's the only source of consistent offense on the blue line. While that may be true and he slings the puck like no one else on the team, it's not likely he'll want to stay next summer with a team heading for a rebuild while he's on the wrong side of 30 looking for a Stanley Cup. If this campaign goes as it's projected to go, the Wings will not be in the playoff picture. Even if they are in the hunt, the result will be the same: a first round exit. With the streak gone, the motivation just to get into the postseason should be eradicated.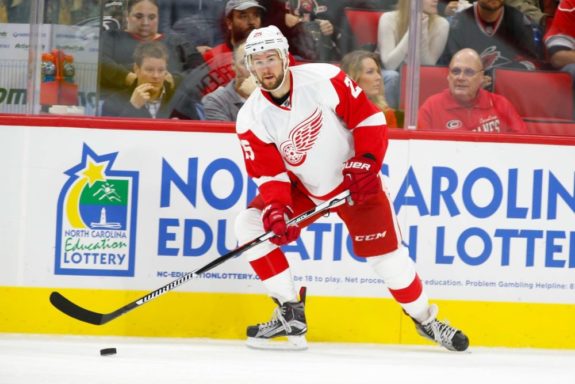 At the last trade deadline, the Wings were able to score a second and third round pick for Brendan Smith, an underappreciated Corsi-god during his Detroit tenure (54% career Corsi-For percentage). However, he was never able to translate that into offense. In 291 games with the Red Wings, he scored 15 goals and 67 points. Green in two years has totaled 21 goals and 71 points in 146 contests, showing off some of that trademark production that made him attractive to the team in the first place. That alone should up the value to go with his 53.7% career Corsi-For percentage.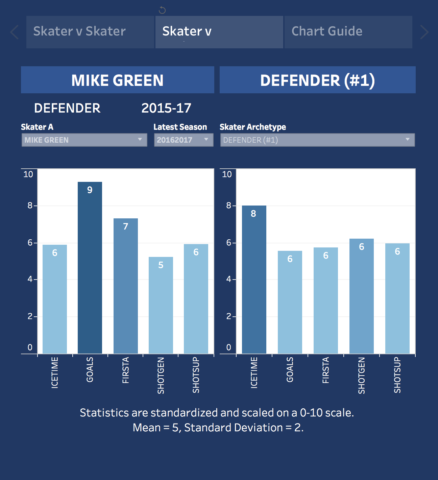 Not bad for a top-four defenseman playing first line minutes.
If the team is worried about losing a veteran presence that can move the puck up the ice and show younger Wings defensemen the ropes, they should turn to Trevor Daley. His numbers were inflated from playing with an elite offense in Pittsburgh, but he is a year removed from the broken ankle he sustained in the 2016 Stanley Cup Playoffs and will take on a bigger role in Detroit. Also, he's won two more Cups that Green and throughout his career has been regarded as a character player. For the young Wings coming up, he's a nice role model to have during a transitional period and he's on a very digestible contract unlike others.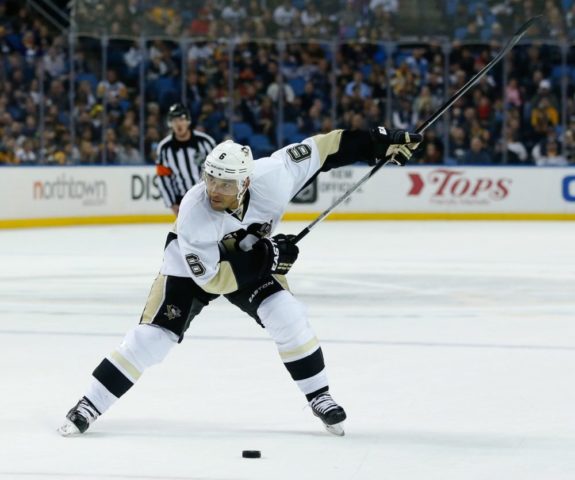 Green could be the most attractive rental defenceman on the market come late February, and with the premium prices paid this summer and at the last deadline (Marc Methot for a second, Mirco Mueller for a second and fourth rounder, Ron Hainsey for a second), it's not outrageous to start the price at a first round pick and defensive prospect and go from there with possible salary retention options. Adding a true-bred offensive blueliner that can be a significant difference maker on the power play should not come cheap.
3. Calling Up The Kids
The Wings are blessed with a few exciting defensive prospects in Filip Hronek, Vili Saarijarvi, Joe Hicketts, Jordan Sambrook and Dennis Cholowski. However, the Red Wings' tradition of over-seasoning prospects changed when Larkin signed his entry-level deal after one year at the University of Michigan, making the team as a teenager.
Cholowski signed his ELC after one year at St. Cloud State and glowing remarks from head coach Bob Motzko. Despite signing to play in the WHL this season versus the AHL, the "Larkin effect" has been felt in the organization. After the Wings put Kronwall on injured reserve and deal Green, the next step is to bring at least one of these kids up to get some NHL time as early as this season's post-trade deadline.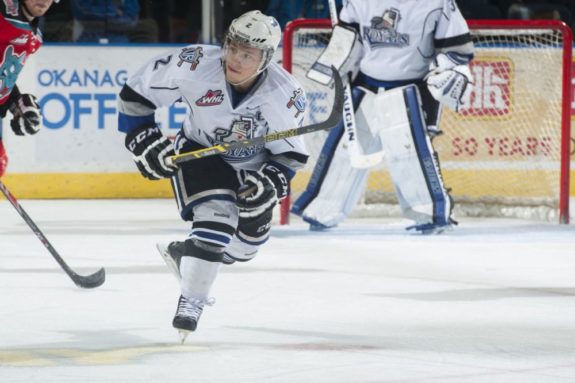 The obvious pick would be Hicketts, as he's already had success at the AHL level scoring 34 points last season as a rookie to place 24th among all defencemen and seventh among rookie blueliners. If he makes the professional transition smoothly in his first AHL season, Saarijarvi is a prime candidate for some time as well. In the OHL last season, he was limited to just 34 games, but scored 31 points and fired a ridiculous 10.59 even strength shots per 60 minutes on goal, 3.09 per game, both best in the league among defencemen at a minimum of 30 games played. Both will have the advantage of experience going into next fall's camp to compete for spots.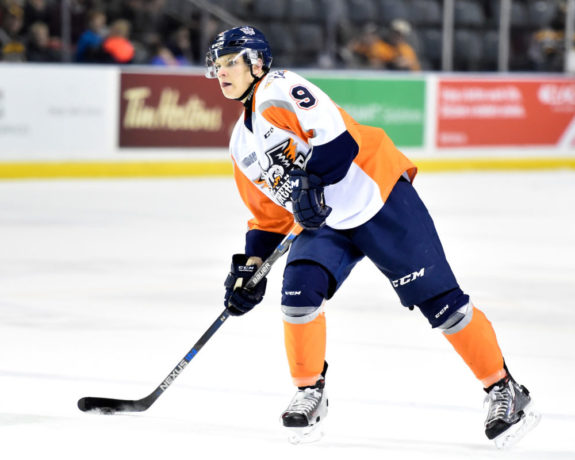 The rest will need at least one professional season under their belts, so they're more likely to compete in 2019. Two players in junior hockey have made strides, however, as Hronek (1.95) and Sambrook (2.11) each placed in the top 15 in OHL even strength points per 60. Before they know it, they'll be on their way.
4. Pain-tience
That's the new play on words virtue that Wings fans must get used to. They've had a few trial runs with multiple first round exits but experienced firsthand what it's like to miss the playoffs in 2017. For their trouble, the team was one number away from winning the lottery, and one of Nico Hischier or Nolan Patrick.
While Holland isn't interested in rebuilding, that's going to happen with or without him as he enters the final year of his contract. The Wings can't win with defence by committee and do not have an offense with enough firepower to compensate for it, as the Pittsburgh Penguins have the last two years with their Championships. They will need that big-time defensive prospect to improve the top-four, as right now there are no cornerstones or even potential cornerstones on defence like they have up front with Mantha and Larkin.
Since 2000, in fact, the Wings have had trouble drafting defencemen that can stay in the league as contributors. That may change with the group coming in, but history has not been kind. Outside of Niklas Kronwall's first round selection in 2000, here is a list of all the defencemen the team has drafted from 2000-2011 that have made it to the NHL.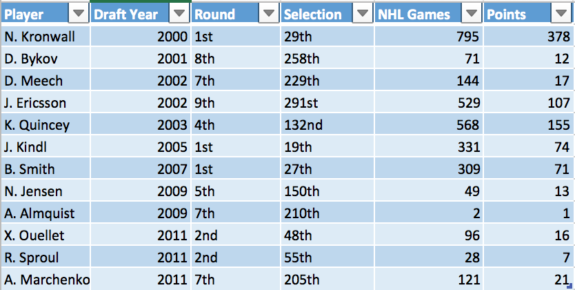 The staying power and/or production of this list has been limited. Luckily, the first round this year is littered with talent on defence starting with the 17-year-old Swedish phenom Rasmus Dahlin. However, if the Wings do not get the ping pong ball to bounce their way again, Quinton Hughes, Ryan Merkley, Bode Wilde, Adam Boqvist and others are waiting in the first round. For more on the 2018 class, check out The Hockey Writers' Top 31 for 2018 from July.
It will be crucial for the team to add a top talent on defence to rub off on other blueliners coming up, and the fanbase (along with management) must be willing to endure a few down years for a greater tomorrow at Little Caesars Arena.
Sacrificing the Present
While Mike Ilitch's legacy is written all over the gleaming new arena, "LCA" will lose its charm quickly if there's not a competitive team inside. As much as Holland wants the fans to see a playoff game at the new arena this season, making the postseason would keep the Wings in continued purgatory.
The new barn will not be as intimidating as advertised, but the start of a rebuild would bring the prospect of success back sooner than later and add a refreshing enthusiasm that Detroit hasn't seen since 2011. A large part of that was a dynamic blue line that could send the puck up the ice consistently to compensate for a team that did not have a prolific goal scorer after 2009 in Lidstrom's last years.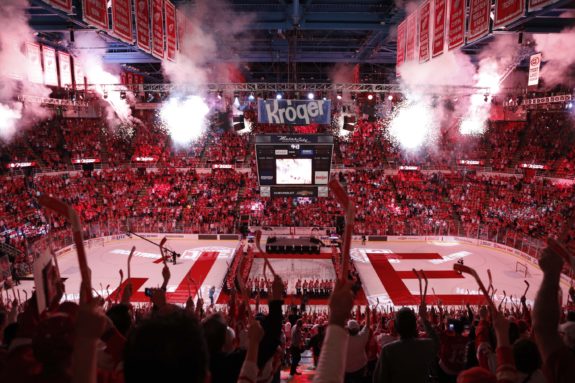 The Red Wings have an opportunity to signal to fans and media pundits that there is a direction for the franchise, a direction that must start by addressing the blueline. Follow through on this plan, sacrifice the present and near future, and maybe, just maybe, the Wings will be the team moving on from that traditional handshake line in a few years with a capacity crowd at the "Dough Joe" rekindling the spirit of moments that made Joe Louis Arena so special.
They should, in Lidstrom's words when he retired, walk away from their past glory, rather than letting it walk away from them in endless mediocrity.
AHL and junior statistics courtesy of prospectstats.com
Griffin is a Junior at Northwood University in Midland, Michigan pursuing a Sports and Entertainment degree. His passion of writing began when Detroit Red Wings captain Henrik Zetterberg was out for the season in 2014 and he wanted to give his thoughts. Griffin comes from LastWordOnSports.com where he had the role of "associate editor" and wrote nearly 300 articles over three years for their hockey department.