The Vancouver Canucks are looking for improvement across the board heading into next season. After his tumultuous campaign, Ben Hutton could be the poster boy for improvement.
One of the Canucks' most surprising players of 2015-16, Hutton failed to regain his rookie form where he finished third in points among freshmen on the back end.
The Ottawa-pride combination of Erik Gudbranson and Hutton was supposed to solidify the second pairing. In previous seasons, Gudbranson had performed adequately with an offensive-minded defenceman, and Hutton fit the mold.
On paper, it was a recipe for success. On the ice, it collapsed like a tower made of broken toothpicks.
Hutton and Gudbranson Endure Rocky Start
Maybe this pairing was doomed to fail from the beginning. On the one hand, you had a sophomore who Willie Desjardins criticized for "trying to do too much." Hutton struggled with mistakes in his second season, often trying to carry the puck out of his own zone instead of making the simple play.
Gudbranson was supposed to be the defensive rock on that pairing. He was anything but. The Canucks organization better hope that he chalks up his struggles to a nagging wrist injury and a lack of familiarity with the team. Otherwise, there aren't many excuses for his poor showing.
He also struggled with getting the puck out of his own zone. Although his strengths lie within preventing entries, the Canucks were shellacked once opposing teams gained entry into the zone.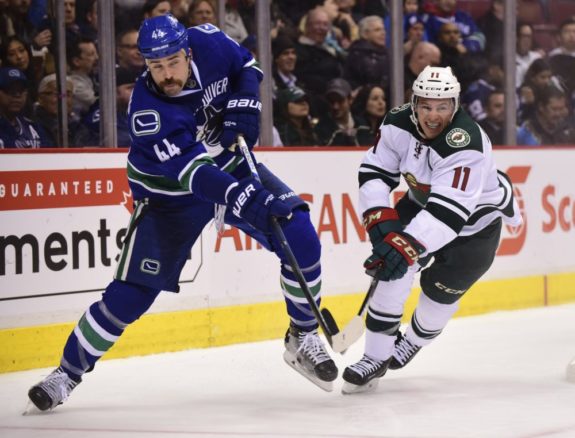 This led to the pair allowing two goals for every one goal they were on the ice for. Their goal differential of 33.3 percent together was the worst among all Canucks' defensive pairings to play more than 100 minutes together.
Hutton's defensive fallacies didn't look so bad after Gudbranson went down with injury. The pair had an even-strength goals-against average (GA60) of 3.09 per 60 minutes, but Hutton without Gudbranson had a GA60 of 1.87.
Even without Gudbranson though, Hutton still struggled. He actually had a lower Corsi per 60 minutes and goals-for per 60 minutes in all other pairings combined. For an offensive-minded defenceman, it's clear that Desjardins' assessment of the sophomore trying to do too much was accurate.
Playing to Hutton's Strengths
It wasn't all doom and gloom for Hutton. It wasn't his fault that Desjardins refused to play to Hutton's strengths. His first mistake was pairing him with slow defensive partners (Gudbranson and Nikita Tryamkin). Hutton did fare well in limited minutes with Chris Tanev, but Desjardins probably had little trust in a third pairing of Luca Sbisa and Tryamkin.
The other area where Desjardins failed to utilize Hutton was on the power play. Troy Stecher ended up being the power-play quarterback for most of the season, a strategy that crumbled like stale feta cheese.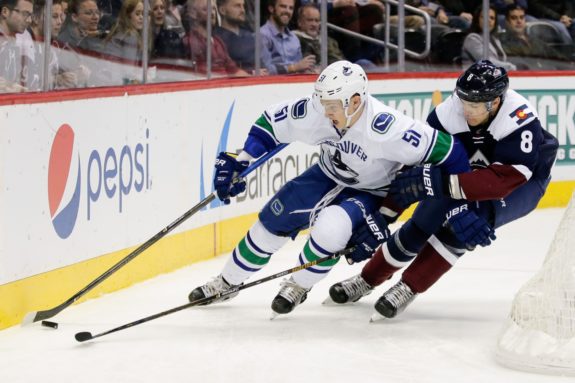 Stecher played on the first power play unit for most of the season. With him on the point, the power play became stale and predictable. Stecher wasn't a threat with his shot, and teams soon caught onto his main options on the power play, which mainly consisted of dumping the puck to Henrik Sedin.
Hutton played 40 fewer minutes at five-on-four compared to Stecher, but he had 11 points compared to the rookie's five. According to Puckalytics, Hutton was on the ice for 41.8 percent of the team's power-play time. He was also on the ice for 60 percent of the team's power play goals.
Neither of the Canucks' two young defencemen has a big shot from the point, which eliminates options on the man advantage. Regardless, Hutton's puck-moving ability and willingness to pinch should have him earning more power-play time in the coming season.
Ben Hutton's Season Outlook
Hutton clearly struggled with extra ice time last season. He also struggled alongside Gudbranson. So why do most have him lined up in exactly the same spot heading into next season?
Part of the reason is that the Canucks' defence looks more legitimate this year. Stecher has established himself, and the additions of Michael Del Zotto and Patrick Wiercioch mean competition will be tougher on the back end.
That competition should benefit Hutton, who won't be burdened with more than he can handle. Travis Green should aim to pair Hutton with a defensively-sound partner so that he can jump up on offence.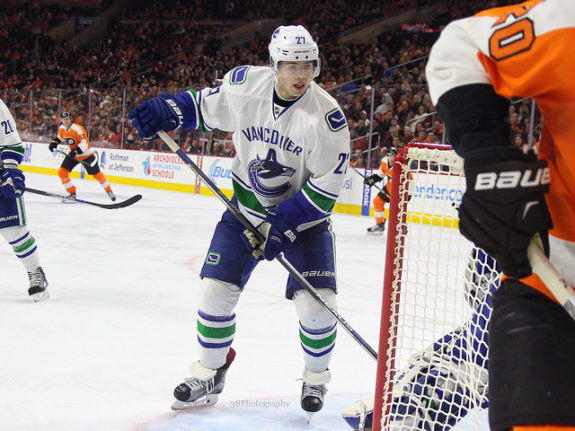 Ideally, that player is Tanev, although Tanev makes everyone that he plays with better. If Hutton is paired with Gudbranson on the third pairing instead, they should get fewer minutes and face easier competition.
Green and Canucks returning assistant coach Newell Brown must also give Hutton more power-play time. While it's worth trying him out on the first unit, there's a chance that he could produce better on a second unit with Bo Horvat and Markus Granlund.
The tools are there. If he cuts down on the defensive mistakes, he should return to the player who put up 25 points in his rookie season.
Some extra power-play time wouldn't hurt either.